"Have you tried Wheaties?"
The Lost Art of Jingle Writing
Advertising jingles, or catchy and repetitive songs used to promote products on the radio, have permeated popular culture and influenced the consumer habits in American society for nearly a century. Most people over the age of 30 can recall all the words to certain jingles they heard growing up, a fact that illustrates the lasting power of short, catchy tunes. While the advertising jingle is an almost forgotten art form, having been replaced in commercials by adapted popular songs and generic background music, it has a fascinating history (Stanley 2016). A hybrid form between art and consumerism, between obnoxious repetitiveness and genius craft, the jingle created a connection between product and public that was revolutionary. Previous research on the psychology of consumer behavior indicates that "music used in marketing-related contexts is capable of evoking nonrandom affective and behavioral responses in consumers" (Bruner 1990). But to create such simple but persuasive tunes is rife with challenges, and the skills and talents of the composers and performers who created classic advertising jingles cannot be understated.
The Radio Advertising Bureau (RAB) collection of the Library of American Broadcasting is a treasure trove of jingle history. The RAB is a national radio advertising trade organization whose history dates back to 1950. To showcase radio's potential during the rise of the television era, the RAB began collecting examples of ads from all over the country beginning in 1954. The following list of jingle composers and performers highlights some of the iconic ads in the collection, and demonstrates the timeless effectiveness of a catchy tune paired with memorable lyrics.
Jingle History
The origin of the jingle in modern advertising can be traced back to the use of poetic verses to sell products in printed formats in the late 19th century. One of the earliest examples of this practice is a famous ad for Sapolio brand soap, written by Bret Harte in 1876 (Taylor 2010):
"One Sabbath morn, as heavenward
White Mountain tourists slowly spurred
On every rock, to their dismay,
They read that legend, always
SAPOLIO"
Another variation of this promotional tactic came in the form of original and adapted songs. Brands looking to advertise their products would commission songwriters to come up with catchy tunes in the popular styles of the period, such as the 1903 waltz "Under the Anheuser Bush", by Harry von Tilzer and Andrew B. Sterling, or the 1905 song "In My Merry Oldsmobile", written by Vincent P. Bryan and Gus Edwards (Taylor 2012, 72-73). While intended to sell, these early examples were complete songs in their own right, with more subtle product references than later jingles would have.
The popularization of recorded sound and the advent of radio brought advertising jingles to a whole new level. As sponsorship began to emerge as the most viable way to financially sustain radio programs in the late 1920s, advertising agencies saw the far-reaching possibilities: by 1929 there were twelve million radio sets in use, and 630 radio stations, compared with only one eight years before (Aylesworth 1929).
The first known example of a radio jingle is the 1926 Wheaties breakfast cereal commercial, with its famous catchy line "Have You Tried Wheaties?" (Taylor 2012, 33-36). Having suffered from a decline in sales, Wheaties was almost pulled from the market until the local broadcasters at Washburn Crosby Company in St. Paul, MN, decided to hire a local barbershop-style quartet to sing about the product. This resulted not only in a marketing success, but also a musical one when the popular "Wheaties Quartet" eventually starred in their own radio show. In 1929, as cereal sales were still falling in the rest of the country, The General Mills Board decided to launch the campaign nationwide, proving one more time to be a commercial hit (General Mills 2016).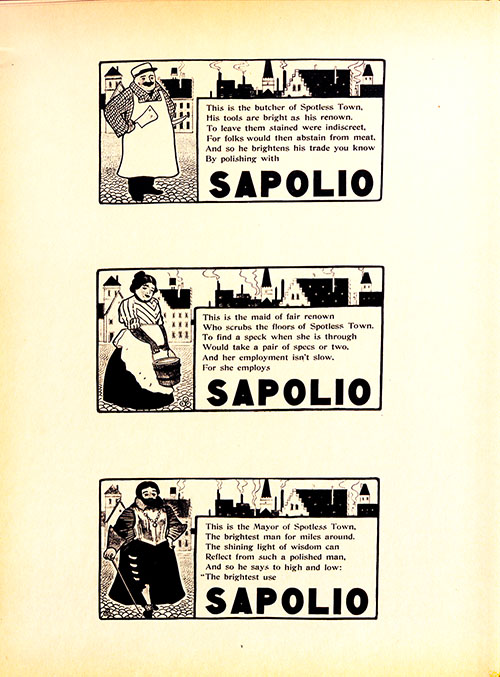 Watkins, Julian Lewis. The 100 Greatest Advertisements: Who Wrote Them and What They Did. [2D rev. ed.]ed. New York: Dover Publications, 1959.
While other sponsors would soon follow General Mills's example to broadcast local jingles, the first nationally-broadcast jingle didn't emerge until over a decade later in 1939. This was an ad for Pepsi Cola's nationwide campaign, and the jingle was created by the Newell-Emmett advertising agency (Love 2019). It was composed by Alan B. Kent and Austin H. Croom-Johnson, who based the melody on an old Cumbrian folk song called "D'ye ken John Peel?" (Campbell 1972).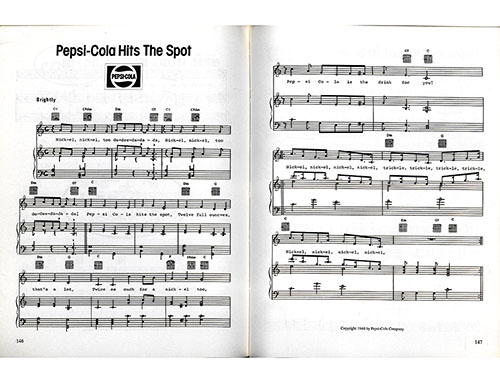 Norback, Peter, and Kenneth J. Costa. Great Songs of Madison Avenue. Quadrangle/New York Times Books Co., 1977.
Composers and Jingles from the RAB Collection
Steve Karmen
One of the most prolific composers in the advertising industry and recipient of 16 Clio Awards, Steve Karmen is the creative force behind classic hits such as "I Love New York", and the Budweiser campaign jingles "Here Comes the King" and "When You Say Budweiser, You've Said It All" (Guida and Karmen 2018). The latter has even gone beyond to become a staple of some university marching bands (University of Wisconsin, n.d.). Another example of Karmen's work from the RAB collection is the 1972 campaign song "Sooner Or Later You'll Own Generals" for the General Tires Brand.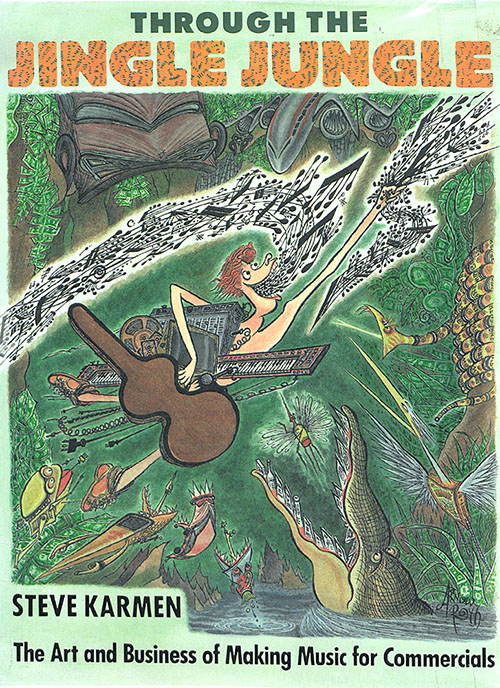 Karmen, Steve. Through the Jingle Jungle : The Art and Business of Making Music for Commercials. New York: Billboard Books, 1989.
Cover illustration by Arnold Roth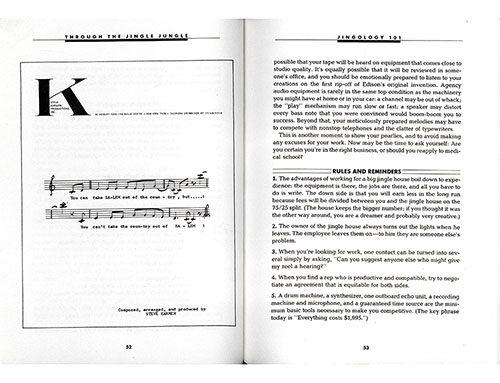 Karmen, Steve. Through the Jingle Jungle : The Art and Business of Making Music for Commercials. New York: Billboard Books, 1989.
Richard Trentlage
Trentlage is likely best known for the classic, long-running ad "Wiener Song (Oh, I Wish I Were an Oscar Mayer Wiener)" (Associated Press 2016), a jingle that resulted from him winning a contest run by the J. Walther Thompson agency for the Oscar Mayer brand. The "Wiener Song" eventually reached an estimated 49 million people in 19 countries worldwide (Wisconsin Historical Society 2009).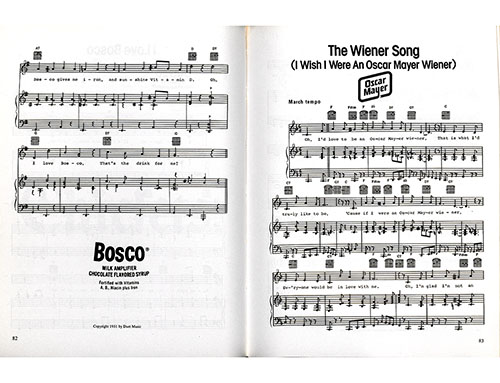 Norback, Peter, and Kenneth J. Costa. Great Songs of Madison Avenue. Quadrangle/New York Times Books Co., 1977.
Thomas Dawes
A member of the band Cyrkle in his youth, Thomas Dawes eventually found a successful career in the advertising industry. Some of his creations include the "Plop, Plop, Fizz Fizz" jingle for the Alka Seltzer campaign originally created by Paul Margulies, and the tune for 7-Up's "The Uncola" campaign. Like Trentlage, Dawes's 7-Up jingle was the winner of a company-run competition for rock bands. Dawes enjoyed brief success with Cyrkle, even opening for the Beatles on their last tour in the U.S. in 1966 (Peterson 2007). Two versions of the 7-Up "The Uncola" theme, and the "Plop, Plop, Fizz, Fizz" Alka Seltzer jingle are featured here.
Bill Backer
Responsible for some of the most memorable campaigns of modern advertising, Bill Backer's catalog includes projects for a variety of brands, such as Coca Cola's "Things Go Better With Coke" and the "It's the Real Thing" jingles, and ads for Miller High Life (Brooks 2019). One of the major highlights of his career was co-creating the "I'd Like to Teach the World to Sing (In Perfect Harmony)" Coca Cola campaign and jingle. The commercial for this campaign was at one time the most expensive ad ever produced, costing $250,000 dollars, and involving a diverse chorus composed of 500 people hired from embassies and schools in Rome (Taylor 2012, 156-157; The Coca Cola Company, n.d.). Featured here are several examples from the "Things Go Better With Coke" campaign performed by well-known vocalists such as Aretha Franklin, Diana Ross and The Supremes, The Moody Blues, Petula Clark, and Jay and The Americans.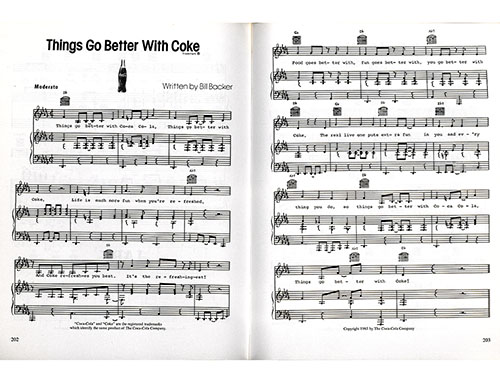 Norback, Peter, and Kenneth J. Costa. Great Songs of Madison Avenue. Quadrangle/New York Times Books Co., 1977.
Ellie Greenwich
Songwriter and producer Ellie Greenwich rose to prominence during the Girl Group era of the 1960's (DeVito and Greenwich 1984). She enjoyed success writing for other artists, as well as for her partnership with songwriter and producer Jeff Barry with whom Greenwich wrote hits such as "Be My Baby" (in conjunction with Phil Spector), "Hanky Panky" and "Leader of the Pack" (made famous by The Shangri-Las). Active in the advertising industry during that same time, Ms. Greenwich wrote jingles for brands such as American Express, Levi's, Energizer and Clearasil, earning her multiple Clio Awards nominations (Ellie Greenwich, n.d.). Her advertising credits also include providing vocals for numerous jingles, including the Ford's "Give You Better Ideas" campaign.
Clio Awards
The Clio Awards, the most prestigious in the advertising industry, were founded by Wallace Ross in 1959. The Clios recognize creativity in the advertising world across a multitude of categories, including music, entertainment, health and fashion (Riordan 1989). Three of the composers described below, Steve Karmen, Bill Backer and Ellie Greenwich, are all Clio winners.
---
References
ABC7 Chicago. "'Oscar Mayer Wiener Song' Composer Dies at 87." ABC7 Chicago. WLS-TV, September 30, 2016. https://abc7chicago.com/oscar-mayer-wiener-jingle-commercial/1533406/
Aylesworth, M.H. "Radio's Accomplishment." National Radio News 2, no. 3, October 1929.
Associated Press. "Richard Trentlage, Native Chicagoan Who Got Generations Humming Oscar Mayer Wiener Song, Dies." chicagotribune.com, September 30, 2016. https://www.chicagotribune.com/business/ct-richard-trentlage-oscar-mayer-wiener-song-dies-20160930-story.html
A. W. Campbell, 'Graves, John Woodcock (1795–1886)', Australian Dictionary of Biography, National Centre of Biography, Australian National University, https://adb.anu.edu.au/biography/graves-john-woodcock-3654/text5695, published first in hardcopy 1972, accessed online 15 March 2022.
Brooks, Erik. "'If You've Got the Time': The History of the High Life Beer Jingle." Molson Coors Beer & Beyond, July 2, 2019. https://www.molsoncoorsblog.com/features/if-youve-got-time-history-high-life-beer-jingle.
Bruner, Gordon C. "Music, Mood, and Marketing." Journal of Marketing 54, no. 4 (1990): 94–104. https://doi.org/10.2307/1251762.
Bureau, Radio Advertising. "Radio Advertising Bureau Collection." Collection: Radio Advertising Bureau collection | Archival Collections. Special Collections and University Archives . Accessed April 4, 2022. https://archives.lib.umd.edu/repositories/2/resources/491.
"Creating 'I'd like to Buy the World a Coke' - News & Articles." The Coca-Cola Company. Accessed March 14, 2022. https://www.coca-colacompany.com/company/history/creating-id-like-to-buy-the-world-a-coke.
DeVito, Karla and Greenwich, Ellie. Elle Greenwich - Interview - 7/6/1984 - unknown. Other, July 6, 1984. https://www.youtube.com/watch?v=TrrOdSqRBzQ&t=2s.
Ellie Greenwich. Accessed March 14, 2022. https://www.elliegreenwich.com/.
Guida, Tony, and Steve Karmen. Steve Karmen "King of the Jingle" | Tony Guida's NY. Other. YouTube. CUNY TV, November 21, 2018. https://www.youtube.com/watch?v=WsrVkr2VW4Y.
Huron, David. "Music in Advertising: An Analytic Paradigm." The Musical Quarterly 73, no. 4 (1989): 557–74. http://www.jstor.org/stable/741819.
Karmen, Steve. Through the Jingle Jungle : The Art and Business of Making Music for Commercials. New York: Billboard Books, 1989.
Love, Joanna K. Soda Goes Pop : Pepsi-Cola Advertising and Popular Music. Tracking Pop. Ann Arbor: University of Michigan Press, 2019.
Norback, Peter, and Kenneth J. Costa. Great Songs of Madison Avenue. Quadrangle/New York Times Books Co., 1977.
"Oscar Mayer Wiener Banjo-Ukulele." Wisconsin Historical Society, August 12, 2009. https://www.wisconsinhistory.org/Records/Article/CS2603.
Peterson, Alison J. "Thomas Dawes, Musician and Jingle Writer, Dies at 64." The New York Times. The New York Times, November 2, 2007. https://www.nytimes.com/2007/11/02/arts/02dawes.html
Riordan, Steve, and Clio Enterprises. Clio Awards : A Tribute to 30 Years of Advertising Excellence, 1960-1989. The Library of Applied Design. Glen Cove, N.Y.: PBC International, 1989.
Schnitker, Laura Beth. Personal communication. 2022
Siegel, Robert, and Steve Karmen. 'The Jingle King' Tracks Decline Of Original Music In Advertising. Other. All Things Considered. NPR, December 13, 2016.
Stanley, Tiffany. "What Killed the Jingle?" The Atlantic. Atlantic Media Company, August 29, 2016. https://www.theatlantic.com/business/archive/2016/08/what-killed-the-jingle/497291/.
Taylor, Timothy Dean. The Sounds of Capitalism : Advertising, Music, and the Conquest of Culture. Chicago: University of Chicago Press, 2012.
University of Wisconsin. "School Songs." School Songs - UWbadgers.com. Accessed March 31, 2022. https://web.archive.org/web/20061027092733/http://www.uwbadgers.com/traditions/school_songs_121.html.
"What Wheaties Did to Jumpstart Our Cereal Success." General Mills, February 24, 2016. https://www.generalmills.com/news/stories/what-wheaties-did-to-jumpstart-our-cereal-success.
---
Created by Juan Manual Hernandez Chico (juanhch@umd.edu), student assistant in Special Collections in Mass Media & Culture, University of Maryland Libraries.