An American Presidency in Crisis
Richard Nixon and the Watergate Scandal
In October of 1973, almost a year and a half after the break-in to the DNC offices at the Watergate Building Complex, President Richard Nixon responded to increasing legal scrutiny by ordering U.S. Attorney General Elliot Richardson and Deputy Attorney William Ruckleshaus to fire Archibald Cox, the special prosecutor hired to investigate possible presidential impropriety. Both men resigned rather than comply. It was Solicitor General of the U.S. Robert Bork who eventually carried out the order, firing Cox by letter and completing what became known as the "Saturday Night Massacre".
On the following Monday, the press reported on the dramatic fallout from these actions, which raised further speculation on behalf of the American people that Nixon was actively involved in a cover-up scheme. The Westinghouse News Group here in Washington, D.C. compiled dozens of voice cuts from senators, representatives and public officials, who commented on the president's actions and expressed their concerns about the implications.
Digitized from the Westinghouse Tape Archive, these voice cuts dating from October 22, 1973, sound remarkably similar to statements being made by government officials today regarding the conduct of the current president. Studying historical patterns of political rhetoric can offer insight into the nature of power relations and the effectiveness of resistance.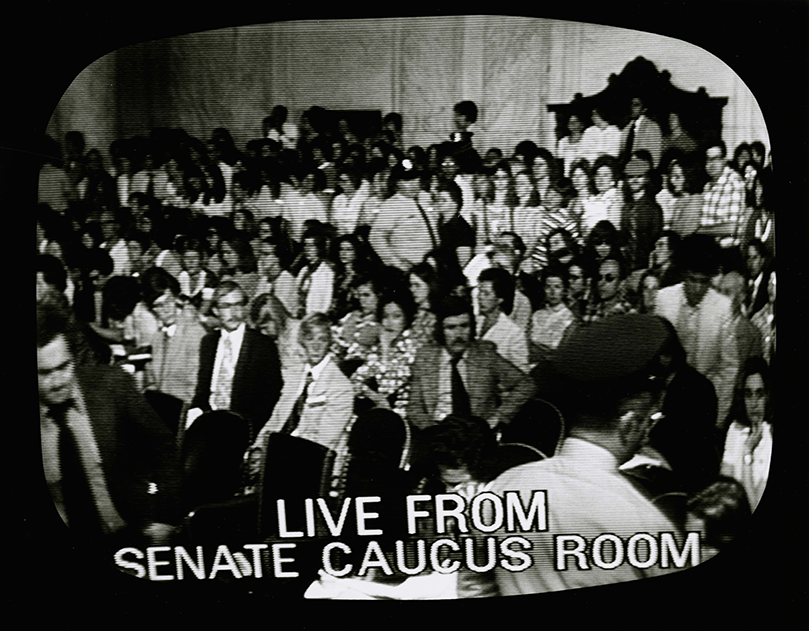 The Senate Caucus Room audience to the Watergate Hearings
Listen to selections from the Westinghouse Tape Archive
"This is an absolute outrage…"
Representative Jerome Waldie (Democrat)
"There's a mad man in the White House…"
Ralph Nader (Independent)
"The tapes have got to come out…"
Representative Morris Udall (Democrat)
"Public trust must be restored…"
Senator Daniel Inouye (Democrat)
"What occurred over the weekend was unacceptable…"
Senator Lowell Wiecker (Democrat)
"A serious obstruction of justice is an impeachable offense…"
Senator Edward Kennedy (Democrat)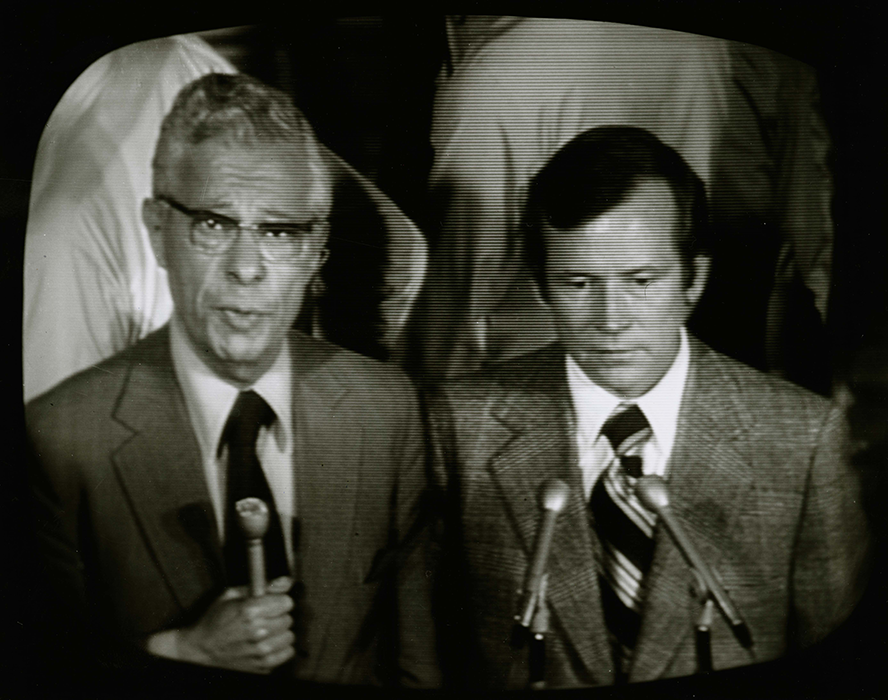 Daniel Schorr and Howard Baker