Library of American Broadcasting Foundation
Broadcast History Awards
Congratulations to Brian Graves and Michael Socolow on their 2018 awards.
The Leibner Cooper Grant for Creative Productions on the History of Media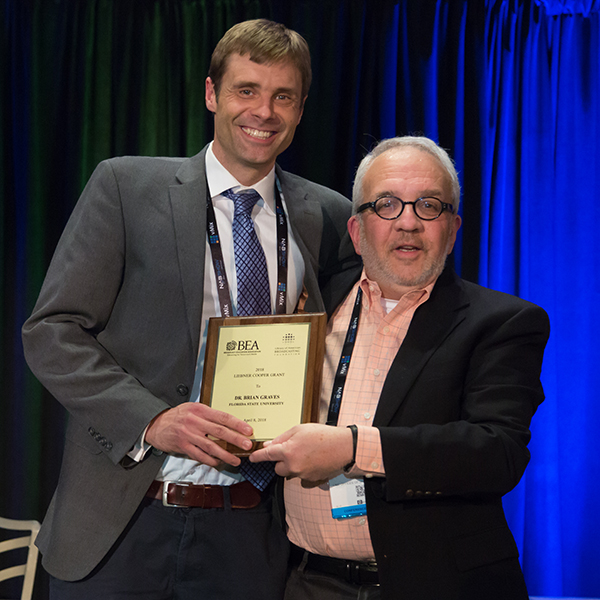 Brian Graves (left), Florida State University and Jack Goodman (right), Library of American Broadcasting Foundation
Awarded to documentary filmmaker Dr. Brian Graves for his latest project, It's Your War Too.
Dr. Brian Graves is an Assistant Professor of Media and Technology in the School of Communication at Florida State University, with specialties in media writing and production, documentary storytelling, public memory, and critical race studies. In addition to publishing scholarly research articles, he has written, produced, and directed numerous award-winning film productions. His most recent short documentary, My First Drag Show, screened nationally during 2016-2017, achieving fifteen official selections from juried film festivals, an Award of Excellence at the Broadcast Education Association's On-Location Creative Competition, an award for Best LGBT Documentary Short at the Atlanta International Documentary Film Festival, and a nomination for Best Documentary at the Tampa Bay Underground Film Festival. In the Fall of 2017, Dr. Graves finished preproduction on his latest film project, "It's Your War Too:" Charlotte Dee Mansfield's Photographic Memoir of the Women's Army Corps, a short documentary that explores the pioneering career of World War II military photographer Charlotte Dee Mansfield. The film's production will launch this Spring thanks to the generous support of the Florida State University Council on Research and Creativity and the Leibner Cooper Grant for Creative Productions on the History of Media.
The Leibner Cooper Grant for Creative Productions on the History of Media is made possible thanks to an endowment from Leibner Cooper Family Foundation. Annually, a $2,500 grant will be awarded to a faculty member who is producing a documentary, news story, multimedia project or sports production focused on historical issues, figures and/or events related to media. Each year the recipient will be recognized at the LABF Giants of Broadcasting Luncheon and at BEA's annual awards ceremony in Las Vegas.
2018 Broadcast Historian Award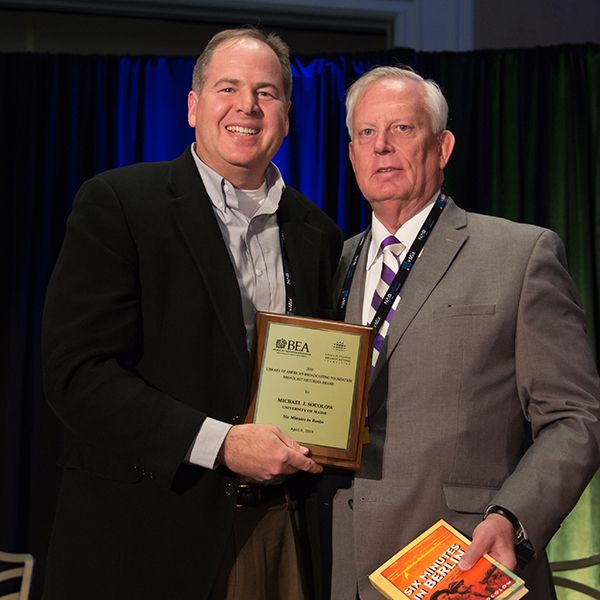 Michael J. Socolow (left), University of Maine and Larry Patrick (right), Library of American Broadcasting Foundation
Awarded to Michael J. Socolow, University of Maine, for his book, Six Minutes in Berlin, which chronicles the invention of global sports broadcasting by describing the broadcast innovations pioneered at the 1936 Berlin Olympic Games.
Global sports broadcasting, as we know it today, started at the Berlin Olympic Games. German organizers employed new communications technologies to transmit the athletic spectacle to a worldwide broadcast audience of over 300 million listeners. Advances in radio also created a new form of athletic celebrity, making Jesse Owens one of the world's first truly global superstars. Socolow uses a single case study – the gold-medal winning rowing crew from the University of Washington, which upset the Germans in front of Adolf Hitler and 75,000 fans – to illustrate the development of sports broadcasting at the personal, national, and global levels. He interweaves the broadcast of that race, heard by millions in the United States, with the memories of the oarsmen and contemporaneous press accounts to revisit the dramatic and exciting origins of live global sportscasting.
"The detailed account of the Reichs-Rundfunk-Gesellschaft' s highly organized and technologically advanced shortwave broadcast facilities is excellent," Allen Guttmann wrote in a review in Journal of American History. "The stroke-by-stroke story of the Huskies' come-from-behind victory is a masterpiece of sports journalism. . . . the text reads as if Socolow had discovered that his true vocation is to be a novelist. He conveys the excitement of the final race so skillfully that he accelerated the pulse of at least one octogenarian historian. Six Minutes in Berlin is not just richly informative about sportscasting and eight-oared racing; it is also a good read." Six Minutes in Berlin "belongs on all history of sports or sports journalism syllabi.," noted Ron Bishop in American Journalism, concluding that "Six Minutes in Berlin is among the best works of sports history."
Michael J. Socolow is an Associate Professor in the Department of Communication and Journalism at the University of Maine. His scholarship on media and radio history has appeared in Journal of Broadcasting and Electronic Media, Journalism & Mass Communication Quarterly, Technology & Culture, and other scholarly journals. He is a former broadcast journalist who has worked as an Assignment Editor for the Cable News Network and as an information manager for the host broadcast organization at the Barcelona, Atlanta, and Sydney Olympic Games. He is a member of the Library of Congress's Radio Preservation Task Force, and his writing on radio history and media regulation has appeared in Slate, Columbia Journalism Review, The Washington Post, and other outlets.