LGBTQ+ Activism
Out and Proud: The LGBTQ Movement
In 2020, the Lesbian, Gay, Bisexual, Transgender, and Queer (LGBTQ+) community celebrated the 50th anniversary of the first Pride March. LGBTQ+ stories are now part of the mainstream more than ever: in award winning shows such as Pose where LGBTQ+ characters are played by members of the community, in movies that include queer representation for superheroes, and in politics with the election of the first openly gay Congress member confirmed to the U.S. Senate.
The 1960s and 70s saw an explosion of uprisings around the country that gained national attention, including the 1966 trans rights uprising at the Compton Cafeteria in San Francisco, Stonewall in New York in 1969, and the Detroit Gay Liberation Front in 1970.
LGBTQ+ people have always been a part of UMD's faculty, staff, and student body, often living in secret to secure their safety. By the 1970s, LGBTQ+ issues were a national concern. While the previous decades had been riddled with police raids on gay and lesbian bars and bathhouses, the community was organizing in order to secure their rights on U.S. soil and abroad, including the students at the University of Maryland.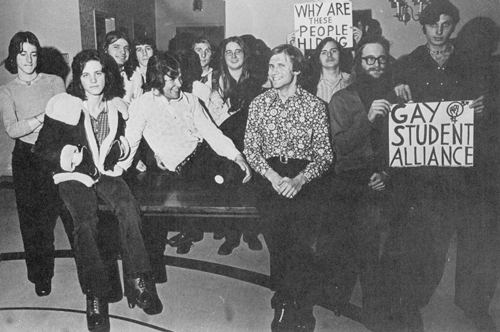 Gay Student Alliance, 1972. Terrapin yearbook.
The Rise of the Rainbow
In 1971, UMD students organized the Student Homophile Association (SHA), the first known manifestation of a Lesbian, Gay, Bisexual, Transgender, and Queer (LGBTQ+) student organization at UMD. This group still exists on campus by way of the Pride Alliance.
From the beginning of its existence, members of the SHA fought to carve out their place on campus. Despite being allocated $250 for their annual budget by the Student Government Association, the Board of Regents denied the allocation which they viewed as inappropriate use of funds, stating that they were a "particular group arguing that they needed assistance to overcome a personal problem." SHA was able to secure its funding after suing the Board of Regents with backing from the American Civil Liberties Union. This funding would enable them to pursue their stated goals: providing a safe space for LGBTQ+ students to meet without the threat of hate and providing educational and social resources about homosexuality, safe sex, legal rights, and other relevant topics to the entire UMD community.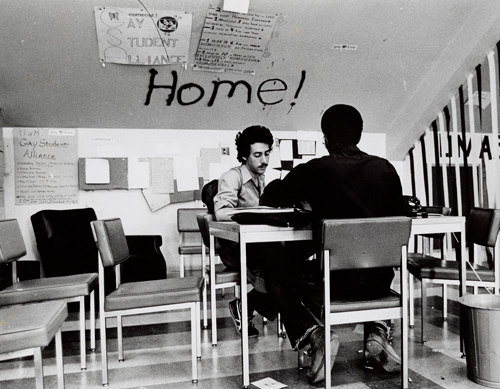 Two students work at a table in the Gay Student Alliance office at the University of Maryland, 1991. Diamondback photographs.