The Game
During the game, the Queen "leaned forward eagerly" as the Governors and President Elkins explained American football to their royal guests. According to President Elkins, the Queen was "most interested in the difference between the English Rugby and the American game." According to a commonwealth correspondent from the game, "if the Queen understands this game, she's smarter than I think she is."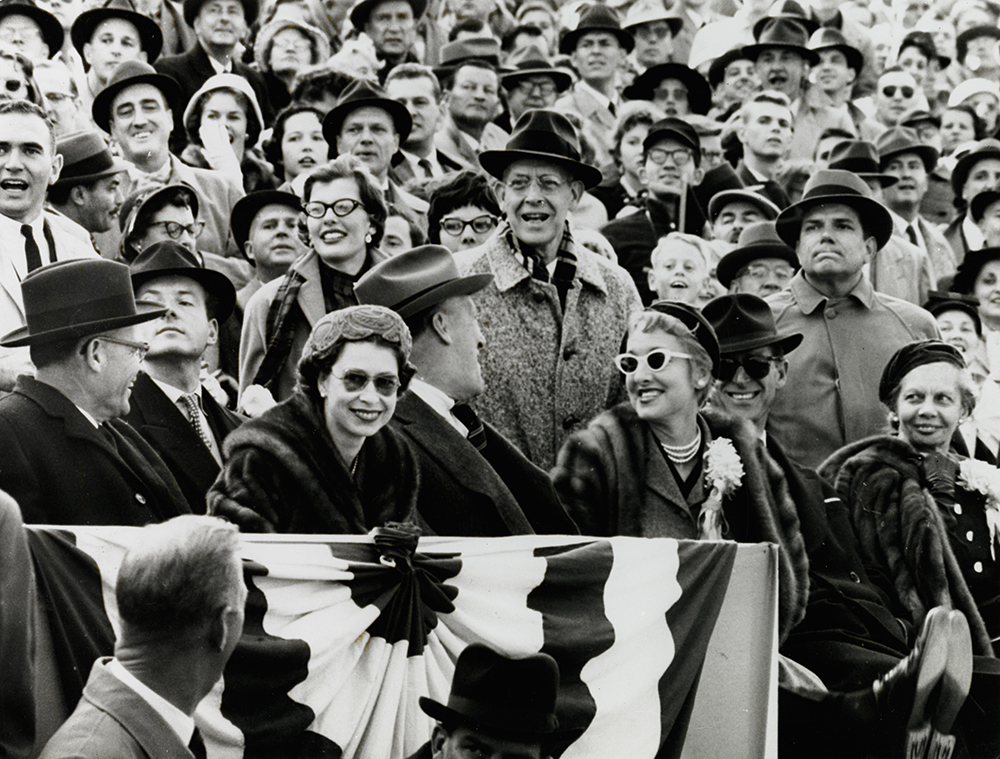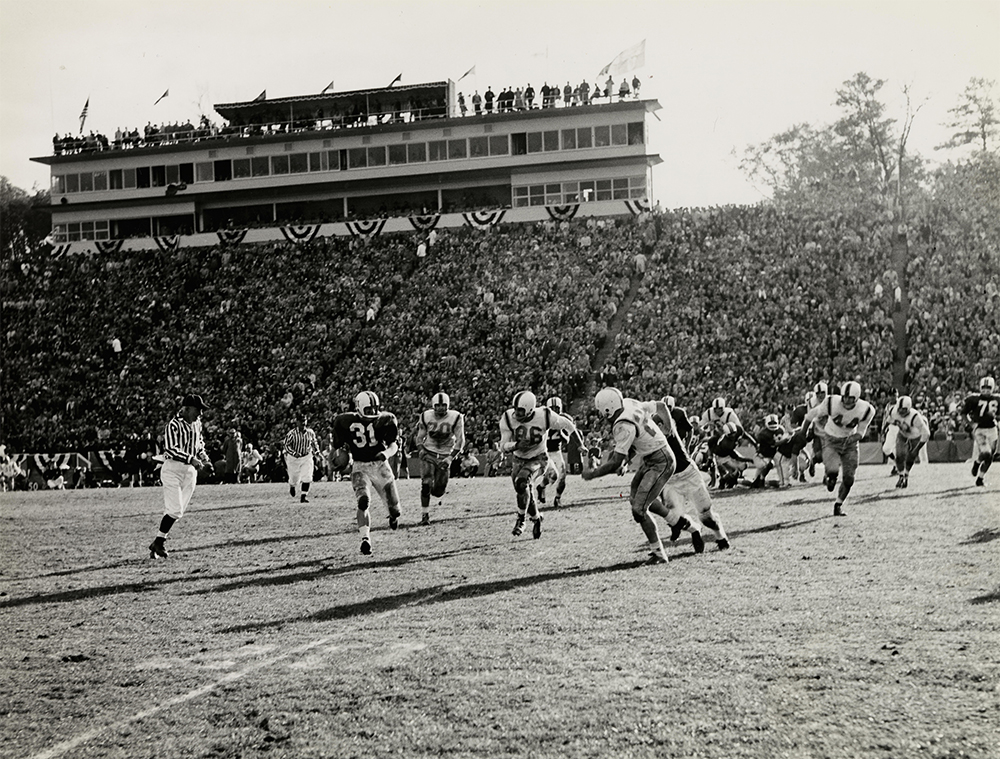 And then, at halftime, after the teams rushed off the field, the North Carolina band presented "A Parade of North Carolina Industries," highlighted by band members forming a giant banjo, while trumpeting "Dixie." According to President Elkins' daughter Carole, there was a ceremony with gift presentations, the Queen and Prince Philip were driven around the stadium's track, and marching bands from both teams performed. The bands from both schools joined to form the Queen's crest, spell out "USA-BRIT", and perform each school's alma mater, "God Save the Queen," and the "Star Spangled Banner." The card section displayed both the American and British flags. Queen Elizabeth II, commenting on "the drive of the band," was also "quite pleased with the card section," according to President Elkins.


According to Howard Miller's account of the Queen's Game, with only minutes left in the 4th quarter, the announcer at Byrd Stadium asked the crowd to remain in their seats so the Queen and Prince Philip could leave first to attend dinner with President Eisenhower. The Queen's motorcade entered the stadium, and the Queen left before "a full house broke for the exits." Miller recalled "never had so many Marylanders showed so much courtesy." Nick Kovalakides, class of '61, who was unable to attend the game due to illness, was listening to the game on the radio while recovering in his Montgomery Hall dorm, when he heard that the Queen was leaving early "to avoid the crunch of fans after the game." Hearing this, Kovalakides went outside in case the Queen's motorcade traveled on Regents Drive past Montgomery Hall. As Kovalakides sat on the steps, feeling "like everyone else in the world was at the game except me," the Queen's motorcade appeared over the hill. Seeing the Queen in the back seat of the limo, Kovalakides stood and waved. The Queen waved back. Remembering the event, Kovalakides said "in seconds, she was gone. But not in my mind."
As the game ended, the triumphant Terps hoisted Coach Tommy Mont on their shoulders and ran across the field to where the Queen was seated. When presented to the Queen, she replied by saying "wonderful, wonderful." For Coach Mont, immediately after the win he said "I'm going to revel in this for the rest of my life." In the issue following the game, the Diamondback selected the entire Maryland football team as Players-of-the-Week.