The Ink Spots' Music of Escapism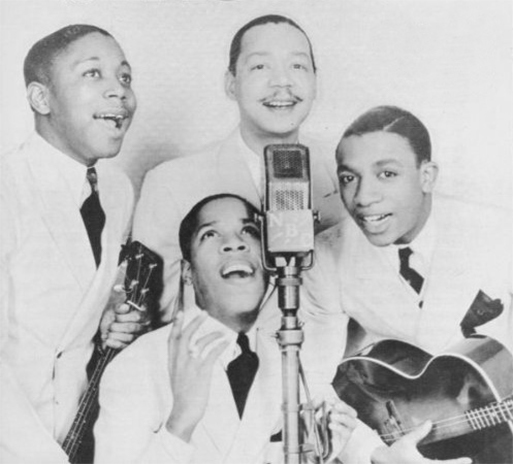 While one of the most popular American musical acts of the late 1930s and early 1940s as well as being a foundational influence for doo-wop, the Ink Spots and their close-harmony singing are no longer widely known in the United States. The group was originally formed in Indianapolis by Charlie Fuqua, Jerry Daniels, Hoppy Jones and guitarist Deek Watson, but became their most well-known format with the addition of lead-tenor Bill Kenny in 1936. Kenny introduced their signature "top-and-bottom" sound with Kenny's high tenor carrying the melody followed by their bass-singer, Hoppy Jones speaking the words of the song in a low, reflective voice. Before the war, their single, "If I Didn't Care" set records selling 19 million copies. The group was part of a larger popular wave of close-harmony singing groups including a number of African-American male quartets such as the Mills Brother and The Delta Boys, and female trios such as The Andrews Sisters and The Boswell Sisters.
In the midst of a market saturated with music in support of the war the group remained one of the most popular musical acts, even though the content of their songs remained largely apolitical. The Ink Spots music served as a romantic escape with wartime hits such as "Don't Get Around Much Anymore," "Maybe," and "Address Unknown." One notable exception that speaks to the Ink Spots place in the popular landscape is the torch-song "Everyone Is Smiling Again" Released soon after the war ended, Kenny remarks in the song:
Everyone is saying hello again
Why must we say goodbye?
Everyone is feeling that glow again
Everyone but you and I
In the above example Kenny treats the post-war joviality with is signature love-lorn perspective.The Ink Spots remained popular until the early 1950s with Kenny releasing his first single as a solo artist in 1951 and leaving the group prompting its disbandment in 1954. This later period of the band which bridged swing and jump-blues woudld prove hugely influential for what would become doo-wop and early rock 'n' roll. In recent years The Ink Spots have retained a connection to conflict and had a surprising second life with their music becoming the hallmark of the post-nuclear-war Fallout video-game franchise.
Recordings in this collection include the records below as well as others including: "Maybe," "Street of Dreams," and "When the swallows Come Back to Capistrano"
"Photograph of the Ink Spots", Billboard 1944 Music Yearbook. New York: Billboard.
Sources Cited
Goldberg, Marv. More Than Words Can Say : The Ink Spots and Their Music.Lanham, Md.: Scarecrow Press, 1998.