Made Possible by Viewers Like You
Maryland Public Television Turns 50
Tracing the History of Maryland's Only Statewide Broadcaster

September 2019 - July 2020

Shining Emmy® statuettes, a decades-old TV field camera, aging black-and-white photos, and video clips from the best-loved programs over the years. These and more are features of a year-long exhibition, Made Possible By Viewers Like You: Maryland Public Television Turns 50, in the Hornbake Library's Maryland Room Gallery.
Since 1969, Maryland Public Television (née the Maryland Center for Public Broadcasting) has created original public programming designed to serve the educational, cultural, and entertainment interests of Maryland citizens. Over the last five decades, MPT has earned both regional and national acclaim, becoming one of the nation's top producing PBS stations and maintaining consistently high production standards with programs that have been viewed worldwide.
In 2019, MPT celebrated its 50th anniversary with an exhibit that illustrates the station's origins, showcases the best of its programs through artifacts and digitized videos, and gives visitors behind-the-scenes glimpses into the impressive array of ideas, people, and technology that have helped make MPT a national leader in public television and a treasured resource for the state.
For more information, drop in at MPT's own 50th anniversary website at www.mpt.org/about/50th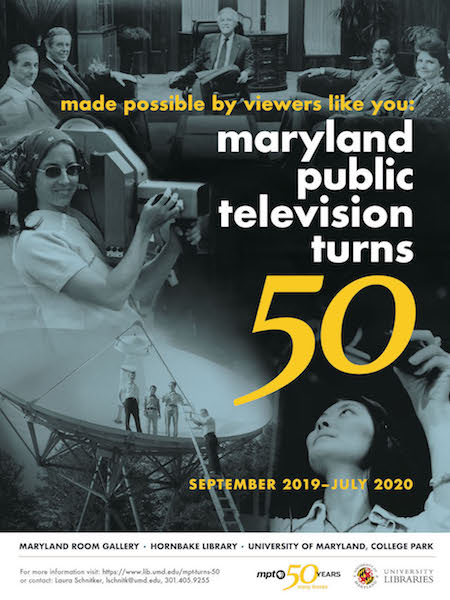 Presenting: Highlights from the MPT Program Archive
Run time: 14 minutes