From Vision to Reality: The Life and Career of Harry Clifton Byrd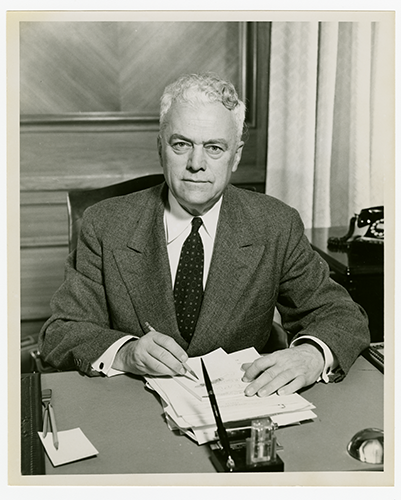 Harry Clifton "Curley" Byrd (1889-1970) is one of the most complex figures in University of Maryland history. Graduating from the Maryland Agricultural College (as the university was then known) at age 20 in 1908, he devoted more than 40 years of his life to his alma mater, ultimately serving as president from 1935 to 1954.
Under Byrd's leadership, enrollment grew almost 500%, and the university's budget rose from approximately $3 million to $20 million. He oversaw the construction of more than 60 buildings and worked with key university administrators to create the institution known today as University of Maryland University College.
Despite these and many other accomplishments, his presidency was not without controversy. For example, although African American students were admitted to the university while Byrd was president, his views on race and his efforts to bar students of color from the College Park campus are considered abhorrent by many in the 21st century. Others during Byrd's time questioned the methods he used to secure funding for major campus structures and the emphasis he placed on athletics.
This online exhibit includes a sampling of the extensive documentation of Byrd's personal and professional life in the University of Maryland Archives. It is comprised of a series of ten modules that examine the various facets of his life and career, from his earliest days growing up on Maryland's Eastern Shore to his UMD presidency to his political and civic activities toward the end of his life. While it is impossible to display the entire holdings of archival materials relating to Dr. Byrd, more than 200 linear feet, key documents and objects illustrate important accomplishments and turning points in Byrd's life.
Questions concerning this display and resources documenting Harry Clifton Byrd in the University Archives may be submitted to askhornbake@umd.edu.