Early Success at UMD:
Coach and Athletic Supporter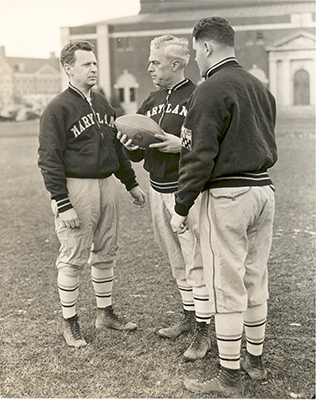 Harry Clifton Byrd maintained an avid interest in University of Maryland athletics throughout his days as a faculty member, administrator, and president on the College Park campus. Officially returning to the university late in 1912, he first appeared in the 1913-14 course catalog as an instructor in English and an assistant in physical culture. The following year, he became director of physical culture, while retaining his responsibilities in English. Byrd served as director of athletics several times through the years until 1935, when he served jointly as vice president and acting president of the university. Byrd also took over as head coach of the football team when he returned in 1912, only relinquishing the reins to Jack Faber in 1935 when he rose to the top-most level of the campus's administration; he continued to maintain close ties to the football team throughout his presidency.
Byrd was also well known for his leadership role in the formation of the Southern Conference in 1921 and the breakaway of seven schools from that organization in 1953 to form the Atlantic Coast Conference.
Click below to view enlarged images