Leadership in Maryland:
Politician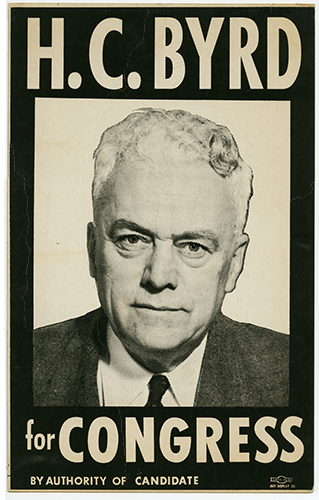 Harry Clifton Byrd was a political force to be reckoned with, whether he was lobbying on behalf of the University of Maryland, advising state and national leaders, or seeking elected office. His efforts to garner support for the university were the stuff of legend, his extreme persistence leading to his forcible ejection from the General Assembly on at least one occasion. He maintained close ties with Presidents Franklin Roosevelt and Lyndon Johnson and sent words of advice to Vice President Hubert Humphrey and Attorney General Robert F. Kennedy. Maryland's governors sought his support, just as he sought their commitment to authorizing and funding improvements in the University of Maryland.
Byrd ran for elected office three times without success. It was a prolonged clash with one of Maryland's governors, Theodore R. McKeldin, which led to his first campaign. When McKeldin beat William Preston Lane, whom Byrd supported, in 1950 to become governor and immediately promised intense scrutiny of the university and its operations, the fight was on. By 1953, Byrd decided that McKeldin had to be defeated, and he was just the man to do it. He resigned from the presidency of the university effective December 31, 1953, to seek the office full-time.
The Democratic primary fight against George P. Mahoney was brutal and highly damaging to Byrd's chances of winning the general election. Mahoney attempted to smear Byrd with accusations of personal dishonesty and called his administration of the university disgraceful. Mahoney also raised the segregation issue in a last ditch effort to sway voters. Although he was defeated by more than 4,000 votes, Mahoney demanded a recount and kept Byrd's campaign tied up in legal wrangling until close to the general election. McKeldin remained above the fray, merely requesting a copy of the Middle States Association accreditation report evaluating the university. Byrd released quotations from the confidential report, which alarmed the Board of Regents. They in turn released a six-page summary of the major concerns cited in the evaluation and acknowledged that the University of Maryland was up for reconsideration by the Middle States Association in two years. The damage was done. McKeldin, a popular incumbent, was re-elected by a margin of more than 60,000 votes, and Byrd returned to private life with the honorary title of president emeritus of the University of Maryland.
He ventured into the political arena twice more, in 1964 and 1966, seeking a seat in the U. S. House of Representatives. He was defeated in the primary in both races.
Click below to view enlarged images