Henry Cowell Reviews Roger Sessions, 1950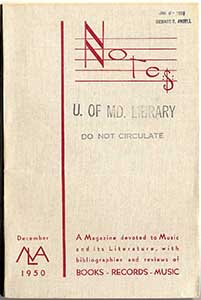 By 1950 Henry Cowell had written four book reviews and six music reviews for Notes. He and Sidney had also developed a strong friendship with the Notes Associate Editor, William Lichtenwanger. Because Lichtenwanger edited and compiled the book reviews for Notes, the majority of correspondence with the Cowells in the MLA Archives is addressed to and from him.
Lichtenwanger made special arrangements with Princeton University Press to obtain proofs of Roger Sessions' book The Musical Experience of Composer, Performer, Listener for Henry to review. The proofs from the publisher did not include Sessions' musical illustrations. Henry's review draft has not survived, but the MLA Archives contain another format: printer galley proofs.
Roger Sessions (1896–1985) was an American composer, critic, and teacher. He taught at Princeton University and won a Pulitzer Prize in 1974.
Discover the story by clicking on the thumbnail images below.