Sidney Cowell Reviews William Doerflinger, 1951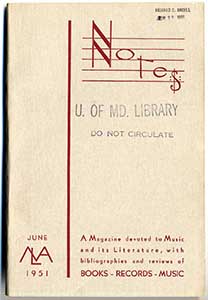 Sidney Cowell had William Doerflinger's book Shantymen and Shantyboys on her scholarly radar at least as early as January 1951 – six months before Notes published her review. She was so excited to review the book that she claimed it when she submitted her review of England's Dances by Douglas Kennedy. Sidney's friendship with Notes Associate Editor "Bill" Lichtenwanger is apparent in his response: "The dibs on the nautical naughtiness in notes [sic.] is yours when it comes . . . "
But, the book took longer to reach Sidney than she wanted; Notes Editor-in-Chief Richard Hill had to step in and contact the publisher Macmillan to move the review process along. In the end, Sidney's enthusiasm was satisfied and produced more words than the editors allotted to her.
William Doerflinger (1910–2000) was an American folk song collector with a special interest in maritime songs. Shantymen and Shantyboys was the second of three books; he also published a collection of over 150 lumberjack and sailor songs. The William Main Doerflinger Memorial Sea Shanty Sessions continue in Snug Harbor, Staten Island, NY to this day.
Discover the story by clicking on the thumbnail images below.