Charles Ives and His Music by Henry & Sidney Cowell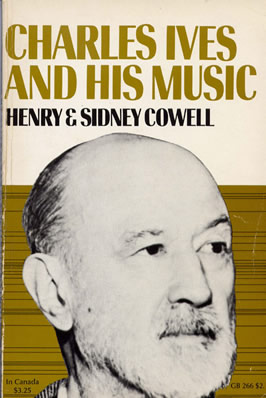 Henry Cowell's professional relationship with American modernist composer Charles Ives (1874–1954) began when Henry founded the journal New Music in 1927. Ives provided Henry with financial support for many musical projects over their decades-long friendship. Henry and his contemporaries Aaron Copland and Elliott Carter greatly admired Ives as a composer.
Henry and Sidney's biography of Charles Ives was published one year after Ives' death, and correspondence in the MLA Archives illustrate their years of work. Henry turned down two reviews for Notes in 1949 because he was preoccupied with writing the Ives biography with Sidney. Sidney kept the Notes staff informed of the book's progress through the 1950s, and also inquired as to whether it would receive a review in the journal she and her husband contributed to regularly.
In 1955 William Lichtenwanger contacted conductor, composer, and critic Richard Franko Goldman (1910–1980) to review Henry and Sidney's new biography of Ives. Goldman was happy to review the book and gave a glowing review.
Discover the story by clicking on the thumbnail images below.