Collecting Nancy Drew
Once scorned literature rejected by many, the classic Nancy Drew books have now become prized collector's items. This page exemplifies the many physical differences in covers, endpapers, spines, dust jackets, and other characteristics between the various editions and printings.
In most cases, the Nancy Drew dust jackets are worth far more than the actual book. The dust jacket on a first edition of the first Nancy Drew book is now worth approximately seven times that of the book.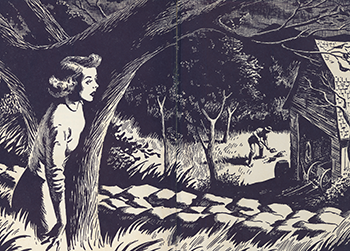 Identifying Print and Edition
Fans, Collectors, and Scholars
Fans, Collectors, and Scholars
The continuing power of girls' series books is demonstrated in the increasing interest in collecting books and memorabilia, and in joining fan clubs and attending conferences. An increasing amount of scholarly and popular publications are appearing on girls' series books with many of them concentrating on Nancy Drew.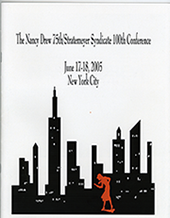 Fans
Girls' series books have been popular for over a century and have generated many fans including organized fan groups. The Nancy Drew Sleuths organization is a current group that welcomes fans and scholars.
Nancy Drew Sleuths sponsors an extensive Web site, The Sleuth magazine, an online members' forum, and an annual convention.
Displayed is the program from the Nancy Drew 75th/Stratemeyer 100th Conference held in New York City on June 17-18, 2005.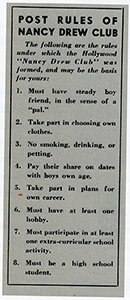 The Phantom Friends
The Phantom Friends is a fan group for girls' series books and other girls' novels from the 1930s through the 60s; they publish The Whispered Watchword magazine.
Susabella Passengers and Friends is another fan group which publishes Susabella Passengers and Friends: A Nostalgia Publication for Collectors and Readers of All Children's Series Books.
Rules for a Nancy Drew Fan Club created by Warner Brothers to promote the Nancy Drew movies of 1938-39. Reprinted from The Mysterious Case of Nancy Drew and the Hardy Boys by Carole Kismaric and Marvin Heiferman.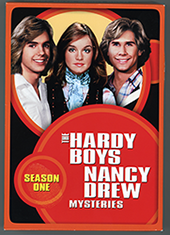 Spin-offs and Tie-ins
In addition to the new Nancy Drew book series that are currently appearing, the popular Nancy Drew computer games are now a firmly established spin-off of the original series. Parodies of Nancy Drew such as Chelsea Cain's Confessions of a Teen Sleuth (New York: Bloomsbury, 2005) have recently been published. Another recent Nancy Drew themed book is a mystery set at a Nancy Drew Convention: Susan Kandel's Not a Girl Detective (New York: William Morrow, 2005).
Shown is the DVD of the 1977 season of the TV show starring Shaun Cassidy, Parker Stevenson, and Pamela Sue Martin.
The Hardy Boys Nancy Drew Mysteries, Season One (1977). Universal Studios, 2005.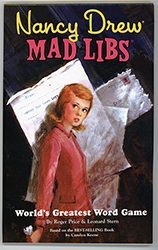 Games
Another spin-off is Nancy Drew Mad Libs by Roger Price and Leonard Stern. New York: Price Stern Sloan/Penguin Young Readers Group, 2005.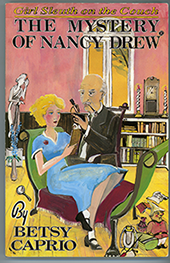 Scholars
Scholarly research on Nancy Drew and other Girls' Series books has been increasing since the 1993 Nancy Drew Conference at the University of Iowa. Girls' series books can be looked at through several differing perspectives: psychology, biography, social history, gender studies, or as children's literature.
Betsy Caprio explores Jungian themes in the Nancy Drew stories. She created maps of River Heights and the surrounding Nancy Drew Land and a chart to depict Nancy Drew's mythic importance.
Caprio, Betsy. The Mystery of Nancy Drew: Girl Sleuth on the Couch. Source Books,1992.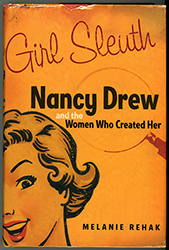 Ghostwriters Revealed
For all the people who have asked the question: "Who was Carolyn Keene?" this book tells the unknown story behind the creation of Nancy Drew concentrating on Mildred Wirt Benson, the original ghostwriter of the series, and Harriet Stratemeyer Adams, daughter of Edward Stratemeyer, who carried on the series and the Stratemeyer Syndicate after his death.
Rehak, Melanie. Girl Sleuth: Nancy Drew and the Women Who Created Her. Harcourt, 2005.
Memories of Reading Nancy Drew
Millions of women (and some men) have memories of reading Nancy Drew when they were children. Hornbake Library created a record of such memories on the blog "Memories of Reading Nancy Drew." Below are a few selected contributions to the blog.