The Irmgard Bartenieff papers
The Irmgard Bartenieff papers were discovered in a large collection of organizational papers collected by the Laban/Bartenieff Institute for Movement Studies (LIMS). That collection, comprised of over 300 boxes of materials, was "rescued" from a storage facility in Brooklyn, New York that had experienced damage due to fire (and subsequent water used to extinguish the blaze). Although the LIMS collection did not receive extensive damage, it was determined that it was best to move it.
To fund the move an Indigogo campaign was launched and over 100 movement analysts donated whatever they could. Karen Bradley, then Executive Director of LIMS and Head of Graduate Studies in Dance at the University of Maryland, worked with then SCPA Curator Vin Novara to effect the move. Dr Susan L. Wiesner, a Certified Movement Analyst, was brought in to process the collection and discovered the wealth of materials that were the personal papers of Irmgard Bartenieff, LIMS' founder, and thus we are able to bring you this online exhibit.
The photo to the right shows processed materials housed at the University of Maryland in the Michelle Smith Performing Arts Library, Special Collections in the Performing Arts (SCPA). The collection is made up of approximately 60 linear feet of boxes dated from 1920-1981, with the bulk of the collection dating to 1927.
In November 2017, SCPA hosted a one-day symposium to formally open the gallery exhibit: "Irmgard Bartenieff: A Personal journey through dance." The interactive exhibit displayed items from the collection, as well as offering options for movement explorations in Space and Shape through an icosahedron and cube and a Kinect system.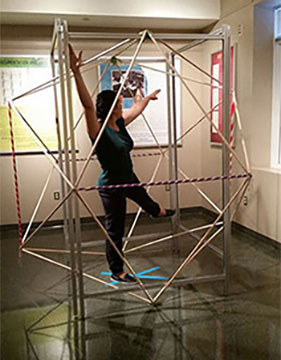 A student explores the cube and icosahedron displayed in the 2017-2018 MSPAL gallery exhibit