Aaron Perrine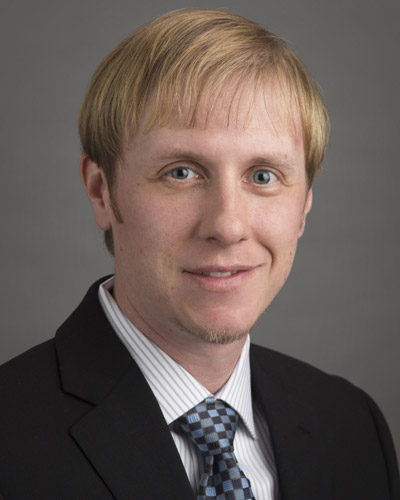 2013: Pale Blue on Deep
2015: Only Light
Born in McGregor, Minnesota, in 1979, Aaron Perrine earned his bachelor's degree in trombone performance and music education with high distinction from the University of Minnesota at Morris and a master's of music in composition from the University of Minnesota at Minneapolis, where he studied composition with Judith Zaimont and jazz arranging with Dean Sorenson. He received a PhD in composition from the University of Iowa, studying with David Gompper and Lawrence Fritts, and is currently an assistant professor of music at Cornell College.
Perrine has received many awards as a student and professional, including the Edna Murphy Morrison Award, Daisy Hansen Award, Chancellor's Award, and multiple awards in composition from the Minnesota Music Educators Association while he was studying at the University of Minnesota at Morris. He has written several works for concert band, including April, which was a finalist in the Frank Ticheli Composition Contest.
---
Pale Blue on Deep
Pale Blue on Deep, which won the 2013 Sousa/ABA/Ostwald Award, was performed by the University of South Carolina Wind Ensemble at the 80th annual ABA Convention. The composer describes the piece as a reflection of the "power and serene beauty" of Lake Superior.
Only Light
The winning composition of the 2015 Sousa/ABA/Ostwald Contest, Only Light was commissioned by the University of Iowa Symphony Band and performed at the 82nd annual ABA Convention by the California State University, Long Beach Wind Symphony. Perrine, inspired by his admiration of friends who showed courage through adversity, states, "Only Light is meant to convey a sense of hope and healing."