Peter Graham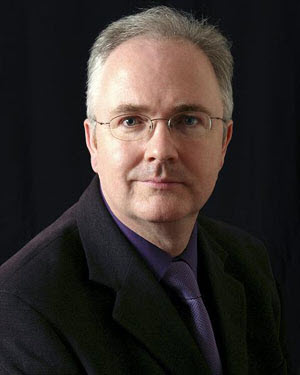 2002: Harrison's Dream
Peter Graham was born in 1958 in Lanarkshire, Scotland, and currently teaches composition at the University of Salford. He has previously served as Music Associate with the famous Black Dyke Band (1997–2004) and as composer-in-residence with Her Majesty's Coldstream Guards Band. Graham received a bachelor's degree from the University of Edinburgh, and a PhD in composition from University of London's Goldsmiths College, where he studied with Edward Gregson.
Graham has worked regularly as an arranger for BBC Television and Radio and has specialized in composition for the British style brass band. He lived briefly in New York City where he served as a freelance composer, arranger, and publications editor with the S.A. Music Bureau.
Graham's compositions have been recorded and performed by many of the world's leading ensembles, including the Tokyo Kosei Wind Orchestra and the Royal Norwegian Navy Band. His album of xylophone music commissioned for virtuoso Evelyn Glennie by BMG/RCA Red Label, was nominated as Best Classical Crossover Album at the 1999 Grammy Awards held in Los Angeles.
---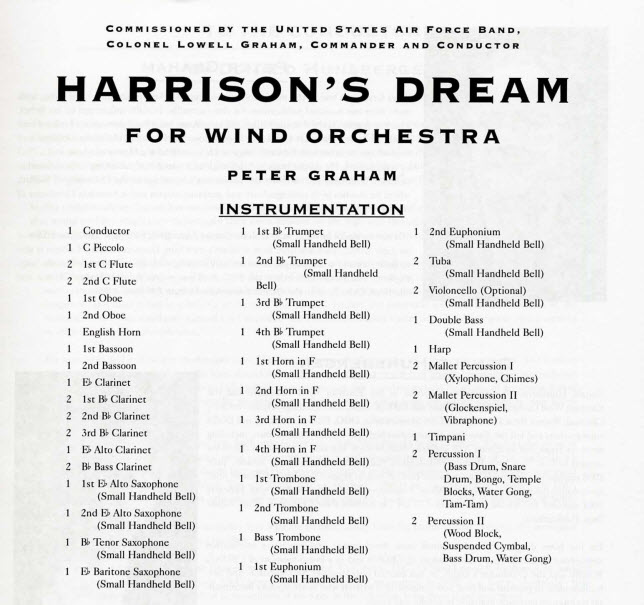 Harrison's Dream, commissioned by the United States Air Force Band in Washington, D.C., won the 2002 ABA Ostwald Award for composition.
The work is inspired by clockmaker John Harrison's efforts in the early 1700s to develop a life-saving nautical navigation instrument to calculate longitude. In his program notes to the piece, Graham writes,
"Much of the music is mechanistic in tone and is constructed along precise mathematical and metrical lines. Aural echoes of the clockmaker's workshop alternate with nightmare dream pictures: Harrison was haunted by the realization that countless lives depended on a solution to the longitude problem. The emotional core of the work reflects on the evening of October 22, 1707 [when four British ships sank], culminating in the sounding of eight bells and the ascension of the mariners' souls in the sounding of the handheld bells."
Harrison's Dream features brisk articulated sections in the brass and percussion contrasting with slow solos for oboe and horn. Many of the wind players are called upon to ring small handheld bells in an aleatoric fashion to express the "eight bells" signal for the sailors who lost their lives.