Curiouser and Curiouser: Unusual Alice Items
"Why, sometimes I've believed as many as six impossible things before breakfast."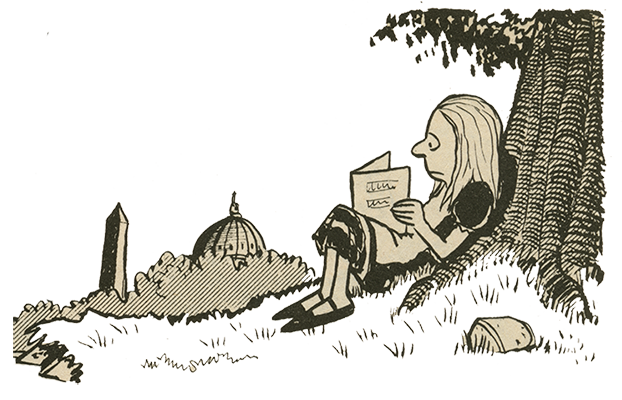 "Alice in Watergateland". By Bill Sanders.
---
The Mad Hatter Mystery.
By John Dickson Carr.
Cover Design by H. Lawrence Hoffman.
New York: Popular Library, undated.
The Alice books have been a frequent source of inspiration for detective novels, although any connection to the actual Alice books is usually tangential at best. In the Mad Hatter Mystery, first published in 1933, top hats are being stolen from important citizens all around London and then returned in unlikely locations. Events turn serious when one of the stolen hats is found on a corpse. Carr's detective Dr. Gideon Fell solves the knotty puzzle, which also involves a stolen manuscript, unfortunately by Edgar Allan Poe, not Carroll.
This Popular Library edition includes a World War II era appeal "Our Boys Need Books," asking buyers to send their copies to Army libraries after reading.
Exhibit item 7.7
---
Alice and Sports
Jabberwocky. The Classic Poem from Lewis Carroll's Through the Looking-Glass and What Alice Found There.
Re-imagined and illustrated by Christopher Myers.
Myers takes Carroll's most famous nonsense poem and brilliantly recreates it as a pick-up basketball game. He uses Carroll's original poem and his own vibrant illustrations to create a "Jabberwock" who is the towering king of an urban basketball court, unchallenged—up till now!
Myers' illustrations pulse with energy, and could, the New York Times reviewer concluded, "make you believe that somewhere in Mount Cemetery in Surrey, England, Lewis Carroll is attempting a graceful spin move."
Exhibit item 7.3
不思議の国の野球.
[Baseball in Wonderland].
By Masayuki Tamaki.
Illustrated by Kunio Hatada.
Tokyo: Bungeishunju, 1991.
These humorous stories about professional baseball in Japan make use of Alice and other literary texts. For example, an early illustration shows the White Rabbit in a baseball cap. In another, the Caterpillar is wearing multiple baseball shoes. A story caricaturing Joe DiMaggio is called "Masumi's Adventure in Giantland" by "Charles Lutwidge Dodgers!" Masumi is presumably Masumi Kuwata, who pitched 21 seasons for the Yomiuri Giants, a professional baseball team in Toyoko, Japan.
Exhibit item 7.1
---
"Alice" in Shorthand
Alice's Adventures in Wonderland. Printed in the Intermediate Stage of Pitman's Shorthand.
New Era Edition.
By Lewis Carroll.
Illustrated by John Tenniel.
London: Sir Isaac Pitman & Sons, [1965].
The first transliteration of Alice's Adventures in Wonderland into shorthand was published in 1889. Here Alice is printed as a teaching text; this is one of the last editions to appear. The transcriber is anonymous. Tenniel illustrations, in reduced size, usually appear at the bottom of the pages.
Exhibit item 7.12
---
Alice in Wonderland.
[Book 1 & Book 2]
Adapted by Parker Tyler.
Illustrated by Mary Goeppinger.
New York: Board of Education of the City of New York.
Federal Works Agency, Work Projects Administration for the City of New York, August 1939.
During the Depression, from 1935 through 1943, the Work Projects Administration (WPA) subsidized thousands of artists, most notably by commissioning murals, paintings, and sculptures. Perhaps less well-known, the WPA commissioned children's books that were designed as supplementary material for classroom instruction. Author, poet, and film critic Parker Tyler offers an admirably clear retelling of Alice's Adventures in Wonderland. Illustrator Mary Goeppinger renders Tenniel's original illustrations larger and simplified for young readers.
Exhibit item 7.9
---
Hare Krishna Alice Retelling
Lila in the Land of Illusion: A Retelling of Lewis Carroll's Alice in Wonderland.
By Swami Bhaktipada.
Illustrated by The New Vrindaban Community Artists.
New Vrindaban, WV: Palace Publishing, 1987.
When Lila Devi Dasi, a little Hare Krishna devotee, sees a rabbit carrying a copy of the Bhagavad Gita she chases him right down a rabbit hole. This book follows Carroll's original fairly closely, but with details cleverly transmuted to those appropriate to an ashram. In Wonderland, Lila constantly strives to remember the "non-illusory Absolute Truth of Krishna."
The author, Swami Bhaktipada, was a controversial guru and co-founder of the New Vrindaban Hare Krishna community in Moundsville, West Virginia, the largest such community in the country.
Exhibit item 7.5
---
Alice in Wonderland and Through the Looking-Glass.
By Lewis Carroll.
Tarry at the Taft.
New York: Taft Hotel, circa late 1920s.
The Taft, a luxury hotel located on 7th Avenue at 50th Street in Manhattan (now "The Michelangelo"), opened in 1926. The book was provided free in hotel guest rooms. Other titles in the "Tarry at the Taft" series include A Tale of Two Cities, Soldiers Three, and The Scarlet Letter.
Exhibit item 7.14
Alice's Adventures in Wonderland.
Seaside Library, Pocket Edition.
By Lewis Carroll.
Illustrated by John Tenniel.
New York: George Munro's Sons, Publisher, 1884.
This may be the earliest paperback edition of Alice. The information at the top of the front cover indicates that this book was published on December 24, 1884, cost 25 cents, and that volumes in the Seaside Library were issued daily. The frequency of publication and the low price enabled these books to masquerade as periodicals and qualify for cheap second-class postal rates—and thus to undercut established publishers such as Harper & Brothers.
Exhibit item 7.2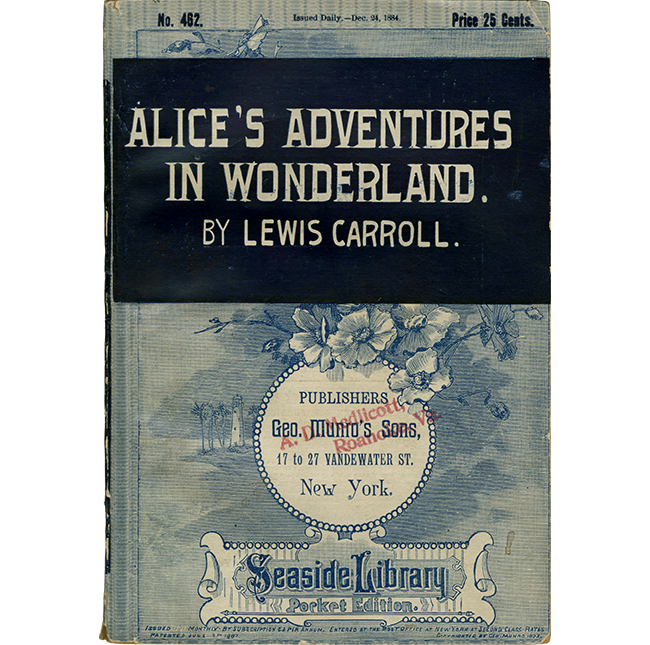 ---
Flastacowo.
Volume XI.
Published by the Junior Class, Florida State College for Women, Tallahassee, Florida, 1925.
Alice in Wonderland has been a popular theme for high school and college yearbooks, especially in the 1920s and 1930s. The Imholtzes have 32 yearbooks in their collection, ranging from in date from 1924 to 1991. Most utilize student art, sometimes failing to credit the artists.
Exhibit item 7.11
---
1940's Puzzle Book
The Lewis Carroll Puzzle Book: Containing over 1,000 Posers from "Alice in Wonderland' and other books by Lewis Carroll.
Compiled by D.B. Eperson.
Salisbury: Bishop's Appeal Fund Office, 1948.
The Rev. Eperson, the author of several papers on Carroll's mathematics, compiled this fund-raising pamphlet for the diocese of Salisbury in England. Contrary to the title, not all of the questions and puzzles are based on the Alice books or on Carroll's own puzzles. But the book includes three crossword puzzles based on Alice; several examples of Doublets and Syzygies (two word games invented by Carroll, the latter much more difficult); and several of Carroll's mathematical "Pillow-Problems."
Exhibit item 7.15
---
Alice Lengter Tilbake.
[Alice Longs to Go Back].
By Tor Åge Bringsværd.
Illustrated by Judith Allan.
Oslo: Gyldendal, 1983.
In this modern Norwegian fairy tale, Alice, now an elderly woman, longs to return to the magic of Wonderland. She finds her way back and encounters her old friends, including a white rabbit with a very long beard. However, she discovers that Wonderland is now the Land of No-No, where fairy tales are forbidden—a situation which is happily resolved by the end of this tale. Judith Allan has produced a set of lively, joyous illustrations that border on the phantasmagorical.
Exhibit item 7.13
---
Alice Parodies
"Alice through the Lager Glass".
The Ruhleben Camp Magazine No. 6, June 1917. Ruhleben, Germany.
Ruhleben was an internment camp just west of Berlin in which approximately 5,500 foreign civilians who had been working, studying, vacationing, or simply living in Germany at the outbreak of World War I were confined. Ironically, the word "Ruhleben" in German means "peaceful living." The vast majority of the internees were British although there were some French and Italians. The British had their own newspaper and magazine. The editor of the Ruhleben Camp Magazine was L.E. Filmore, a former barrister. He may be the author of "Alice through the Lager Glass."
In Lager Glassland, a parody of Looking-Glassland, Alice is shown around the camp, and meets Father William, Optimum and Pessimee (Tweedledum and Tweedledee), and other characters. "Jabberwocky" is parodied, substituting the names of musicians, composers and operas for the nonsense words.
Exhibit item 7.8
---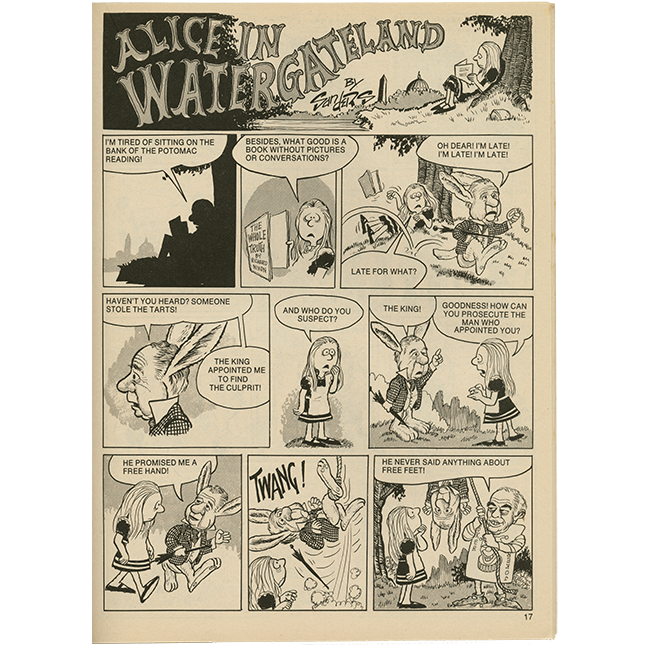 "Alice in Watergateland".
By Bill Sanders.
Comix Book, No. 1.
New York, Magazine Management Company, 1974.
In this parody of the 1970s Watergate scandal, Alice is sitting on the bank of the Potomac reading a book when the White Rabbit, Watergate prosecutor Archibald Cox, runs by. We also meet TweedleJohn (Erlichman) and TweedleBob (Haldeman), Father William's son (John Dean), and Judge John Sirica, who recites:
The time has come (the walrus) said

To talk of many things.

Of tapes, and gaps, and memory lapse.

And the sovereignty of kings.
Exhibit item 7.6
---
Modern Mouse's Tail "Around the World"
The Tale of the Mouse's Tail. The Journey of Lewis Carroll's Mouse's Tail Around the World and Through Computers.
By David and Maxine Schaefer.
Illustrated by Jonathan Dixon.
Silver Spring, MD: Mica Publishers, 1995.
The technopaegnia (shape-poem) Mouse's Tale, which was typeset in the form of a sinuous mouse tail in chapter 3 of Alice's Adventures in Wonderland, is recreated and reimagined in this book. The "tale" tail grows into many different shapes and languages including Japanese, Russian, and more. Dixon's charming color mouse illustration on the cover, in which the quasi-sigma shaped tale consists of the repeated word "tail," are matched by his creative black and white illustrations throughout the book.
Exhibit item 7.4