About the Collectors
"But I don't want to go among mad people," Alice remarked.

"Oh, you can't help that," said the Cat: "we're all mad here. I'm mad. You're mad."
Down the Rabbit Hole: Collecting Lewis Carroll
If book collecting is a gentle madness, then Clare and August Imholtz would be the first to admit they are completely smitten by this benign affliction. It began innocently enough in 1978 when August was writing an article on Greek and Latin translations of Carroll's "Jabberwocky" poem. Clare, meanwhile, happened to pick up a copy of Lewis Carroll Observed, a collection of essays published for the Lewis Carroll Society of North America. The address of the Society's secretary, the late Maxine Schaefer, was listed in the back of the book. August contacted Maxine and her husband David, who immediately invited August and Clare to join the Society.
In joining the ranks of the Lewis Carroll Society, August and Clare were introduced to the curious world of collectors of all things Alice. At first they resisted the urge to acquire, but eventually the addiction took hold, and ever since they have been happily building a sizable collection of Lewis Carroll and Alice-related books, artwork, ephemera, and more.
Hardly a week passes when some new acquisition doesn't arrive in the mail or get plucked from the shelves of a bookseller. Their ever-growing collection is a testament to the wide breadth and timeless appeal of Carroll's legacy.
Why collect? For Clare and August Imholtz, collecting is exciting in itself, but it also is an opportunity to discover new insights into Lewis Carroll's creative genius. Their collection embodies their desire to preserve, organize, describe, and share the many facets of Carroll.
For three decades, Clare and August have shared their knowledge with their fellow Carrollians and with the uninitiated, including classes at the University of Maryland. Collecting has led to an international cast of close friendships, which they treasure as much as their books.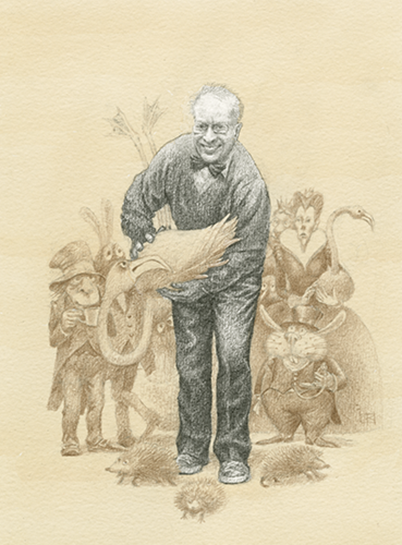 Drawing of August Imholtz by Oleg Lipchenko, 2015.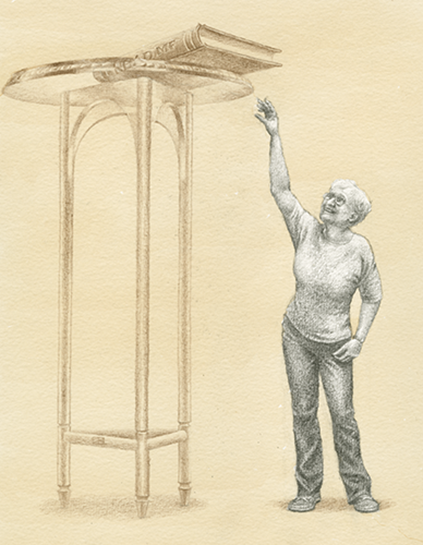 Drawing of Clare Imholtz by Oleg Lipchenko, 2015.