Amusement Parks
Working class Americans began enjoying leisure activities in large numbers in the late nineteenth and early twentieth century. The increasing ease of travel made possible by railroads, a growth in wages, and the advent of Saturday half day and all-day Sunday holidays in many manufacturing industries allowed workers and their families to leave urban centers in search of amusements. This demand for low cost entertainment near major cities led to the growth and popularity of amusement parks.
Less than an hour from Manhattan and costing only 25 cents to take the train or boat, Coney Island was home to several amusement parks. In the early decades of the 20th century, working class New Yorkers flocked to Coney Island, which often drew over 1 million people a day on a summer weekend. For many, it was a colorful and inexpensive post card that helped mark what was certainly a highlight of the month, if not the summer. On a single day in 1906 visitors mailed an amazing two hundred thousand cards. These cards highlight the fantastical architecture, mechanical thrills, exotic sideshows and other attractions that made Coney Island the iconic American amusement park.
City dwellers left New York for the day, escaping the drab existence of city life, to take advantage of Coney Island's seaside location. Visitors were drawn to the beach as well as the hustle bustle of Surf Avenue. However, the biggest draws were the three amusement parks that dominated Coney Island at the turn of the twentieth century: Luna Park, Steeplechase Park, and Dreamland, among the most extravagant, and sensational, amusement parks ever built.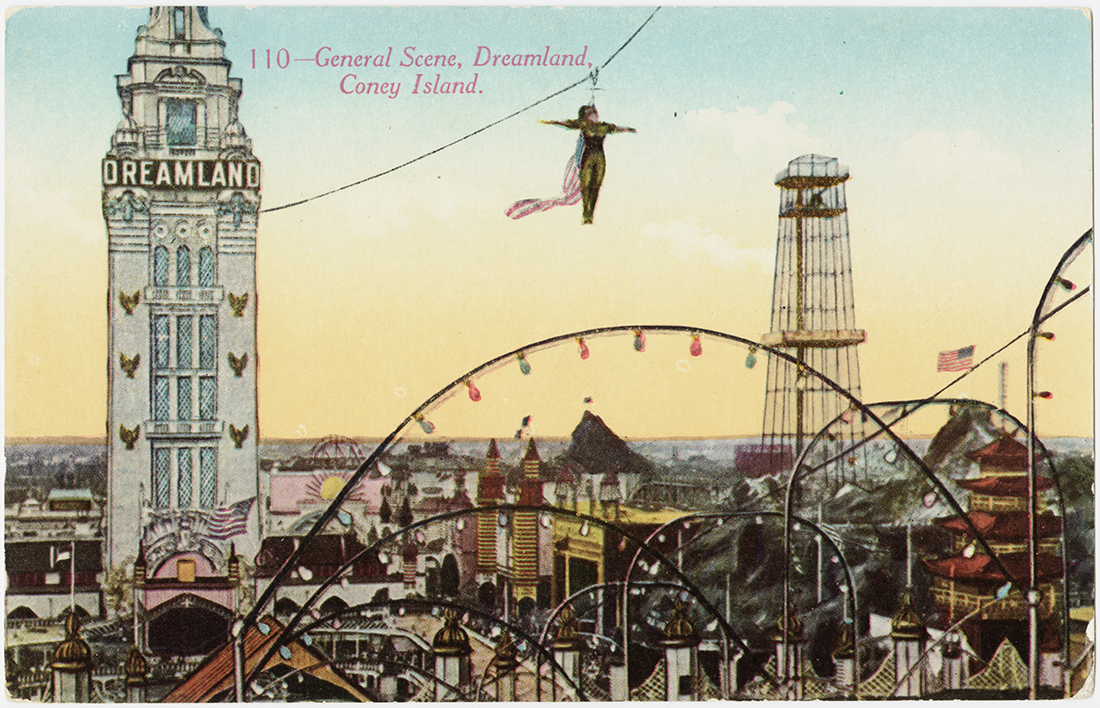 "Edna, you would have to step lively in New York.
The streets are crowded all the time great sights at Coney Island."
- 1909 -
Luna Park, Coney Island, NY
Steeplechase, Coney Island, NY
Dreamland, Coney Island, NY