The Adirondacks
Postcards illustrate the growing interest in outdoor vacationing among upper and middle-class Americans in the late nineteenth and early twentieth centuries. As outdoor boosters touted the benefits of contact with nature, increasing numbers of urban Americans began to seek temporary refuge from the chaos of city life. These adventures were enabled by the new infrastructure provided by railroads and tour companies. In these postcard images, we can see outdoor vacationers' desire to experience the unspoiled American wilderness—often without relinquishing the comforts of home.
The Adirondack Mountain region in upstate New York, considered the last east coast wilderness, was among the first popular outdoor destinations in the mid-nineteenth century. Made famous by the painters of the Hudson River School, and accessible from eastern cities by rail, the region first provided a summer retreat for wealthy industrialists. By the turn of the twentieth century middle-class tourists joined them, as tour companies catered to a variety of budgets and tastes. American visitors took pride in the beauty of the landscape, and sent their friends and family postcard messages comparing the Adirondacks to the famous landscapes of Switzerland and Italy.
​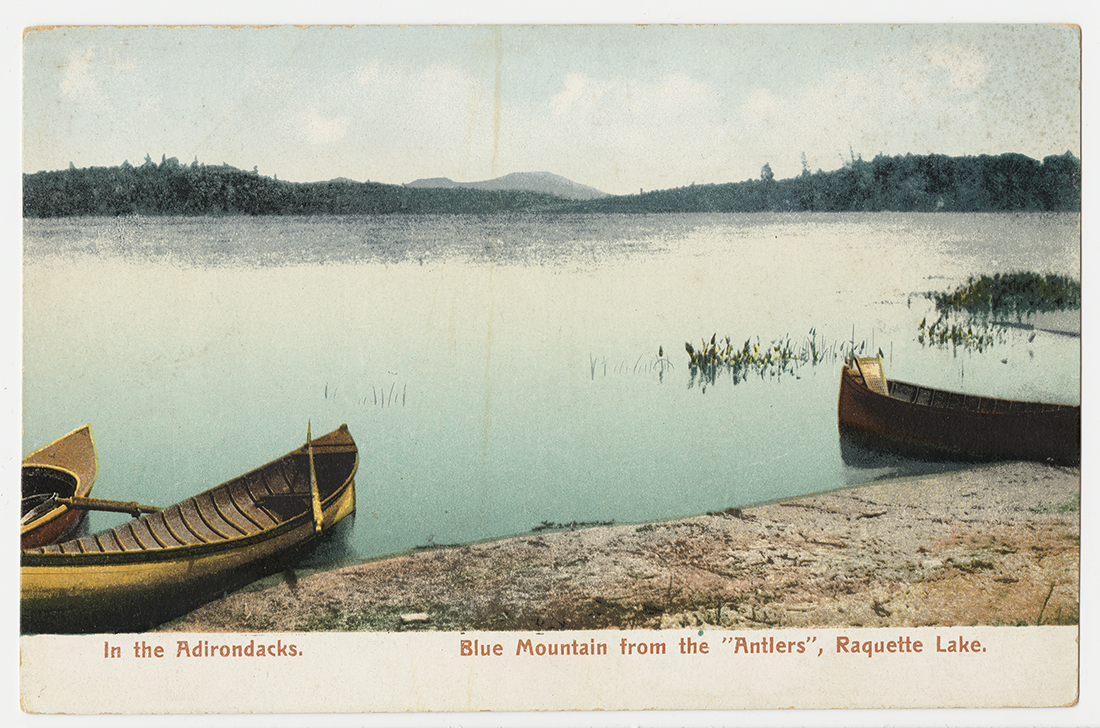 "This must be like the Switzerland lakes
—certainly they cannot be more beautiful."
- 1915 -
Getting There And Around
Once Adirondacks tourists arrived from distant locales, they often traded the refinements of rail cars for the simplicity of canoes. Navigating the region's many lakes required traveling over water. Even the most adventurous northeast travelers relied on guides to lead them through stretches of wilderness. Often native to the northeast woods, these guides took advantage of the emerging demand for wilderness amenities.
Where to Stay
Camping
Summer Camping on the Madunkeunk Stream, Near Lincoln, Maine): Camping provided opportunities to perform activities that tested nineteenth-century ideas that women were best-suited as home-bound domestics, and men as politically active breadwinners. Some of the ;postcards show men and women preparing a meal together, demonstrates that in practice such ideals were not always carried out in practice, at least on a camping vacation.
Resort Lodging
Steven's House/Paul Smith's/The Antlers: The popularity of grand resort hotels such as Steven's House, Paul Smith's and the Antlers demonstrate that many Adirondacks vacationers sought refinement in the woods as well as at home. Most often built on lakes, Adirondacks resorts provided guests opportunities to canoe and fish. The grounds themselves often provided casinos for gambling and porches for promenading.