Featured Items from the Exhibit
---
The Roots of the Mountain
by William Morris. London: Reeves and Turner, 1890.
This 1890 edition is bound in Morris & Co.'s "Honeysuckle" fabric. According to Sydney Cockerell, Morris considered this volume "the best-looking book issued since the 17th Century".
---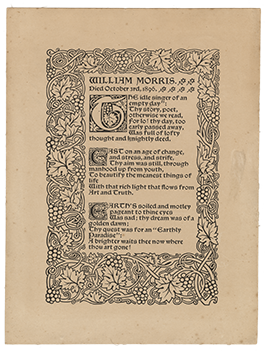 William Morris Memorial Poem
by Kelmscott Press Employees. Hammersmith: Kelmscott Press, 1896.
This poem was written and printed by Kelmscott Press employees shortly after the death of William Morris on October 3, 1896. This is the only known copy still in existence.
---
Earthly Paradise
by William Morris. Boston: Reeves and Turner, 1890.
by William Morris. London: Longmans, Green, and Co., 1900.
The gold design that appears on this green binding of the Earthly Paradise was designed by William Morris in 1890. This copy was inscribed by Morris to his wife's sister, Elizabeth Burden.
The intricate flower and leaf design was later reproduced with a red background for the 1900 edition by Longmans.
---
Dr. Neale. Good King Wenceslas: A Carol
Illustrated by Arthur J. Gaskin with an Introduction by William Morris. Birmingham: Cornish Brothers, 1895.
In the introduction to Good King Wenceslas, Morris remarked that this classic Christmas poem appealed to him "as a happy memory of past days."
This 1895 edition is illustrated by Morris's friend Arthur J. Gaskin, who also produced woodcut illustrations for the Kelmscott Press edition of The Shepheardes Calendars.
---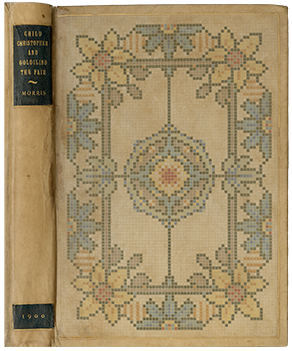 Child Christopher and Goldilind the Fair
by William Morris. Portland, Maine: Thomas B. Mosher, 1900.
William Morris originally published Child Christopher in 1895. Collector Jack Walsdorf notes that this 1900 edition, published by the American fine press pioneer, Thomas Mosher, has an "unusual binding, vellum overboards, with an underlay design imitative of embroidery, and two inlaid green leather labels."
---
The Boke of Cupide, God of Love, or, The Cuckow and the Nightingale
by Sir Thomas Clanvowe. Hammersmith: Kelmscott Press, 1896.
The Boke of Cupid is an allegorical poem written by Sir Thomas Clanvowe in the 15th century. In the poem, the narrator witnesses an argument about the nature of love between a nightingale and a cuckoo. The nightingale defends love's virtue, while the scornful cuckoo denounces love's capricious nature. This edition, printed at Morris's Kelmscott Press, features oversized illuminated letters and titles printed in red ink.
---
The Defence of Guenevere and Other Poems
by William Morris. Illustrated by Jessie M. King. London: J. Lane, 1904.
The Defence of Guenevere was originally published in 1858, when William Morris was twenty-four years old. This 1904 edition was illustrated by Scottish artist Jessie M. King, who was known for her Art Nouveau designs and contributions to the Arts and Crafts Movement. King also designed the decorative binding.
---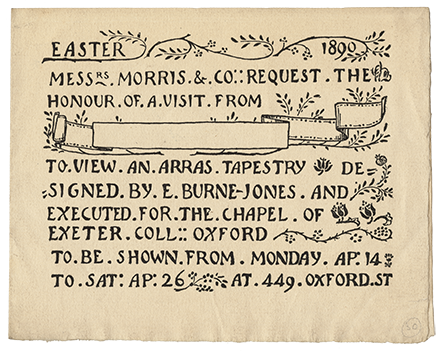 Invitation to View a Tapestry from Morris & Co., April 1890
In addition to selling products for private homes, Morris & Co. created a variety of furnishings for religious institutions, including stained glass and tapestries. This invitation offers the opportunity to view an Arras tapestry designed by Edward Burne-Jones for the chapel at Exeter College, Oxford.
---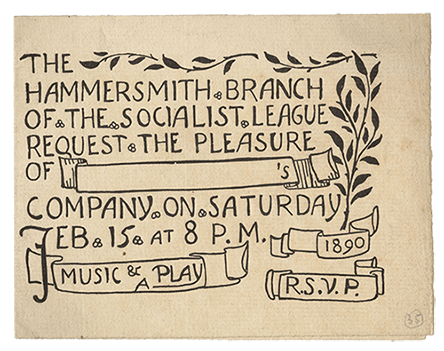 Invitation to Socialist League Meetings, February 15th, 1890
Morris established the Hammersmith Branch of the Socialist League in 1885 with Eleanor Marx, Walter Crane, Ernest Belford Bax, and others. The branch held regular public meetings at the foot of the Hammersmith Bridge on Sunday mornings, as well as lectures every Sunday evening at Morris's Kelmscott home. The Socialist League also organized social events. This invitation promises a night of music and a play.
---
Some German Woodcuts of the Fifteenth Century
Hammersmith: Kelmscott Press, 1898.
William Morris collected early printed books, particularly illustrated and illuminated works. Some German Woodcuts of the Fifteenth Century contains thirty-five illustrations reproduced from books in his personal library.
---
Maud: A Monodrama
by Lord Alfred Tennyson. Hammersmith: Kelmscott Press, 1893.
Maud: A Monodrama was written by Lord Alfred Tennyson in 1855, shortly after he was named Poet Laureate of England. The accompanying advertisement from the publishers Macmillan & Co. announces the 1893 printing of Maud at the Kelmscott Press.
---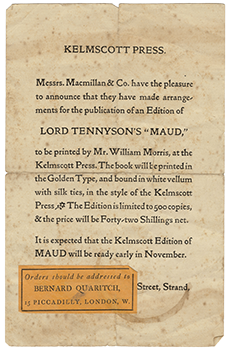 Maud: A Monodrama
by Lord Alfred Tennyson. Hammersmith: Kelmscott Press, 1893.
Many Kelmscott Press books, including this copy of Maud, were bound with vellum and colored ribbons. The green cardboard slipcase, most likely commissioned by the publisher, was made specifically to house the Kelmscott Maud.
---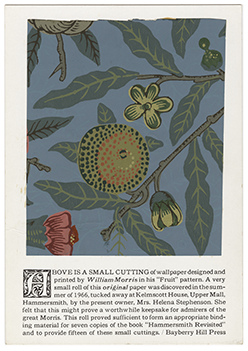 Ruth and Foster Johnson. Kelmscott Revisited: Wallpaper Sample Taken from Kelmscott House.
Meriden, Connecticut: Bayberry Hill Press, 1966.
This is a small cutting of wallpaper designed and printed by Morris & Co. in his 'Fruit' pattern. A small roll of this original paper was discovered in the summer of 1966 tucked away at Kelmscott House, Upper Mall, Hammersmith.