A Typographical Adventure: Morris as Printer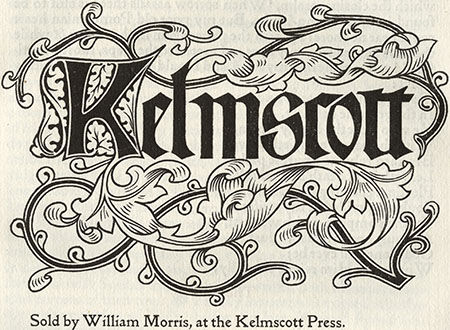 William Morris founded the Kelmscott Press in January 1891 near his home in Hammersmith, London. The name came from his much-loved Kelmscott Manor house in the Cotswolds. For seven years the Press, which Morris referred to as his typographical adventure, produced 53 works (comprising 66 volumes) in limited press runs averaging 300 copies each. Morris oversaw every detail including designin three types for use in printing, finding a source for custom handmade paper, and designing ornamental initials and borders for the books.
Although Morris was in poor health and nearing the end of his life, the Kelmscott Press would be his crowning achievement. The Press became the grand summation of his vision for life as expressed in a beautiful book. The Kelmscott Press was William Morris's brainchild, but it was also a collaborative effort involving printers, engravers, editors, craftsmen, and illustrators, as well as those handling the business side of the press. Ephemera and letters shown here demonstrate the complexity of the "typographical adventure" Morris embarked on.
Image: Kelmscott Press alternate printer's mark, Sidonia the Sorceress, 1893.
"The picture-book is not, perhaps, absolutely necessary to man's life, but it gives us such endless pleasure...that it must remain one of the very worthiest things towards the production of which reasonable men should strive."

- William Morris, The Ideal Book, 1893 -
---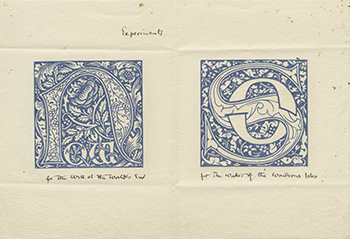 Trial pull of Kelmscott Press woodcut initials
William Morris created these experimental designs for initial letters used in The Well at the World's End and The Waters of the Wondrous Isles.
---
Letter, Sydney Cockerell to J. J. Leighton [December 2, 1896] regarding The Shepheard's Calendar
The subject of Sydney Cockerell's letter and invoice to bookbinders J. J. Leighton is the shipment of a copy of The Shepheard's Calendar to the South Kensington Museum. Cockerell was the second secretary of the press.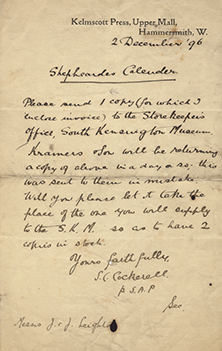 ---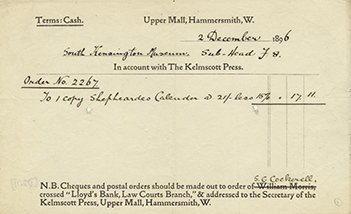 Invoice for The Shepheard's Calendar
---
Henry Halliday Sparling to Mr. J.E. Sadler
January 2, 1893
In his typewritten letter to Mr. Sadler of Oxford, Henry Halliday Sparling refers to the list of Kelmscott Press books. Sparling was the first secretary of the Kelmscott Press and the husband of Morris's daughter May.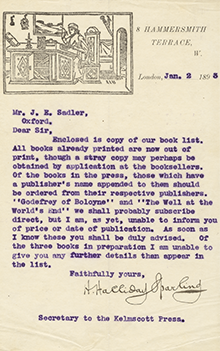 ---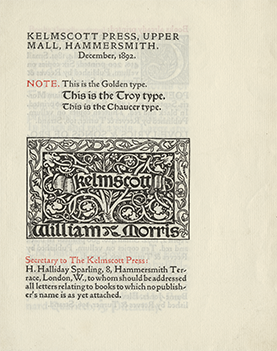 Advertising list of Kelmscott Press services, 1892
---
Leo Wyatt drawing of Hammersmith area of Kelmscott House and press, undated
This drawing of Hammersmith Upper Mall shows the location of Kelmscott House, Morris's residence, and the nearby Kelmscott Press.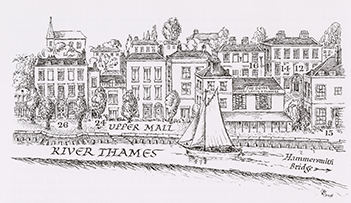 ---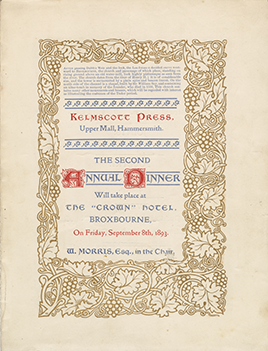 Menu and program of events for The Second Annual Kelmscott Press Wayzgoose Dinner
September 8th, 1893
From 1892 to 1895, William Morris sponsored an annual dinner at a hotel for the Kelmscott Press printers. These outings were known in the trade as a 'Wayzgoose.'
---
Menu and program of events for The Fourth Annual Kelmscott Press Wayzgoose Dinner
September 13th, 1895
In addition to copious amounts of food and wine, these dinners featured toasts, recitations, and songs. The printers themselves designed the menus using the Kelmscott Press type.