Morris & Co.: Morris as Decorator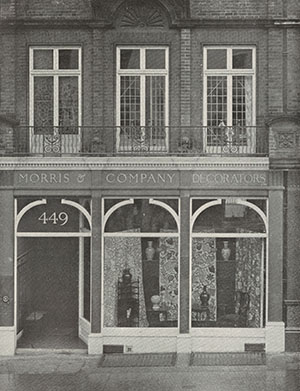 William Morris founded Morris, Marshall, Faulkner, & Co. in 1861. His motivation was to remedy the pervasiveness of cheaply-made, mass produced furnishings that lacked any sense of beauty or style. Morris recruited friends in organizing "The Firm," including Edward Burne-Jones, Dante Gabriel Rossetti, Phillip Webb, Ford Maddox Brown, Charles Faulkner and Peter Paul Marshall. In 1875, Morris restructured the business with himself as the sole proprietor. Morris & Co. produced objects that emphasized traditional craftsmanship and the beauty of natural materials. Morris envisioned elevating crafts to a level of artistic importance he believed existed in the Middle Ages. He also hoped to provide quality goods for the masses at an affordable price. The prospectus of the firm stated that "good decoration, involving rather the luxury of taste than the luxury of costliness, will be found to be much less expensive than is generally supposed." While Morris & Co. was not able to deliver on this promise, the firm did increase the availability of 'useful and beautiful' furnishings. Morris later lamented: "I spend my life ministering to the swinish luxury of the rich."
Image: Morris & Co. storefront on Oxford Street in London, circa 1898.
"Have nothing in your houses that you do not know to be useful, or believe to be beautiful."

- William Morris, The Beauty of Life, 1880 -
---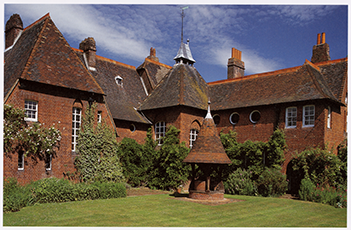 Red House
Philip Webb designed Red House for William Morris and his bride Jane in 1859. Morris thought commercial household decorations unsuitable, so he invited his friends to help him design the interior of his home. Many believe this creative collaboration inspired the formation of Morris, Marshall, Faulkner & Co.
---
A Note on the Morris Stained Glass Work
Printed by Morris & Co.
London: Morris & Co., 1913
The majority of orders placed at Morris & Co. in the 1860s were for stained glass, which the company produced from 1861 through 1930.
---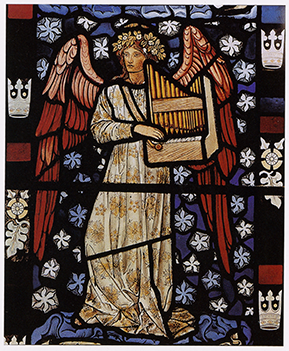 Minstrel Angel with Organ, 1882
More than 600 churches and museums in several countries feature Morris & Co.'s stained glass work.
All partners except Charles Faulkner contributed to the stained glass work in the early period, with Philip Webb and William Morris responsible for integrating the various partners' ideas into a single coherent design. During the 1870s and 1880s Burne-Jones produced the majority of the figure design with Morris filling in the background.
---
Strawberry Thief Fabric, 1883
Determined to produce vibrant, colorfast fabrics, Morris learned how to produce textiles using traditional methods and natural dyes.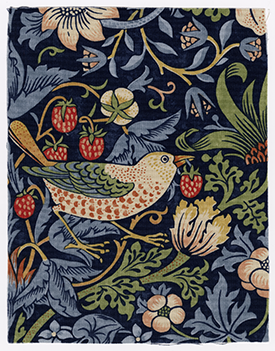 ---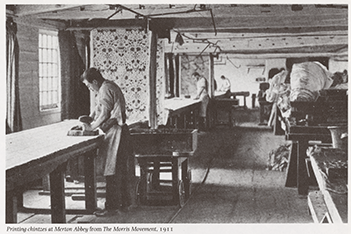 Printing chintzes at Merton Abbey
Morris & Co. fabricated printed textiles, woven textiles, embroidery, carpets, and tapestries. Frustrated by the limited number of designs produced by his textile manufacturer, Morris established Merton Abbey to expand production of Morris & Co. textile offerings.
---
Wallpapers Catalogue, 1905
Printed by Morris & Co.
Sixty-seven wallpaper patterns were produced by Morris & Co. between 1861 and 1896. William Morris designed all patterns for Morris & Co. until 1882, when H.L. Dearle, Kate Faulkner, and May Morris also began contributing designs. Morris's wallpapers demonstrate his genius for creating repeating patterns.
---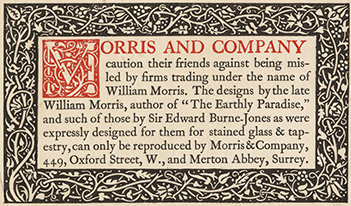 Warning Against False Purveyors
The abundance of decorators imitating Morris & Co. necessitated the printing of warnings by Morris & Co. for their customers.
---
A Brief Sketch of the Morris Movement
Printed by Morris & Co.
London: Morris & Co., 1911
The lasting popularity of Morris & Co. designs is demonstrated in these commemorative books celebrating the 50th and 150th anniversaries of the firm.
---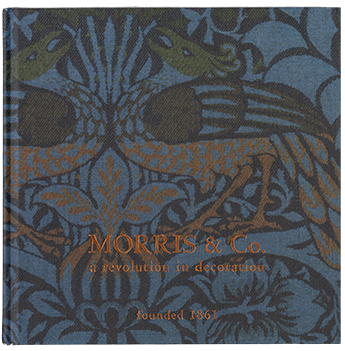 Morris & Co.: A Revolution in Decoration
by Michael Parry
Denham, UK: Morris & Co. 2011