The Tale Saith: Morris as Translator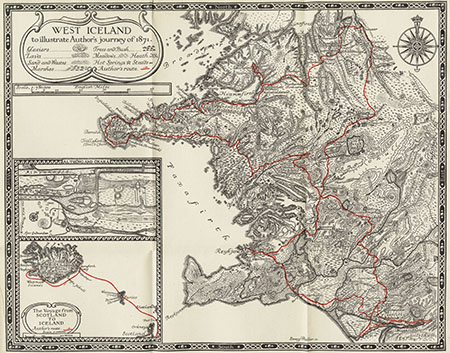 William Morris began publishing translations of the Icelandic sagas in 1869. The sagas, composed after Iceland was settled by Norse immigrants in the 9th century, combine history with folklore. Just as Homer's Iliad and Odyssey provided ancient Greeks with mythical accounts of their forebears, the sagas provided Scandinavian people with dramatic stories of Iceland's first settlers. For Morris this mixture of history and mythology fit his vision of employing art to interpret and understand the past.
To create the translations Morris first recruited his friend Eirikr Magnusson to teach him the basics of Icelandic. Magnusson then translated the original prose tales into English, and Morris in turn rewrote the stories taking on the persona of a medieval troubadour. He crafted active and dramatic tales in poetic form.
In addition to the numerous Icelandic tales that Morris translated with Magnusson, Morris translated medieval French tales. His Kelmscott Press published three small format editions of these tales. Morris also produced translations of Homer's Odyssey, Virgil's Aeneid, and Beowulf. Critics panned Morris's classical translations and the Beowulf, but his goal was never to please the scholars. Translations, for Morris, were meant to capture the spirit of the original text without undue reliance on the actual words.
Image: Map of William Morris' 1871 journey through Iceland.
"I can't be bothered with grammar...I have no time for it...
I want the literature, I must have the story. I mean to amuse myself."

- William Morris, in conversation with Eirikr Magnusson, c. 1869 -
---
---
---
---