Featured Item for October- Lewis Carroll Marmalade Letter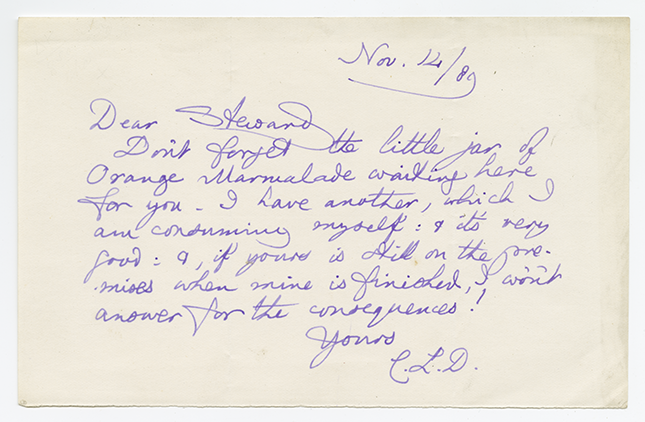 Letter from C.L. Dodgson [Lewis Carroll] to the Steward of Christ Church, [Michael Ernest Sadler, a fellow Student of Christ Church and friend], about a gift of some scrumptious marmalade.
Nov. 14, 1889
The letter, written in purple ink, reads:
Dear Steward,

Don't forget the little jar of Orange Marmalade waiting for you here. I have another, which I am consuming myself: and it is very good: and if yours is still on the premises when mine is finished, I wo'n't answer for the consequences.

Yours,

C.L.D.
Note Carroll's idiosyncratic use of apostrophes. This letter is not in The Collected Letters of Lewis Carroll edited by Morton N. Cohen (New York, Oxford University Press, 1979).
Exhibit Item 10.1