Featured Item for Miniature Alice Books
Alice's Adventures in Wonderland & Through the Looking Glass.
By Lewis Carroll
New York: Little Leather Library Corporation, undated but circa 1914.
These suede editions are the handsomest of the several bindings issued by Little Leather Library.
Exhibit Item 10.16 & 10.17
---
Alice allo Specchio..
[Alice in the Looking Glass]..
Milano: Arti Graf. Navarra S.A., 1936.
Eight full-page, full-color illustrations by an uncredited artist. The entire story is condensed by an unknown hand. This was an advertising booklet for Roberts Boro-Talco bath and body products (a firm which still exists).
Exhibit Item 10.18
---
Jabberwocky.
By Lewis Carroll
Berkeley, California: Poole Press, 1986.
Six red wooden boards with printed and illustrated labels pasted on, held loosely together by beige ribbon. This "click tablet" was designed, illustrated with four wood engravings, printed, and assembled by Maryline Poole Adams, in an edition of 99 copies, of which this is No. 28. The poem is printed on one side of the blocks, while the title, colophon, and engravings are on the other side.
Exhibit Item 10.22
---
Alice's Adventures Under Ground.
Lee Ann Borgia Miniature Books, 2012.
Full-color reduced reproduction of the original manuscript. 150th Anniversary Edition, keepsake of April 2012 LCSNA meeting, held in part at the home of Alan and Alison Tannenbaum in Chelmsford, Massachusetts. Published in honor of the 150th anniversary of the first telling of the Alice story. Limited to 50 copies, all of which are numbered No. 42 (Lewis Carroll's favorite number).
Exhibit Item 10.26
---
The Walrus and the Carpenter. .
Box-Hill-on-Sea, Essex, UK: Silver Thimble Books, 1983.
Designed, illustrated and bound by Gordon Murray. Blue cloth cover with illustrated paste-on. Number 100 of 150 copies.
Exhibit Item 10.24
---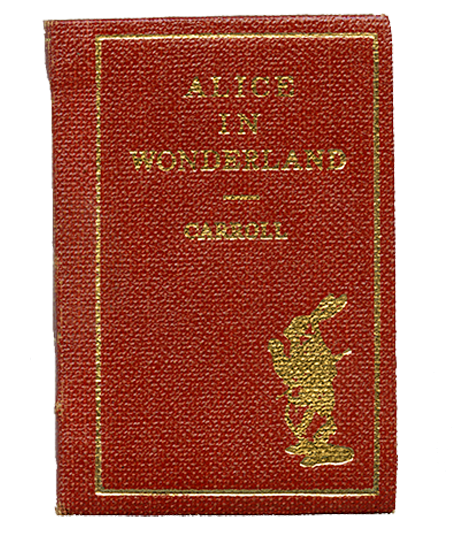 Alice in Wonderland (Cover title). Alice's Adventures in Wonderland. .
Illustrations by John Tenniel.
USA: Minia Press, [1938].
"Printed and published by Edmund S. Wood." White Rabbit blocked in gilt on front cover.
Exhibit Item 10.25
Алиса в волшебной стране.
[Alisa in magic land].
Moscow: Privately published by Alexander Mikhailovich Rushailo. 1994.
Reduced facsimile of the 1913 edition of AAIW translated by Mikhail Chekov and illustrated by Harry Furniss. In jacket with illustrations by E. Gorokhovski. Handmade by Rushailo (1935–1995), the preeminent Russian collector of Carroll. No. 2 of 25 copies.
Exhibit Item 10.18