Alice's Adventures in Wonderland. A novelized version of the motion picture "ALICE IN WONDERLAND" a Paramount picture based upon the story by Lewis Carroll.
By Wallace West.
Racine, Wisconsin: Whitman Publishing Company, 1934.
Illustrated with 38 wonderful full-page stills from the 1932 Paramount Picture starring Charlotte Henry, W. C. Fields, Gary Cooper, Cary Grant, Baby LeRoy, and many others. Twenty-year-old Charlotte Henry was selected to play Alice from 7,000 girls who applied, following a national publicity campaign. She is perhaps the most ubiquitous movie Alice.
Exhibit item 9.3
---
Bunin Alice
Film et Famille.
No. 7, July 1948.
This French magazine cover shows a scene from Lou Bunin's film, Alice au Pays des Merveilles, which was released the next year in Paris. Bunin's Alice is a charming blend of live actors and stop-action animation, using puppets that appeared life size—they were sized on film to fit with the real actors. The film's sets were modernistic, almost existential, and its songs were delightful.
On the magazine's cover, Alice, played by the 20-year-old British actress Carol Marsh, is shown on a beach after she and the mouse have emerged from the pool of tears. Marsh acted most of the scenes alone on an empty set, with the puppets added later. She insisted on doing some of the difficult scenes herself, e.g., a thirty-foot drop down the "rabbit hole" into a net, and a long uncomfortable slide down a humongous table leg.
Wary of competition for his cartoon version, Walt Disney sued to stop Bunin's film from being shown in the U.S., but his suit failed: Bunin's Alice opened in New York two days before the Disney movie. However, Walt had used his influence to prevent Bunin from having access to Technicolor processing (superior to Ansco Color, which Bunin used); he also persuaded some theaters not to show Bunin's version. Moreover, Bunin's film was kept out of Britain, supposedly because the Red Queen was seen as a caricature of Queen Victoria. Nonetheless, Bunin's version, while less well-known, is far classier than Disney's film. Time's reviewer said that Bunin's puppets "are notably more faithful than the Disney creatures…and his trick photography is fully up to Alice's magical feats."
Exhibit item 9.8
---
Carol Marsh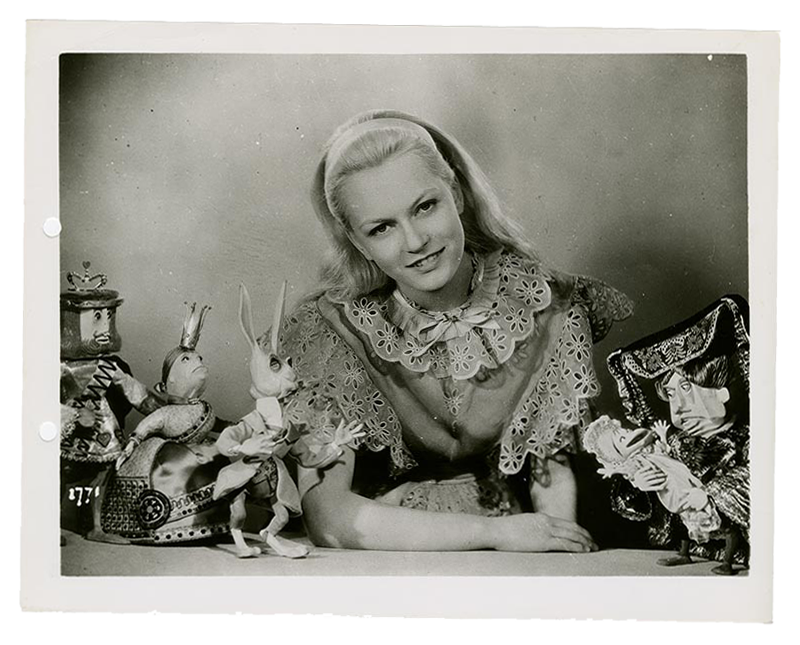 Carol Marsh. Publicity Photo.
s.l.: [Lou Bunin Productions] Culver Pictures, Inc., circa 1951.
Carol Marsh (Alice) and puppets from Lou Bunin's Alice in Wonderland which starred Marsh as Alice and featured stop-animation puppets. Shown here are the Red King and Queen, the White Rabbit, the Baby, and the Duchess.
Exhibit item 9.9
---
David Hall Disney Alice
Alice's Adventures in Wonderland: with David Hall's previously unpublished illustrations for Walt Disney Productions.
London: Methuen, 1986.
The illustrations in this edition of Alice—more than 100 color paintings (many are full- and double-page spreads) and black and white drawings—were done by David Hall (1905–1964) in 1939 for the Disney Studio's planned Alice in Wonderland film, but were never used. In the end, Walt Disney was uncertain about what sort of Alice film he wanted, and Hall's work languished in the company art morgue.
The book includes an afterword by British Disney expert Brian Sibley, which presents detailed information on the development of the film's storyline and its character portrayals. Sibley says that Hall's drawings add "an "extraordinary dimension to the book, capturing that elusive…atmosphere of dreamland."
Exhibit item 9.6
---
Life Visits Wonderland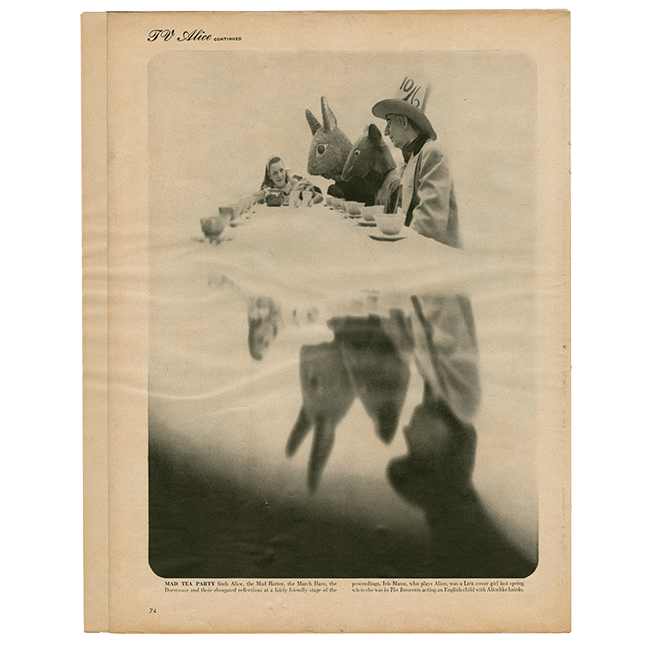 Life Visits Wonderland: Ageless Alice Makes her Television Debut.
Life Magazine.
Volume 29, No. 26. December 25, 1950.
Photographs of the cast in the Ford Theatre Hour's episode of Alice in Wonderland, broadcast on the CBS network on December 15, 1950. Life writes that photographer Milton Greene (1922–1985) "caught the disquieting effect of change peculiar to Lewis Carroll's underground world in his strikingly distorted pictures."
A two-page spread shows "a whole lump of Wonderlanders—right side up and topsy-turvy to make a giant playing card." There are also elongated playing-card-shaped photos of the graceful Dorothy Jarnac (b. 1922, who choreographed the production) as the White Rabbit, Iris Mann (b. 1939) as Alice, and the Mad Tea Party—in which the four characters are reflected and distorted in the tabletop. Other notables in the cast included Richard Waring as the Hatter and Jack Lemmon as Tweedledum.
The costumes, quite true to Tenniel, were designed by Grace Houston (1910–1993). The teleplay was written by Lois Jacoby and directed by Franklin J. Schaffner (1920–1989), who is well known for his creative work in both television and films—he won an Oscar for Patton and also won four Emmy awards for his work in television.
Exhibit item 9.19
---
1917 Alice Film Plates
Alice's Adventures in Wonderland and Through the Looking-Glass.
New York: Grosset & Dunlap, [1917].
Illustrated with Scenes from the Photo Play Produced and Copyrighted by the Nonpariel Feature Film Corporation.
This silent film, the third Alice moving picture, was first shown at the Strand Theatre in New York on January 19, 1915, to an invited audience. It was directed by W.W. Young, and "picturized" by Dewitt C. Wheeler. Alice was played by Violet Savoy (b. 1899), who was described in ads as "the charming little actress" and "America's littlest leading lady."
The film was shot (mostly) on Long Island. Alice film historian David Schaefer has written, "The film is charming from beginning to end." Only one reel of the Looking-Glass part of the film is known to have survived (the book, however, shows 9 photographs from Looking-Glass). Our copy of this volume has a clever inscription in the form of a mouse's tail dated Dec. 25, 1918.
Exhibit item 9.1