Alice in Wonderland: A Souvenir Tour of your Wonder Bakery.
New York: Promotional Publishing Co. [for Continental Baking Company], 1969.
Promotional comic book with color illustrations by the Finnish-American artist Klaus Nordling (1910–1986). Nordling is listed as #78 in Atlas Comics' "Top 100 Artists of American Comic Books." Alice and her Wonderland friends take a tour, led by the Tweedles, of the Wonder Bread bakery and learn how Wonder Bread is made, and how it "helps build strong bodies." Both text and illustrations are amusing. Wonder Bread and Wonderland are natural partners. The Wonder Bread pavilions at the 1933–34 and 1939 World's Fairs (Chicago and New York) featured Wonderland characters in their design.
Exhibit item 8.6
---
---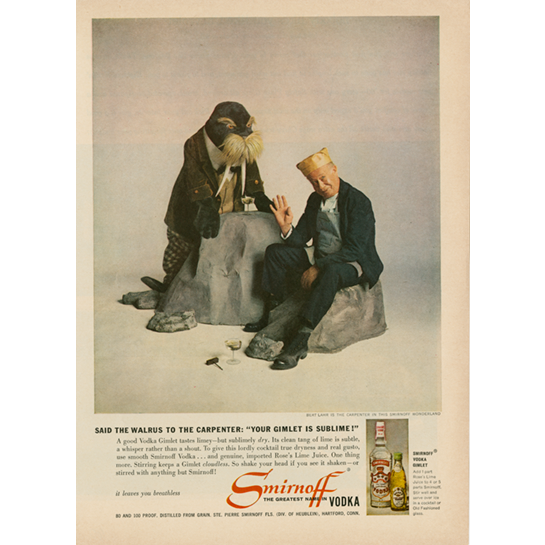 "Said the Walrus to the Carpenter: 'Your gimlet is sublime!'", Smirnoff Vodka Advertisement.
Circa 1960.
A clever adaptation of the original John Tenniel illustration of the Walrus and the Carpenter on a rocky beach (in Through the Looking-Glass). The walrus, in formal dress, is apparently tending bar on a large boulder, while the Carpenter, played by Burt Lahr, sits on another boulder. Contains a recipe for a Smirnoff Vodka Gimlet. Photo caption reads "Burt Lahr is the Carpenter in this Smirnoff Wonderland." Lahr (1895–1967) is well-known for his role as the Cowardly Lion in the 1939 Wizard of Oz film. The ad also appeared in larger format magazines as late as 1962.
Exhibit item 8.11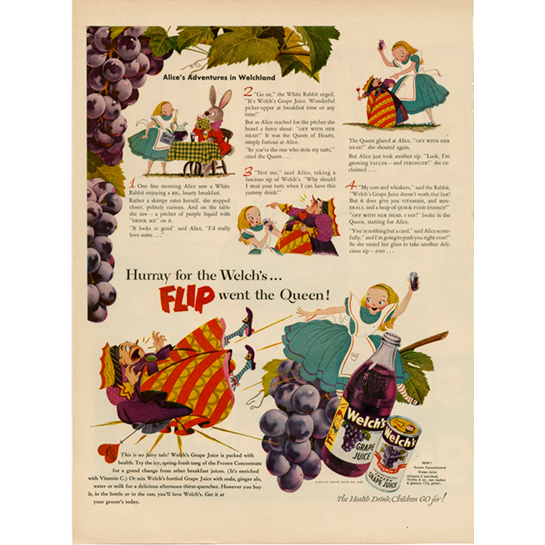 "Alice's Adventures in Welchland", Welch's Grape Juice Advertisement.
Life Magazine, August 6, 1951.
Illustrations of Alice, the White Rabbit and the Queen of Hearts, not based on Disney (although the movie was released around the time the ad appeared). Strengthened by the nutritive value of Welch's Grape Juice (which of course is labeled "Drink me!"), Alice overcomes a threatening Queen of Hearts.
Exhibit item 8.8
---
[Menu Card]
British. s.l. Late 19th or early 20th century.
Cardboard sheet with a pencil drawing of a toothy Hatter and intense-looking March Hare stuffing an extra plump Dormouse into a teapot. The menu for the meal would have been written in pencil below the illustration.
Exhibit item 8.9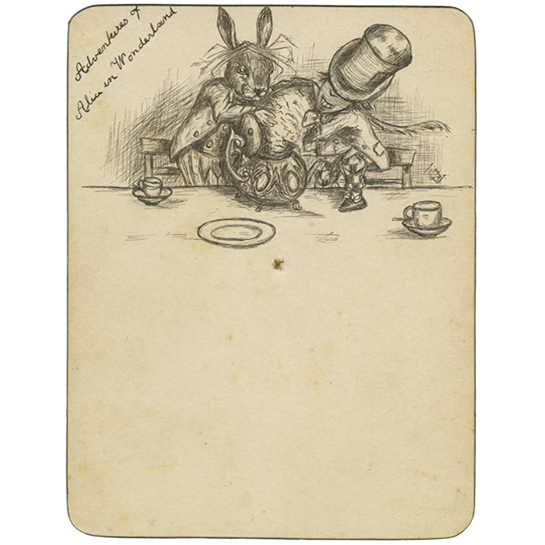 ---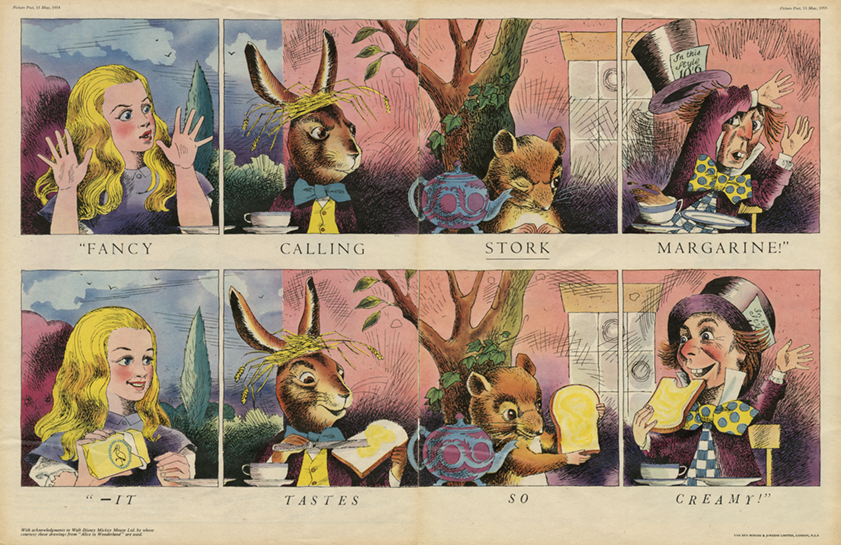 Stork Margarine Advertisement.
UK. 1954.
Double-page "spread." Alice, Hatter, March Hare, and Dormouse reject the idea of margarine for their tea party (top panels), but their suspicion turns to delight when they try Stork (lower panels): "It tastes so creamy!" Founded in 1920, Stork is still available in the United Kingdom.
---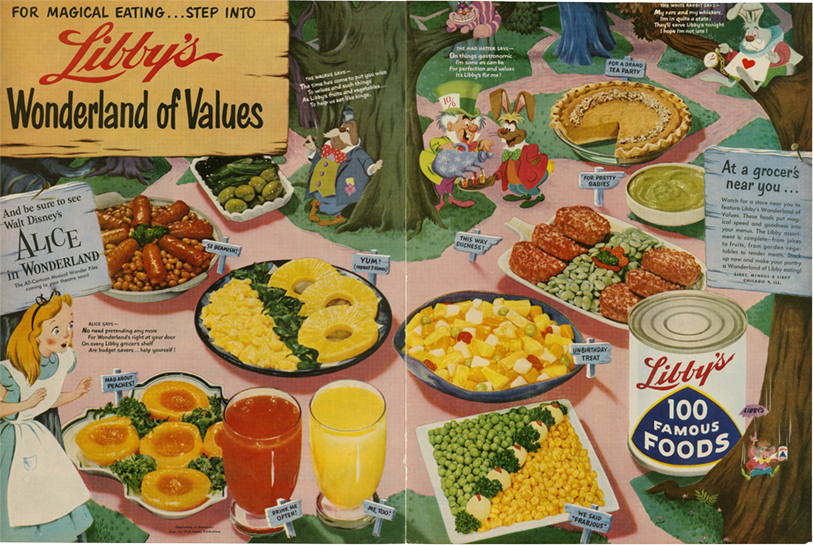 For Magical Eating...Step into Libby's Wonderland of Value. / At a Grocer's Near You.
Advertisement for Libby's canned goods. 1951.
Illustrations are based on the Walt Disney movie, which is just about to be released. Characters include the Hatter, March Hare, Cheshire Cat, and White Rabbit; the latter two speak short verses about Libby's, as do the Walrus and Alice herself. The foods advertised have little signs with them, e.g., "Drink me often!" and "We said 'Frabjous.'"