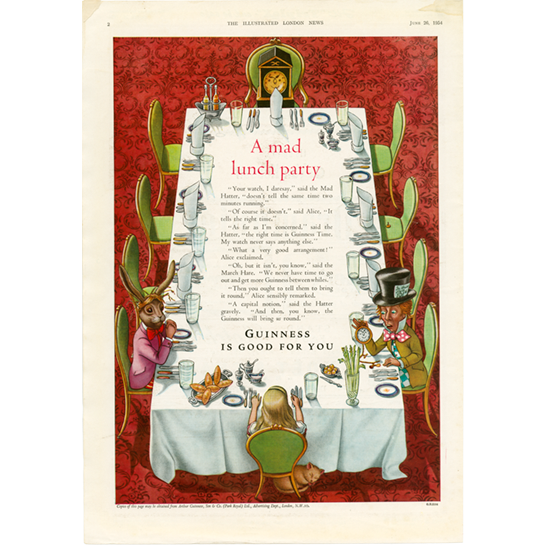 A Mad Lunch Party.
Guinness Advertisement
Illustrated London News, June 26, 1954.
Alice, the Hatter, and the March Hare are at the table, and Time itself seems to be at the far end. The Dormouse is asleep under Alice's chair. Several puns are made on the idea that it is time for Guinness.
Exhibit item 8.12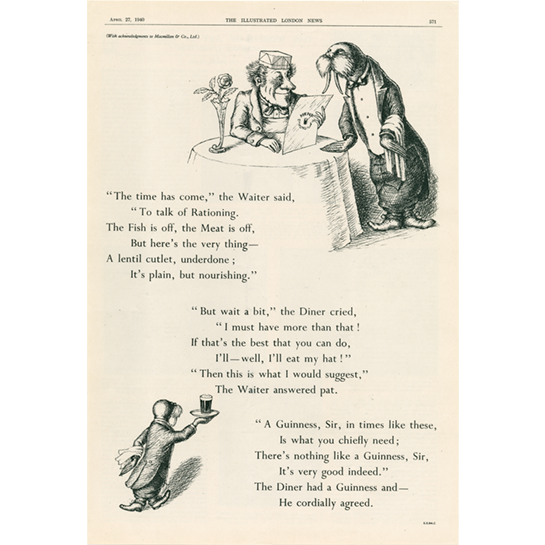 "The time has come," the Waiter said, "To talk of Rationing."
Guinness Advertisement
Illustrated London News, April 27, 1940.
This clever World War II-era pastiche of the original "The Walrus and the Carpenter" poem from Through the Looking-Glass shows the Carpenter at a restaurant table, and the Walrus as the waiter. The Walrus, who has nothing much to offer but a lentil cutlet, suggests that in times such as this a Guinness "Is what you chiefly need."
Exhibit item 8.13
---
"The Guinness Alice"
St. James Gate, Dublin: Arthur Guinness, Son & Co. Ltd., 1933. By Lewis Carroll.
This is the first of five Alice-themed booklets, published between 1933 and 1959, that were sent to doctors in the UK in hopes they would encourage their patients to drink Guinness. All of the booklets were produced by the advertising agency S. H. Benson. Written by Ronald Barton and Robert Bevan, and illustrated by John Gilroy, The Guinness Alice—highly collectible today—is filled with wonderfully clever parodies and imitations of verses and scenes from the two Alice books, The Hunting of the Snark, and Sylvie and Bruno.
"You are old, Father William," the young man said,

"And yet you're remarkably fit,

You sleep from the moment you get into bed,

Which is rare at your age, you'll admit."

"In my youth," said the Sage, "I heard many reports

That Guinness brought rest to the brain,

Since when, if depressed or a bit out of sorts,

I've drunk it again and again."
Exhibit item 8.10