African American Suffrage and the 15th Amendment
"The right of citizens of the United States to vote shall not be denied or abridged by the United States or by any State on account of race, color, or previous condition of servitude"

- 15th Amendment, Constitution of United States of America -
Voting rights for marginalized, minority, and poor communities were not guaranteed in American democracy. In the 18th and 19th centuries, many abolitionists fighting to end slavery also advocated for citizenship and voting rights for African Americans. After the 13th Amendment formally ended slavery in 1865, former abolitionists and voting rights advocates debated the merits of prioritizing the voting rights for African American men versus a strategy to ensure universal suffrage for all disenfranchised voters, which would have included women.
Prominent abolitionists, including Lucy Stone and Frederick Douglass, advocated for a strategy focused on African American male suffrage. Others, however, argued that a new amendment should ensure the right to vote for all citizens. As a result of these debates, many prominent white women in the anti-slavery movement shifted away from abolitionist organizations to focus their attention on advocating for women's suffrage.
Following a difficult and divisive political process, the 15th Amendment was ratified in 1870 in an attempt to restrict disenfranchisement of African American men. In the years immediately following the passage of the 15th Amendment, voter registration and political participation among Black men increased dramatically. However, the trend lasted only a few years before discriminatory practices and laws effectively and "legally" disenfranchised African American men.
Explore items related to the social and political climate prior to the passage of the 15th amendment, the work of abolitionists, and support and opposition to African American suffrage.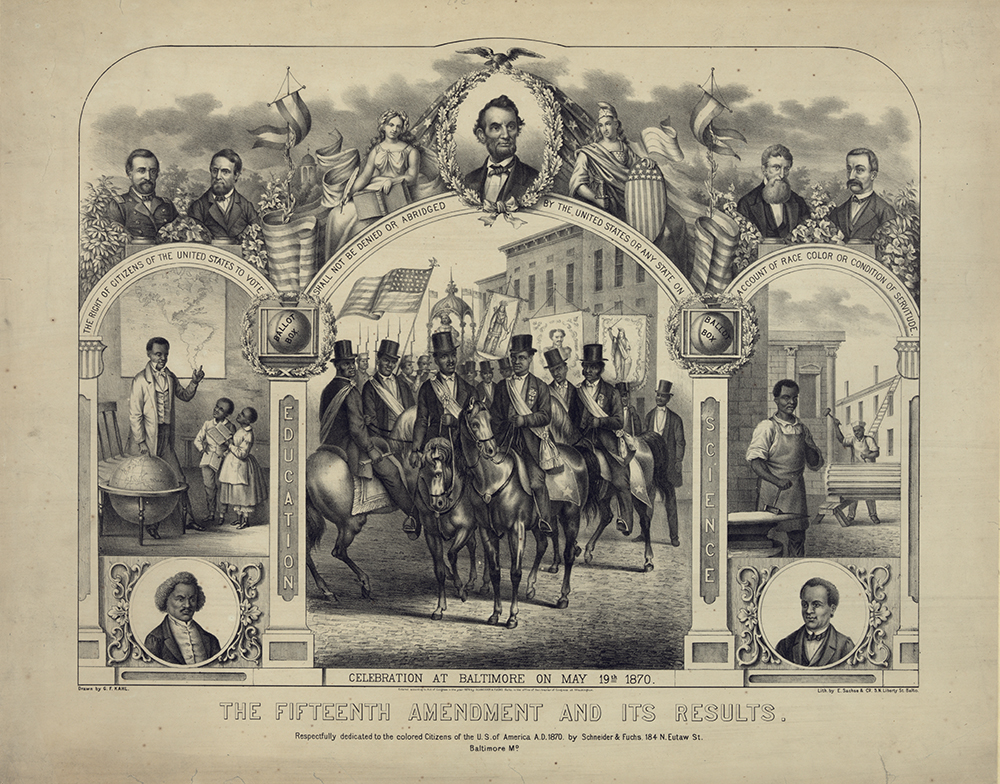 "The Fifteenth Amendment and its Results." Drawn by G.F. Kahl. Baltimore: Lithograph by E. Sachse & Co., circa 1870.
Library of Congress Prints and Photographs Division.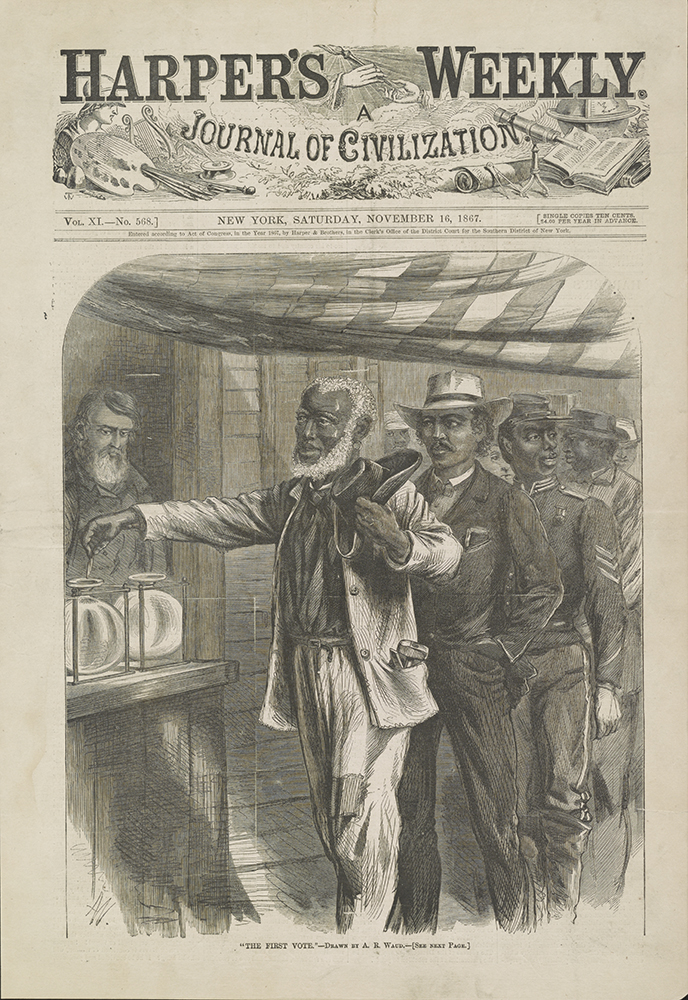 "The first vote." Drawn by A.R. Waud. Harper's Weekly, 16 November 1867.
Library of Congress Prints and Photographs Division
WARNING
Offensive Language

The archival resources in this exhibition contain offensive and outdated language. We chose not to censor these items in order to accurately represent the bias and prejudice of the time. We strongly condemn the use of such language and ask exhibition visitors to engage with this material carefully and critically. Explicit warnings have been provided for those items with the most offensive language.
Abolitionists
States were slow to ensure that the rights of the newly freed African Americans. Abolitionists did not rest after the passage of the 13th amendment, but continued to work to ensure voting rights for African Americans.
Support for African American Suffrage
Opposition to African American Suffrage