Women's Suffrage Outside the United States
Women's suffrage was not confined by borders, with efforts to secure women the right to vote gaining momentum in Europe and other regions beginning in the 19th century. New Zealand was the first country to grant women the right to vote nationally in 1893.
Some American suffragists were directly influenced by the suffragettes in England. They also formed international partnerships, such as the International Alliance of Women, established in 1904 by a coalition of women suffrage leaders from Germany, the United States, and England.
The demand for women's suffrage continued to spread across the globe throughout the 20th and 21st century. Cultural and political differences shaped suffrage movements in each country, but the goal remained the same: secure women's access to the ballot.
Explore items from our collection related to suffrage in Japan, England and Central America.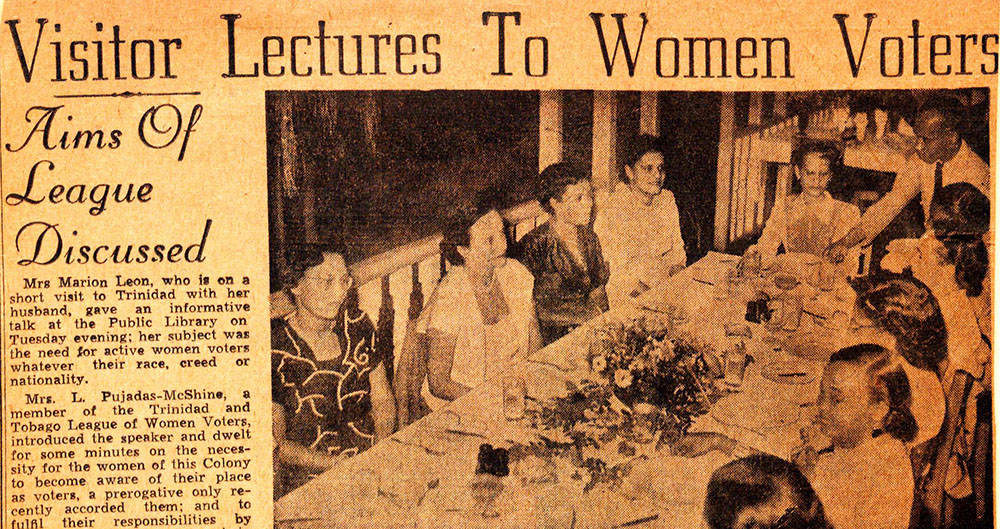 Visitor Lectures to Women Voters, Trinidad Guardian,
Circa 1950, Trinidad, Overseas Education Fund
Japan
From the late 19th century through the first decades of the 20th century, Japanese female activists were passionately involved in the women's suffrage movement. Japanese women, however, did not gain the right to vote until December 1945. Over 13 million women voted for the first time in the House of Representatives general election in April 1946, and 39 women were elected. (Source: Center Equality Bureau Cabinet Office)
In these Kyodo News Agency photographs, women carrying children on their backs are seen voting in the House of Representatives general election on January 23, 1949.
England
American women suffragists across the decades long struggle for voting rights for women, were inspired by English abolitionists and "suffragettes". Alice Paul, attributed with initiating the third and most militant phase of the American woman suffrage movement, was inspired by the suffragette's militancy, which she witnessed firsthand overseas.
Central America
The League of Women Voters did not limit themselves to America's borders, but reached out to women in other countries, forming international relationships with groups expanding women's rights in their own countries. Ultimately, the League formed the Overseas Education Fund to support women's rights and expand civic engagement.