Youth Suffrage and the 26th Amendment
"The right of citizens of the United States, who are eighteen years of age or older, to vote shall not be denied or abridged by the United States or by any State on account of age."

- 26th Amendment, Constitution of United States of America -
The post-Civil Rights era continued to be a time of major social and political change in America. Until the 1970s, the majority of states limited voting rights to citizens 21 years and older. As a result, young people were denied a voice in their government and a chance to participate in elections.
Debates over youth suffrage centered on the perceived maturity of young adults in America, their interest in politics, and whether states or the federal government had the authority to regulate voting age. Throughout the 1960s and early 1970s, the war in Vietnam strengthened the case for an expansion of the right to vote to 18 year olds. During a time when young people were drafted into military service and considered old enough to die for their country, they were also denied a voice in electing the politicians who made those foreign policy decisions that sent them to war. At the same time, increasing numbers of young people participated in widespread political and social protests, demanding change in the status quo. In 1971, Congress passed the 26th Amendment to lower the voting age to 18 for all elections. It was the most recent major constitutional protection for voting rights to be passed in America.
After the passage of the 26th Amendment, young people formed organizations to ensure the registration, education, and participation of this newly enfranchised voting group. Despite gaining access to the ballot, there have been significant challenges for youth voting, including identifying residency and voting districts of college students and combating political apathy. These youth organizations challenged the biased perception that young adults were disinterested in politics, focused activism on a variety of issues that impacted youth from diverse backgrounds, and sought to ease access to registration and voting for these populations.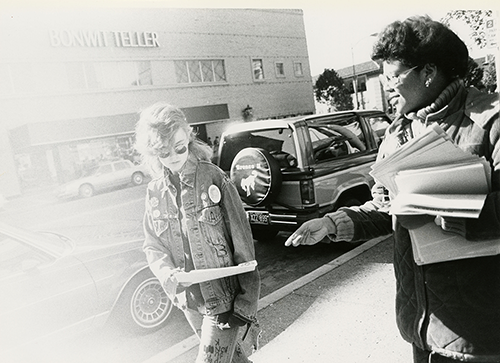 Undated. Frontlash records
UMD Students and Political Engagement