"Joan and Alice in Wonderland", EX-LAX ad.
Junior Home for Parent and Child, Jan-Feb 1933.
This ad, from the back cover of Junior Home for Parent and Child magazine for Jan–Feb 1933, features an Orphan Annie-like little girl named Joan who meets Alice in a dream where she is threatened by the Queen of Hearts, wakes up, and tells her mother (who blames the Queen's bad behavior on needing EX-LAX), that she just loves EX-LAX. The same ad, drawn by comic strip cartoonist Al Posen, ran in other magazines as well.
Exhibit item 8.6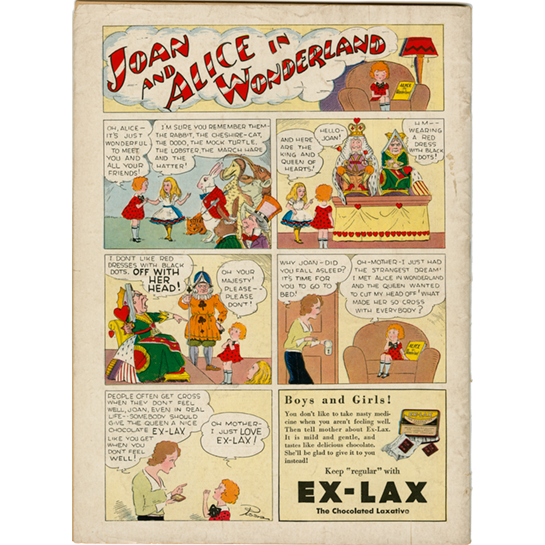 ---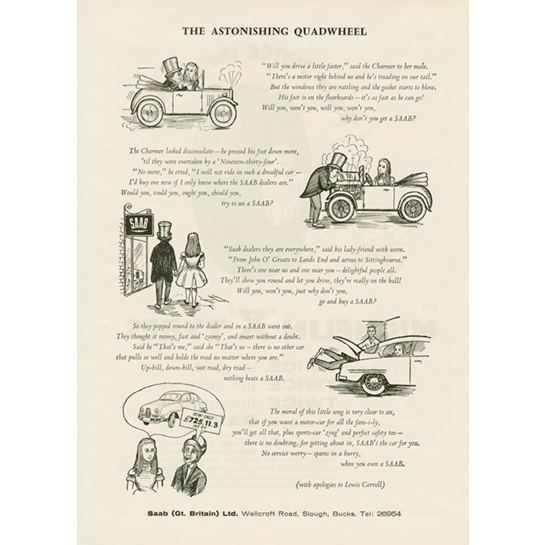 The Astonishing Quadwheel, Saab Motorcars Advertisement.
Motor Sport Magazine (UK), March 1963.
"Will you drive a little faster," said the Charmer to her male.

"There's a motor right behind us and he's treading on our tail."

... Will you, won't you, will you, won't you,

why don't you get a SAAB?"
The Charmer is Alice, "her male" is the Hatter, and the Carroll poem being played on is of course, "The Lobster Quadrille," which begins, "Will you walk a little faster said a whiting to a snail," and which itself parodies Mary Howitt's "The Spider and the Fly": "Will you walk into my parlour, said the spider to the fly..." Just one more example of Carrollian wit being cleverly appropriated by ad writers.
Exhibit item 8.19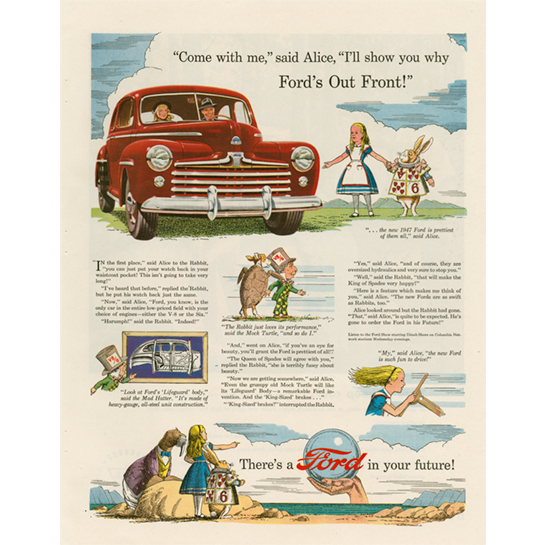 "'Come with me,' said Alice, 'I'll show you why Ford's Out Front!", Ford Motor Company Advertisement.
1947.
Illustration of Alice at the steering wheel, her hair flowing out behind her. Also present are Tenniel-like drawings of the Herald Rabbit, Mock Turtle, Mad Hatter and Walrus. The label on the Hatter's hat reads "V8/6"—the available engine options. In a conversation with Alice, "the Rabbit" mentions the King and Queen of Spades, not Hearts!
Exhibit item 8.23
---
PHILCO Refrigerators for 1948.
Philco Corp. 1947-1948.
Folded into a pocket sized brochure 15.5 x 8 cm, and printed in red and black. On the cover Alice, all in white, is pulling aside a red curtain to reveal a white new Philco 1948 refrigerator. This little booklet is a part of a huge Philco advertising campaign called "Alice in PHILCOland," which included full-page magazine ads, newspaper ads, coloring books, a Humpty Dumpty coin bank, large 38 x 32 cm poster books to be placed on easels in the appliance departments of stores, and more. "It's a WONDERful Refrigerator." Not only were refrigerators more widely available in the post-World War II years, but they could also be full for the first time in a long time.
Exhibit item 8.18
---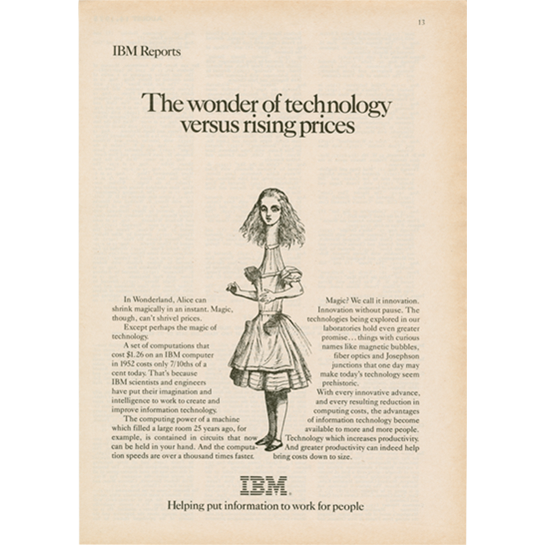 "The wonder of technology versus rising prices," IBM Advertisement.
The New Yorker, Aug. 14, 1978.
IBM advertisement showing the long-neck Tenniel Alice to illustrate the remarkable drop in IBM computer computation costs since 1952—as technology prices have shrunk, as dramatically as Alice does. This is just one example of advertisers making brilliant use of John Tenniel's illustrations.
Exhibit item 8.22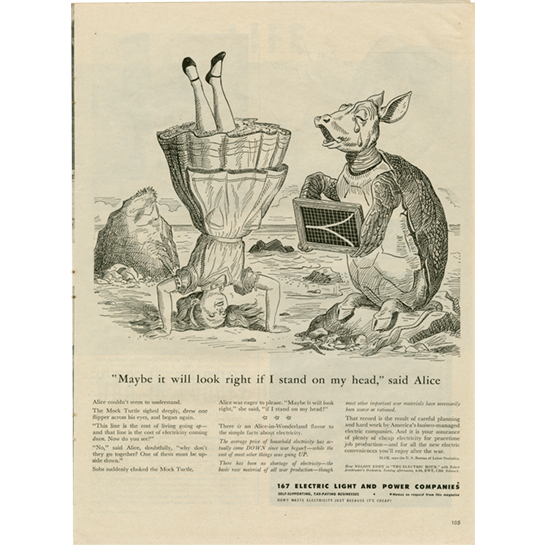 "'Maybe it will look right if I stand on my head,' said Alice", Electric Light and Power Companies Advertisement.
Life Magazine, May 7, 1945.
The weeping Mock Turtle tries to instruct Alice that the cost of electricity is going down even as the cost of living is going up. Alice is standing on her head to try and understand the Turtle's graph. A clever and attractive ad, which turns of course, on the idea of everything being topsy-turvy in Wonderland.
Exhibit item 8.24
---
Alice in Icy-land: A story for children.
By George W. Davey
New York: Trautmann, Bailey & Blampey, 1931.
Full-color illustrations, not signed. Scores of advertising booklets have capitalized on the idea of "Alice in [whatever]-land" ("Alice in Brown Sugar Land" is another favorite.) Most, like this one, have little to do with the original story, but manage to draw upon it in some way. This booklet promotes the (continued) home use of ice refrigeration at a time when electric refrigerators were taking over the market. Alice dreams about travels to Icyland and warmer climes, recounted here in verse that at times metrically echoes Carroll's:
She tells of fish, and fruit, and Meat,--

And how to keep them nice and sweet.
The booklets were given away to children, this copy by the Union Coal and Ice Co. in Chillicothe, Ohio. Davey apparently wrote other advertising booklets based on children's stories.
Exhibit item 8.20
---
Alice in Documentland.
Congressional Information Service, Inc.
Bethesda, MD: 1990.
This flyer, designed by Jack Carey, advertising U.S. Congressional publications in microfiche or hardcopy, features Alice waiting in line before a row of government-style desks at which the Hatter and March Hare sit, the latter behind a nameplate reading "Deputy Assistant to the Assistant Deputy" as the White Rabbit runs past the sign "Your Tax Dollars at Rest."
Exhibit item 8.21