Boom and Bust: Manufacturing in an
Early Federal Town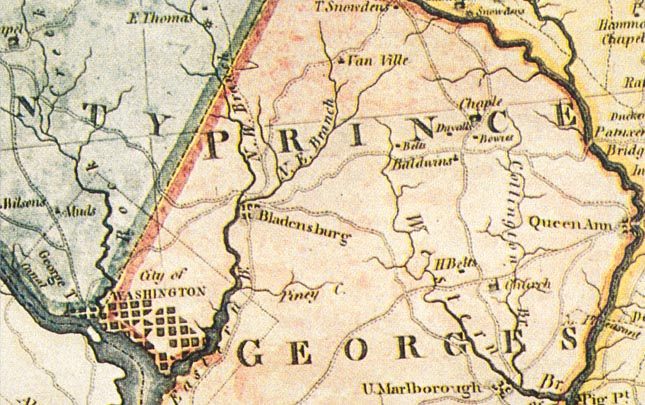 Detail of Prince George's County from Dennis Griffith.
Map of the State of Maryland. 1794.
The area around Bladensburg primarily depended on agriculture, but investors in large estates near the town were interested in diversifying their farming practices. Major planters started sharing innovations via membership in newly established agricultural societies. Meanwhile, the establishment of the Bladensburg Academy by this new generation of landowners demonstrated their commitment to agricultural reform via a scientific education. As local farming became less dependent on tobacco, mills and tanneries provided new sources of investment and employment in and near Bladensburg.
Proximity to the District of Columbia held special advantages for the old port town. Government contracts attracted investors seeking to sell supplies to the military. As war fever grew in the run-up to the War of 1812, two gunpowder mills and a blanket factory gave Bladensburg an industrial flavor. However, the speculative craze that launched such investments foundered when the war ended in 1815 and an economic depression soon followed in 1819.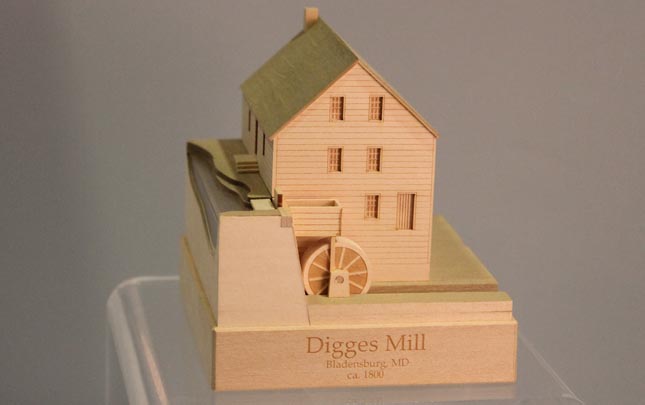 Digges Mill
Built to depict what Digges Mill would have looked like in 1800. The model is built to scale and is based off meticulous research using records, images, and remainin architectural evidence.
Crafted by C. Michael Arnold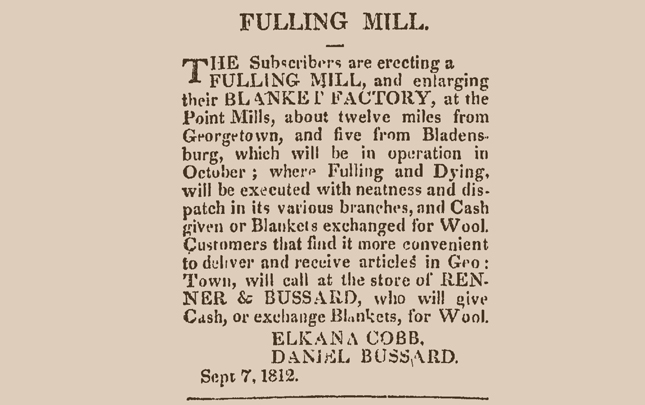 Elkanah Cobb's Blanket Factory
Cobb was a New Englander who hoped to profit from his patented felting method for manufacturing blankets. He built a factory in 1810 near Bladensburg – a good location for military contracts during war time. Sadly, it appears that he expanded too quickly and was unable to survive the twin blows of shrinking demand after peace was declared and a devastating fire that destroyed his mills. Bankrupt, Cobb's land and possessions were sold at auction in 1817.
The Courier (Washington, DC) October 29, 1812.