At the Crossroads
"Let Maryland be foremost in the train To hail the muses to her happy shore— Let feats of science rise from ev'ry plain, And like the sun, her central radiance pour, To thee, great WASHINGTON! thy country's boast."

Ode to Education. 1788. Samuel Knox, Headmaster of the Bladensburg Academy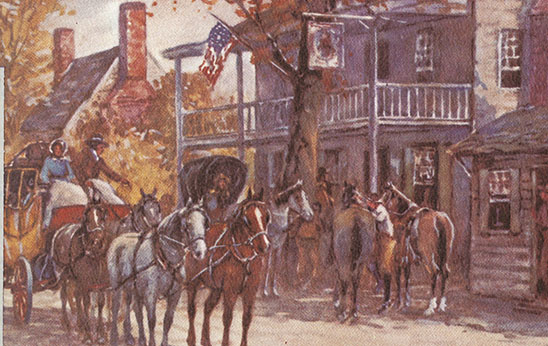 George Washington House, Port O' Bladensburg, 1977.
An Enterprising Town 1780-1820
A spirit of optimism, evident in this Ode to Education, pervaded America after it won the war for independence from Great Britain in 1783. Despite its decline as a tobacco port, Bladensburg experienced a rebirth and prospered in the more diversified economy of the new nation. Independence spurred entrepreneurs to invest in local enterprises: turnpikes, mills, factories and large plantations.
For the residents of Bladensburg, there were many outlets for entertainment and refreshment. A local jockey club organized horse races, while hot-air balloon demonstrations by local lawyer and tavern keeper, Peter Carnes, gained national attention. A mineral spring known as the Spa attracted those seeking its benefits. On a more serious note, the establishment of the Bladensburg Academy was a point of pride, and its headmaster became a national spokesman for educational reform.
The Subscribers to the Bladensburg Jockey Club, are desired to meet at Twleve O'Clock , on Friday the 4th of July at the new Tavern in Bladensburg. Dinner will be on the Table at Three.

Maryland Journal, June 17, 1788