"In Old Bladensburg. Picturesque and Quaint, It Defies Progress."

- Washington Evening Star, August 22, 1896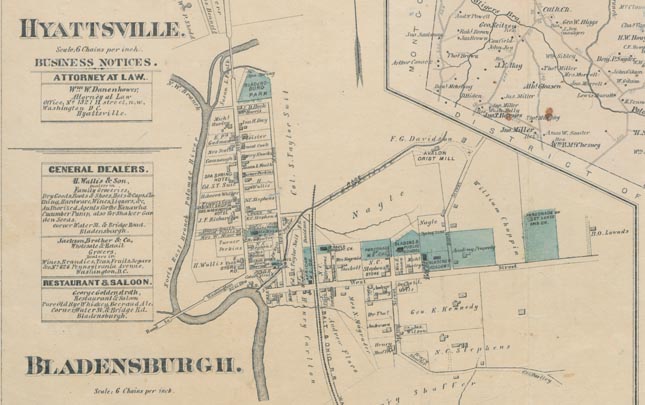 "Bladensburgh District No. 2", G.M. Hopkins Atlas, 1878.
Bladensburg always attracted visitors, despite its reputation as a place of defeat and scandal. The spa, old buildings, and especially the dueling ground, were noted in early travel guides to Washington.
Interest in places like Bladensburg grew after the celebration of the U.S. centennial in 1876. Early in the 20th century, Bostwick's owners financed a colonial revival restoration that added porches and other features – its new look documented by a postcard marketed to visitors. Newspaper writers emphasized the historic, if somewhat tarnished, charm of the "ancient village."
For the one hundredth anniversary of the War of 1812, books about the Battle of Bladensburg included photographs that emphasized the town's historic appearance. Subsequent commemorations showcased the town's history through costumed reenactments, tours, commemorative publications and signs. Despite these efforts, much of Bladensburg's historic fabric was lost after 1945 as growth and redevelopment sparked new construction in and around the town.
In 1976, an extravaganza of history swept the county - America celebrated 200 years as a nation. Leaders of the bicentennial commemoration in Bladensburg commissioned a series of dioramas that recreated historic episodes in the town and its vicinity. The concurrent emergence of a national commitment to preservation, sparked by the passage of the National Historic Preservation Act of 1966, helped save endangered structures, such as the Hilleary-Magruder and Market Master's houses.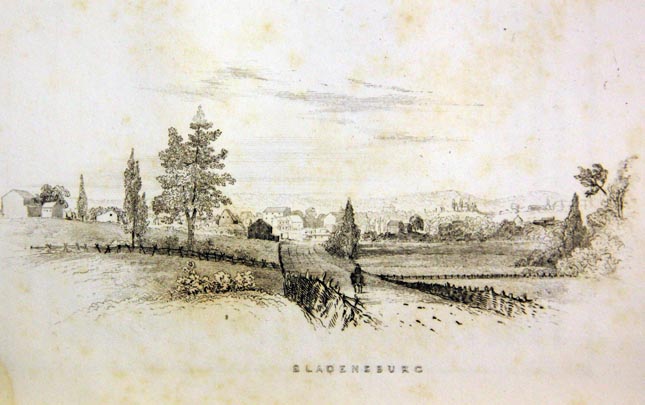 William Q. Force. Picture of Washington, and Its Vicinity, for 1850. Washington: William Q. Force, 1850. MD RAR F192.3 .F62 1850
Tourist Guide Books
Visitors to Washington were ready customers for guide books describing the various attractions of the city and its surroundings. An early example is Force's Picture of Washington, which has two page of text on Bladensburg, its dueling ground, and an engraved image showing the quaint village as one would see it on the approach from Washington.
Old Bladensburg
This unacknowledged publication attempted to preserve the memory of a nostalgic past and provide visitors with a sense of Bladensburg's history.
Maryland Vertical File. Special Collections and University Archives. University of Maryland Libraries.
Bicentennial Publications
Like the dioramas, the Port O' Bladensburg book was a project of the local bicentennial committee during in 1970s. The author, Sister Catherine Wright, assembled information from local experts like Susanna Christofane and Fred DeMarr.
Catherine Margaret Wright. Port O' Bladensburg: A Brief History of a 1742 Town. Bladensburg: Town of Bladensburg Bicentennial Committee, 1977. MD FOL F189 .B6W74
Timeline
1850's-1890's:

Town's historic attractions noted in reminiscences, guide books and other sources.

1876:

Centennial of the U.S.

1912:

Centennial of the War of 1812

1942:

Bicentennial of the town of Bladensburg

1946:

250th Anniversary of Prince George's County (envelopes)

1976:

Bicentennial of the U.S.
Postcards of Bladensburg Landmarks
The popularity of picture postcards peaked in the early 20th century. These locally published cards of historic sites in and near Bladensburg suggest that the growing appreciation of early American architecture led visitors and local residents to collect them as souvenirs.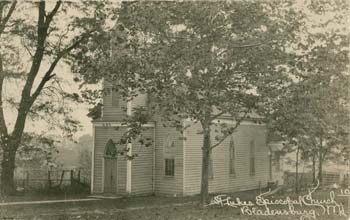 "St. Lukes Episcopal Church, Bladensburg, Md" Real Photo Postcard, #10.
Private Collection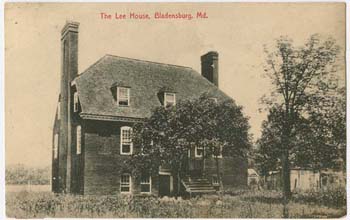 "The Lee House, Bladensburg, Md." Chevy Chase, MD: Minnie E. Brooke, No. 169. "
Private Collection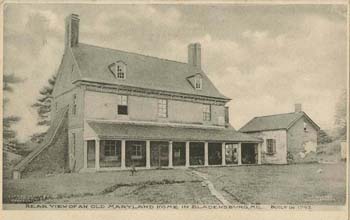 "Rear View of an Old Maryland Home in Bladensburg, Md, Built in 1743" Hyattsville: Alfred Hyatt Wells Drugstore.
Private Collection
Postal Collectibles
The 250th anniversary of the founding of Prince George's County occurred in 1946, and the residents of Bladensburg participated in a county-wide celebration on November 2. Among the souvenirs of this event was a set of commemorative envelopes with a special Bladensburg postmark.
Fluegel Covers of Riversdale, St. Luke's, Bostwick, George Washington House. 1946. Private collection.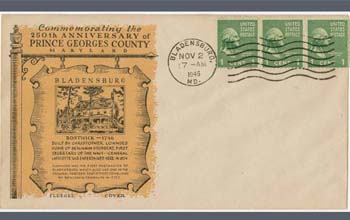 Bostwick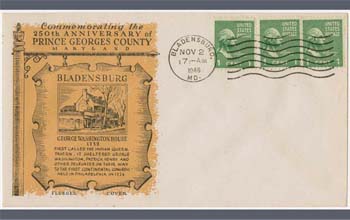 George Washington House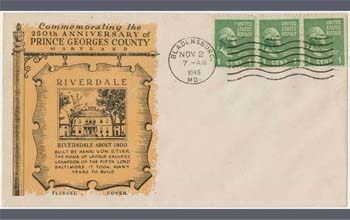 Riverdale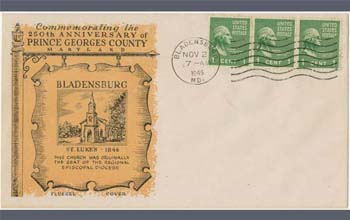 St. Luke's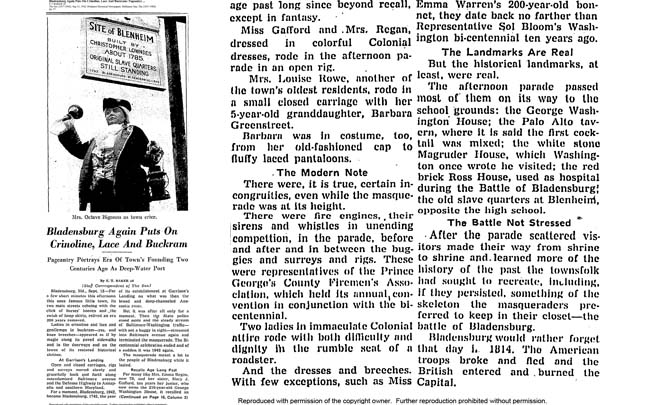 Bladensburg Again Puts on Crinoline, Lace and Buckram