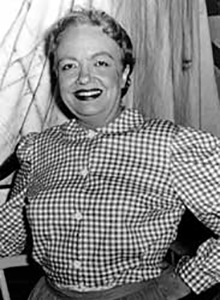 Betty Garde (1905-1989) was best known for playing the role of Aunt Eller in the original Broadway cast of "Oklahoma!," but her long acting career also included film, radio, and television.
On the radio, she appeared in "Mrs. Wiggs of the Cabbage Patch" and "The Aldrich Family," and in various broadcasts with Orson Welles and Eddie Cantor. On film, Garde co-starred with Jimmy Stewart and was featured in the movie "Caged." Her many television credits include appearances on "The Honeymooners" and "The Twilight Zone."
This gallery presents samples from the Papers of Betty Garde at the Library of American Broadcasting.
The collection spans the years 1924 to 1978, and contains clippings, correspondence, photographs, and various artifacts including a bound copy of "selected" sheet music from the musical "Oklahoma!" It was donated to the Library in 1990.
Click on images to view larger versions