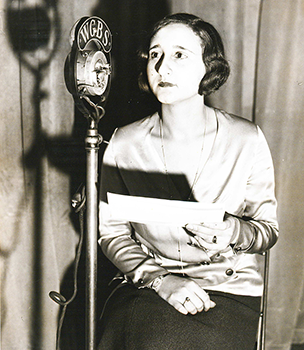 Edythe Meserand (1908-1997) began her broadcasting career in 1926 at NBC, but had her greatest influence at WOR-Radio, New York, which she joined in 1935. There, she achieved a number of "firsts" in broadcasting history: she founded the first radio newsroom, produced the first true radio documentary; and organized the station's enduring Children's Christmas Fund Drive.
Meserand was also a founding member of American Women in Radio and Television (AWRT), and served as the organization's first President, from 1951-1952.
This gallery presents a sample from the Papers of Edythe Meserand at the Library of American Broadcasting.
The collection spans the years 1920 to 2000, and contains scripts, photos, correspondence, clippings, certificates, memos, magazines, speech transcripts, original stories and poems, and various artifacts and media. It was donated to the Library in several installments between 1998 and 2000.
Click on images to view larger versions