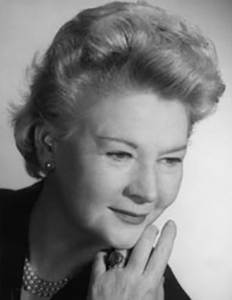 Pegeen Fitzgerald (c. 1911-1989) is often referred to as the "First Lady of Radio Chatter." She and her husband, Edward, broadcast a "husband-and-wife at home" radio show from their New York apartment for over 40 years. Their daily broadcast eventually became a Big Apple institution.
The Fitzgeralds' "ramblings," as they called them, covered a variety of topics: book reviews, what came in that day's mail, current events, and the activities of their friends. Sometimes the couple even bickered on the air. When Mr. Fitzgerald died in 1982, Mrs. Fitzgerald carried on with the program alone until it went off the air in 1985.
This gallery presents samples from The Pegeen Fitzgerald Collection at the Library of American Broadcasting.
The collection spans the years 1947 to 1988, and contains photographs, correspondence, slides and negatives, reel-to-reel audiotapes, unframed original paintings, newspaper and magazine clippings, and a hard-bound book written by Fitzgerald. It was donated to the Library in 1996.
Click on images to view larger versions