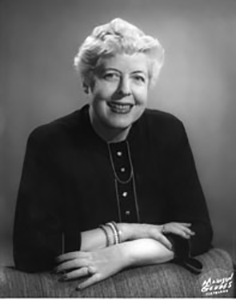 Mildred Funnell (1901-1977) gained her first taste of radio fame in 1933 as "Evalena," Lum's girlfriend, on the highly successful radio comedy show "Lum & Abner." Later, she achieved great longevity as a Cleveland-based talk show host of both radio and television.
She hosted WTAM radio's "Women's Club of the Air," before going on to co-host her own radio show, "Mildred and Gloria," and its television counterpart, "The Idea Shop," with Gloria Brown. Brown and Funnell's on-air partnership lasted for 11 years. Funnell concluded her broadcasting career by hosting a series called "Take Five" over WJW radio in Cleveland in 1959.
This gallery presents samples from the Papers of Mildred Funnell at the Library of American Broadcasting.
The collection spans the years 1932 to 1955, and contains correspondence, clippings, photographs, newsletters, press releases, scripts, scrapbooks, and programming schedules. It was donated to the Library in 1978.
Click on images to view larger versions