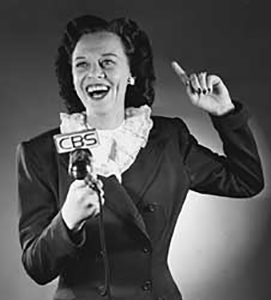 Irene Beasley (1904-1980), known as "the long, tall gal from Dixie," was a composer, singer, and radio personality. She is best remembered for her long-running musical quiz show, "Grand Slam," a program which she wrote, produced and hosted. It aired from 1943 to 1953.
This gallery presents samples from The Papers of Irene Beasley at the Library of American Broadcasting.
The collection spans the years 1908 to 1978, and contains photographs, business records and correspondence, promotional materials, sheet music, and 78 rpm records. The Library received the collection in 1980.
Click on images to view larger versions