In 1984, proxy wars in Afghanistan, Nicaragua, and Lebanon raged and Reagan campaigned on this instability, asserting that his administration was "prepared for peace" while also warning of the dangers of the "bear in the woods."1, 2 Voters overwhelmingly embraced Reagan's "Morning in America" vision for the country, with the President winning reelection over Walter Mondale in the second largest landslide in American electoral history.3 Just before the election, Reagan signed the Comprehensive Crime Control Act into law. This reform was a manifestation of Reagan's "War on Drugs" which dramatically reshaped policing in America for generations by overhauling sentencing guidelines, increasing sentences for marijuana possession and crimes committed with a firearm, as well as the elimination of federal parole.4 Between the War on Drugs and the conflicts in Central America and the Middle East, 1984 was a year defined by hallmarks of Reagan's foreign and domestic policy.
Similarly within Washington, Mayor Marion Barry was now the established figurehead for The District. Washington experienced an increase in sovereignty in the year as D.C. entered into the bond market and for the first time. Now able to borrow money independent of the U.S. treasury, The District entered a new era in home rule with this expansion of financial independence. However, despite these gains, intense scrutiny of Mayor Barry was also becoming a recurring element of the news cycle as he was called before a grand jury on accusations of having purchased cocaine from an associate.5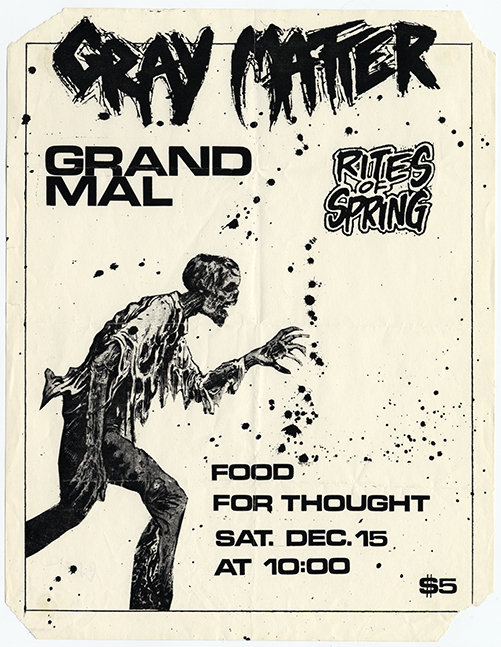 ...
As Barry and Reagan were quickly becoming iconic within their own time, hardcore had similarly come to dominate seemingly everything heard or said about the D.C. punk scene. By early 1984, however, hardcore's hold on the punk scene was loosening. The transgressive sound of thrash had become the establishment and there was a feeling of stagnation. The third issue of Metrozine, a new fanzine by 12-year-old suburban punk Scott Crawford, was released in Fall 1984 and opened with a jagged text-bubble that reads "Don't let the D.C. scene become another meaningless trendy punk scene!"6 There was a pervasive feeling of one era of the scene ending and another beginning. As 'Hardcore '84' adorned fliers and rote violence at concerts became seemingly endemic, Dischord Records released the EP compilations Minor Threat and Dischord 1981: The Year in 7"s; both standing as proud monuments to the scene's beginnings and reminders of something unique that was slipping away. "You have to understand how miserable the general climate at punk shows was at this time," musician and longtime Dischord employee Alec Bourgeois remembered. "Shows that had previously featured a diverse community of punks, rastas, freaks, queers and, yes, thugs — mostly looking out for one another — had degenerated into huge mosh pits of mostly ex-jocks and suburban skinheads."7
Barbara Rice, editor of Truly Needy fanzine, lamented the staid state of creative affairs in D.C. punk at the start of 1984. "Much of the criticism about hardcore being boring is absolutely correct," she wrote. "The main problem with the current scene is its conformity. Often, any band that tries a new approach is shut out of the scene."8 Despite this, 1984 was a turning point for expanding the sound of D.C. punk beyond hardcore. Marginal Man's debut record, Identity, marked a particular moment in which musical characteristics of the scene evolved further toward melody, while still maintaining the intensity of hardcore. Rather than a frenetic blast beat from start to finish, songs on Identity—such as "Mental Picture"—wend between stylistic categories, invoking a broad base of influences in just over two minutes. Bloody Mannequin Orchestra's 1984 debut LP, Roadmap to Revolution, shows further blurring of sonic boundaries. The dissonant atmospheric exploration undergirding the spoken-sung vocal on "The Blender" foreshadows textures and sounds to come in the post-hardcore moment.
9353 and Peach of Immortality were new additions to the scene that also deviated from the formula, each band grafting their experimental musical mindsets onto the punk corpus. 9353 released their debut album, To Whom It May Consume in 1984 on R&B Records. The album contains perhaps their best known song, "Famous Last Words," which merged ominous, yet tuneful, post-punk sounds with a mordant sense of humor. Peach of Immortality was far less user-friendly than the already abstruse 9353. Live recordings from 1984 capture nightmarish landscapes of groaning cellos, fleeting blips of Little Richard's exhortations, and noisy forays into the ether that left most punk concertgoers "stunned" at Peach of Immortality's "damaged art sound," according to WDC Period, one of the new D.C. punk fanzines to emerge in 1984.9
With Minor Threat and the Faith now broken up, Government Issue and Marginal Man moved to the fore of the scene, both creatively and in terms of popularity. Each toured heavily and, along with Scream, were considered to be the biggest drawing bands of the mid-1980s D.C. punk scene.10 Government Issue's first full-length album, Joy Ride, was released in 1984 on Fountain of Youth. The group's songwriting was also shifting away from the strictures of hardcore, as best evidenced by the song "Understand," which keenly foreshadowed the sound of 1985's "Revolution Summer" bands.
It is hard not to see 1984 in the context of the movement that followed in 1985. "Revolution Summer" was an unofficial reset for D.C. punk with an explosion of new bands and ideas, a strong sense of political purpose, and earnest efforts to challenge the violence and misogyny within the scene. While 1985 was a unique period of revitalization, many of the bands that would come to define the period were already developing throughout 1984.
Beefeater and Gray Matter both got their start in 1984 and would emerge as particularly significant contributors to the year that followed. Beefeater was formed late in 1984 by bassist Dug E. Bird of Underground Soldier, vocalist Onam Emmet (then known as Tomas Squip) of Red C, drummer Bruce Taylor of Hate from Ignorance, and guitarist Fred "Freak" Smith, who studied music education at Howard University.11, 12, 13 "Beefeater was a revolutionary band," Dischord co-founder Ian MacKaye recalled in 2017. "Their fusion of metal, funk, and jazz at a time when hardcore ruled supreme was popular in D.C. mainly because Freak was an extremely gifted musician and a real kook, unlike anyone else."14
Gray Matter brought together drummer Dante Ferrando and guitarist Mark Haggerty of Iron Cross, bassist Steve Niles, and guitarist/vocalist Geoff Turner. Far more tuneful than any of their peers in the scene, Gray Matter married Turner's outstanding songwriting with a punk edge and a patently teenage blend of vulnerability, drollery, and bravado. "We didn't have a real idea of what we wanted in terms of sound, but we all loved punk, and Sixties punk stuff, too," Turner recalled of the band's formation. "We all had a similar, weird sense of humor."15 Like Bloody Mannequin Orchestra and numerous other participants in D.C. punk, Turner was an active part of the Bethesda, Maryland sub-scene, which had a more playful, anarchic quality than other corners of the larger community. Releasing a stream of pseudonymous home recordings under the label WGNS Recordings, Bethesda punks like Turner, Colin Sears (of BMO and, later, Dag Nasty), and Kevin Mattson (Hate From Ignorance), among several others, scattered seeds of creative freedom and melodic experimentation during this time, which soon flowered into more untethered realms in the second half of the 1980s.
After playing several concerts throughout 1984 at venues like the Bethesda Community Center, dc space, King Kong, the 9:30 Club, and Food For Thought (a restaurant owned by Ferrando's father, Bobby), Gray Matter recorded its debut album in November at Don Zientara's Inner Ear Studios. The band named the album after Bobby Ferrando's restaurant and the songs on Food For Thought, like "Caffeine Blues," "Fill a Void," and "Flash in Time," sound little like hardcore, instead peppering the listener with the band's punky garage rock nuggets, all propelled by Ferrando's outstanding surf-influenced drumming.
Much as Beefeater and Gray Matter brought together musicians who had already been a part of the D.C. community, the most consequential of the new batch of D.C. bands had a similar origin. At the end of 1983, three members of the short-lived hardcore band Insurrection—Brendan Canty, Mike Fellows, and Guy Picciotto—began writing music with Eddie Janney of the Faith.16 They named their new group, Rites of Spring, after Igor Stravinsky's radical symphonic ballet from 1913, "The Rite of Spring." Picciotto explained that the name accurately expressed the group's aspirations for their role in the subculture. "We were trying to create a rebirth of what's going on here," he told Truly Needy. "It seemed to be stagnating for a long time and we just thought the name kind of fit the way we felt, a springtime type thing."17
Although the group recorded a demo in April 1984 at Don Zientara's Inner Ear Studios, Fellows soon moved away from D.C. and it seemed as if the band would break up before getting a chance to perform live.18, 19 Fellows returned to D.C., however, and Rites of Spring resumed, playing its first concert on July 29 with Gray Matter at Food For Thought. The band immediately made an impression with their frenetic performances and the striking vocals and lyrics of Guy Picciotto. "This was the first time I've seen Rites of Spring," enthused WDC Period. "Shit, they've got lots of energy and power to spare [...] I can't wait to hear them with working microphones."20
By the next year, the remaking of the scene over the preceding two years would come to a head. Terms like "hardcore," "thrash," and even "punk" had never captured the breadth of what happened musically and socially in the D.C. scene, increasingly serving as barriers to experimentation and acceptance. 1984, with all of its friction and disappointment, was a critical incubator for what was to come in the years ahead for D.C. punk.
Further Listening
9353. To Whom It May Consume. R&B Records, Album.
Bloody Mannequin Orchestra. Roadmap to Revolution. WGNS Recordings/EPU Records, Album.
Crippled Pilgrims. Head Down, Hand Out. Fountain of Youth Records, EP.
Government Issue. Joy Ride. Fountain of Youth Records, Album.
Marginal Man. Identity. Dischord Records, Album.
Nuclear Crayons. Bad Pieces Seen Delivering The Foretold Conclusion Spin All When After Consummate Pieces Open. Outside Records, Album.
Various. Bouncing Babies. Fountain of Youth Records, Compilation album.
Various. We Gots No Station. WGNS Recordings, Compilation album.
Tap or hover over an image to learn more.
FLIERS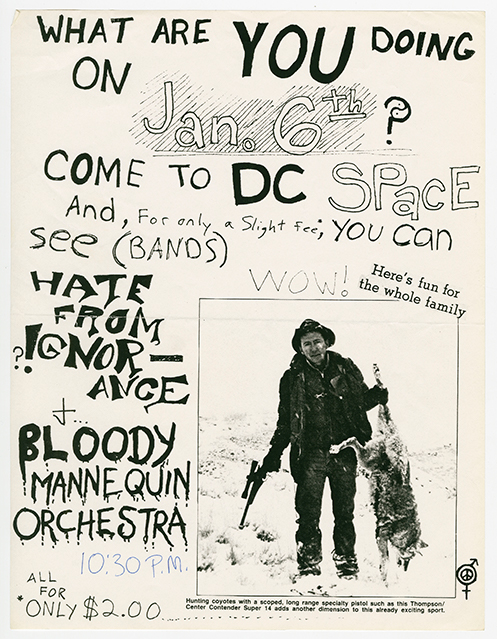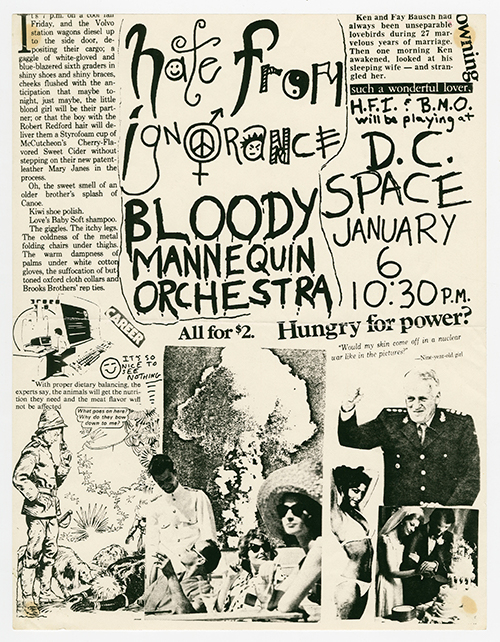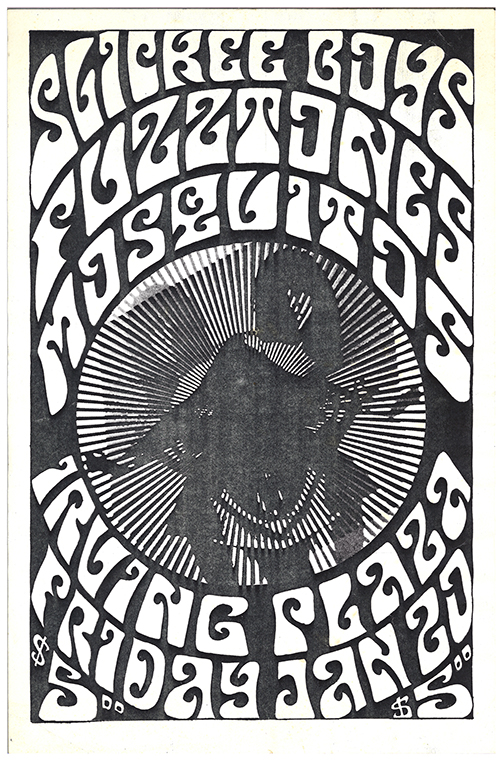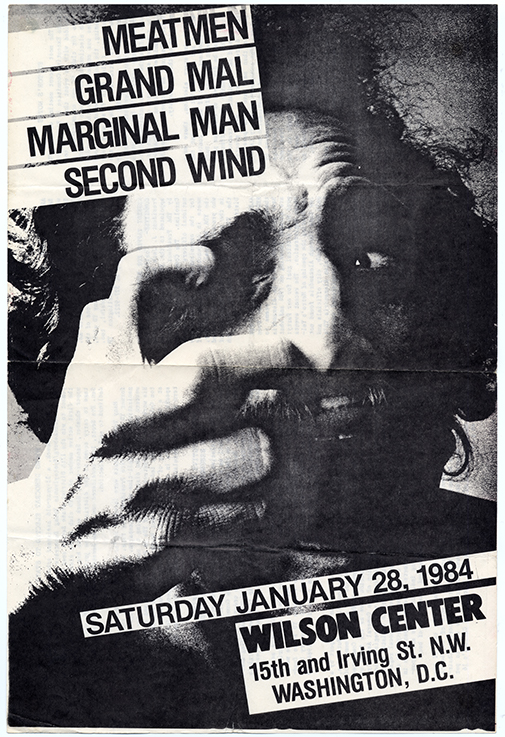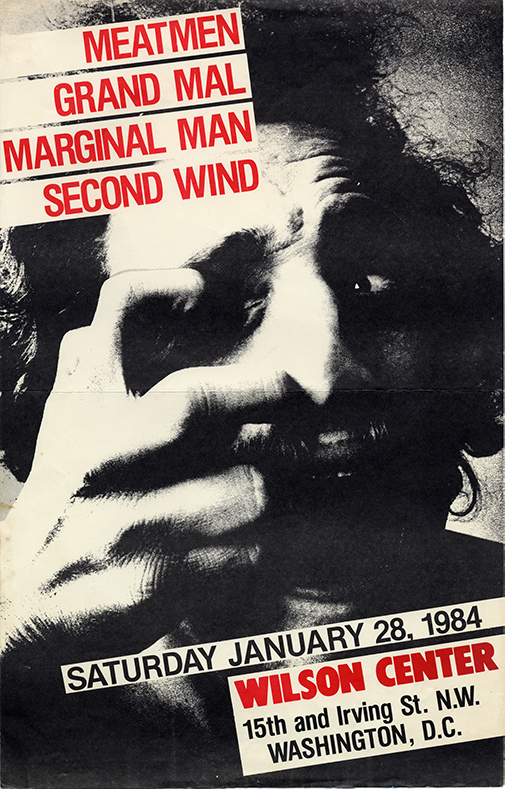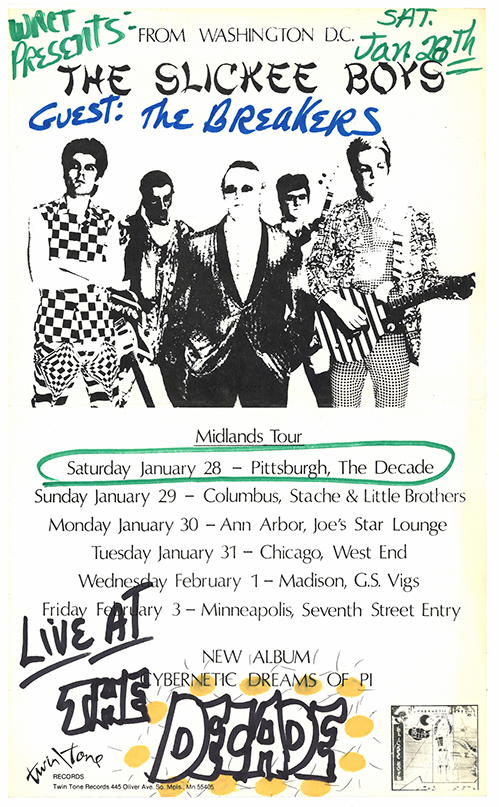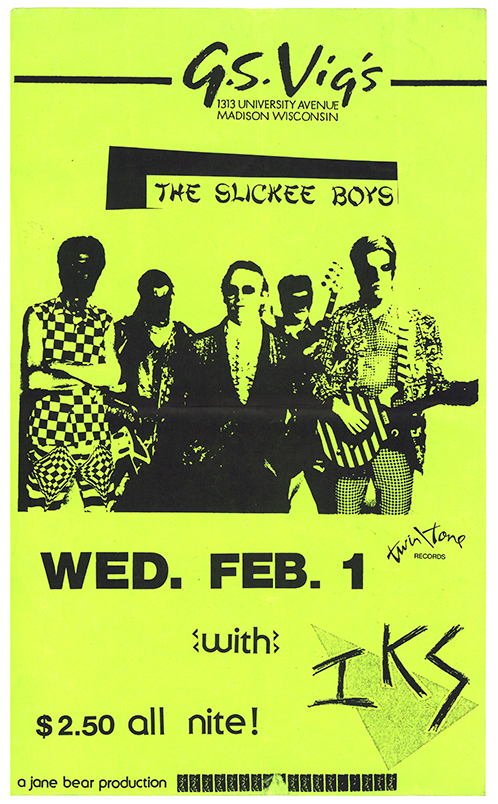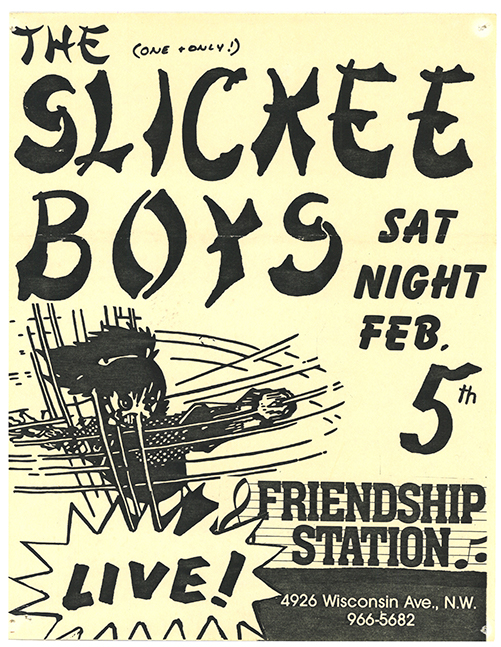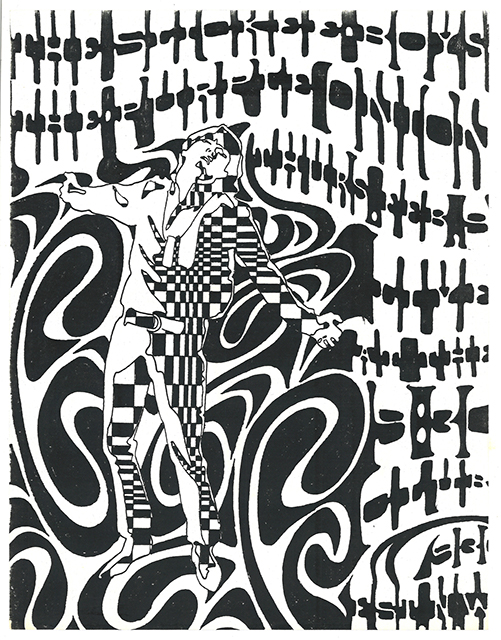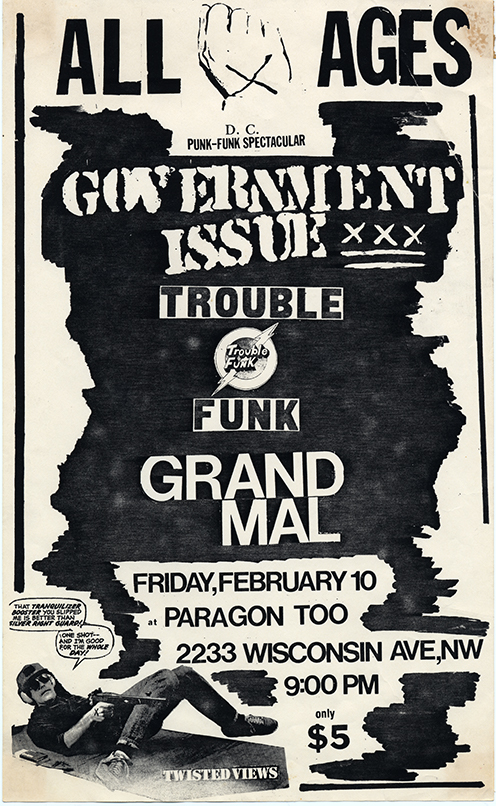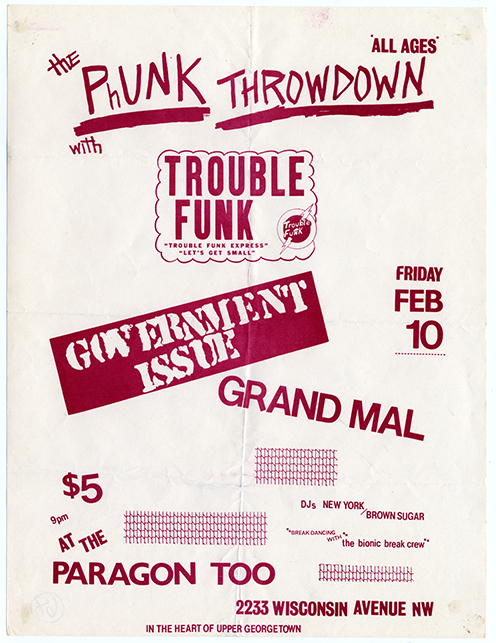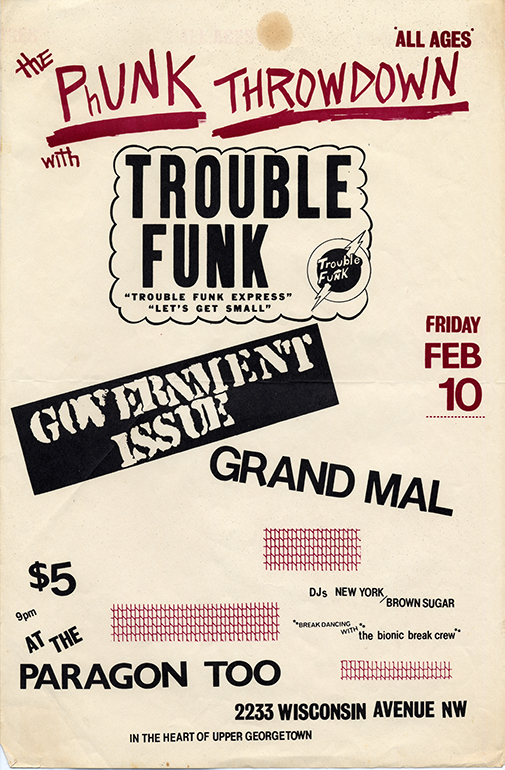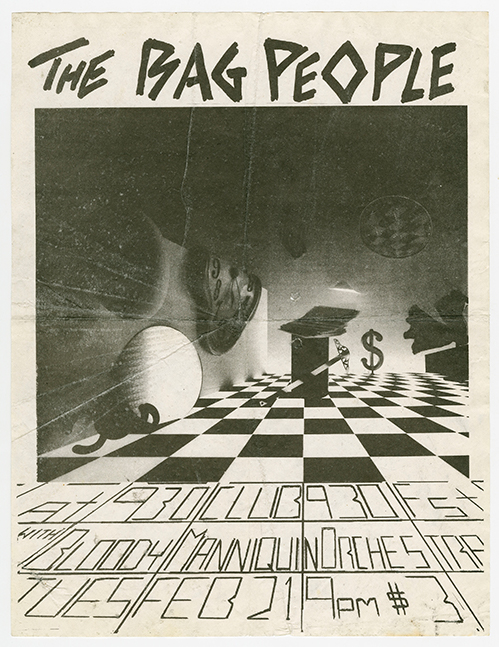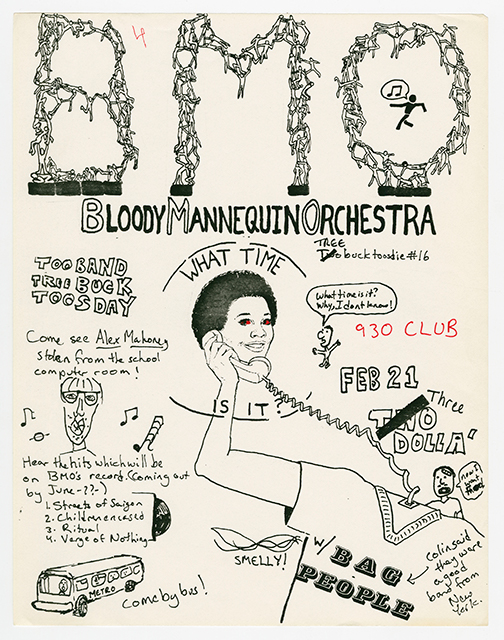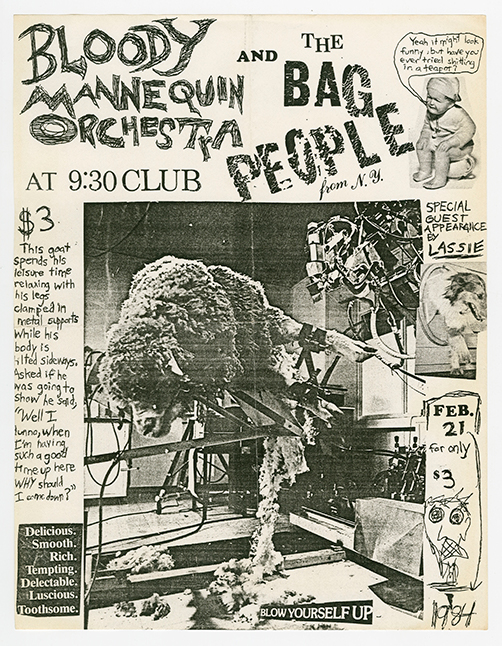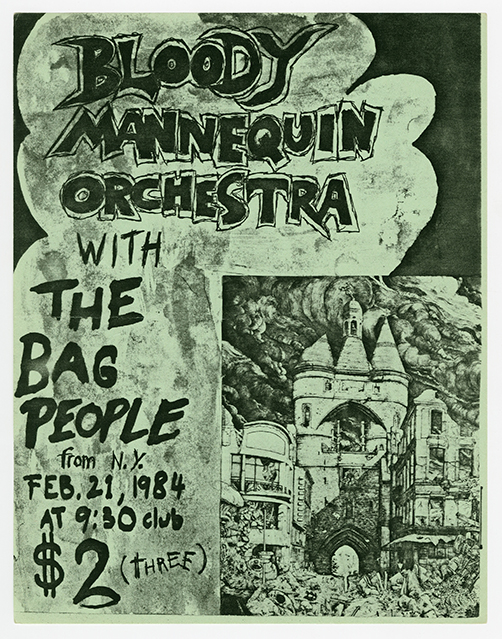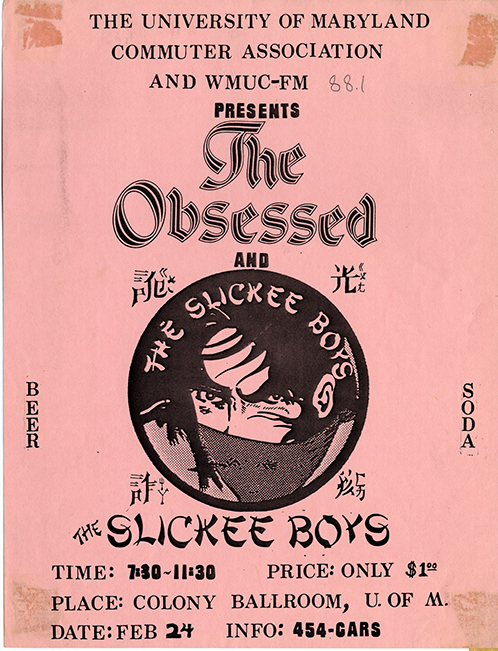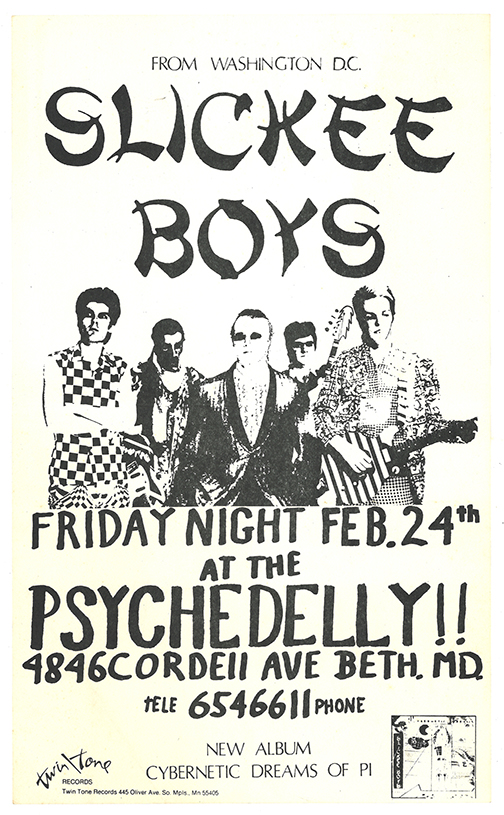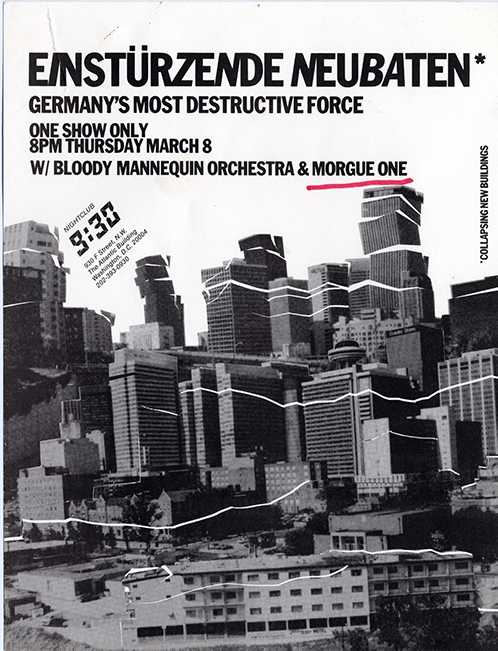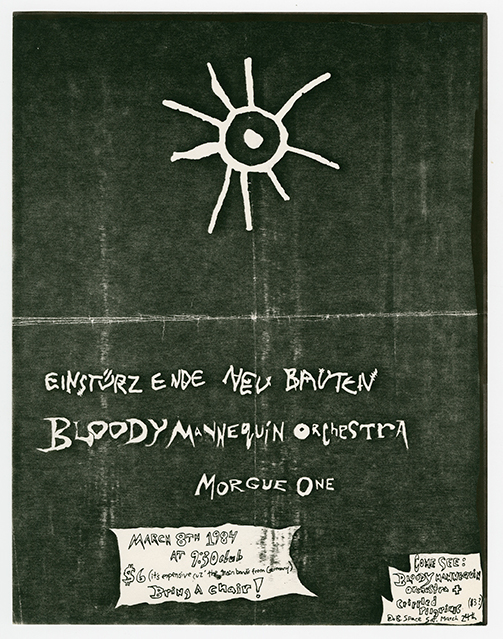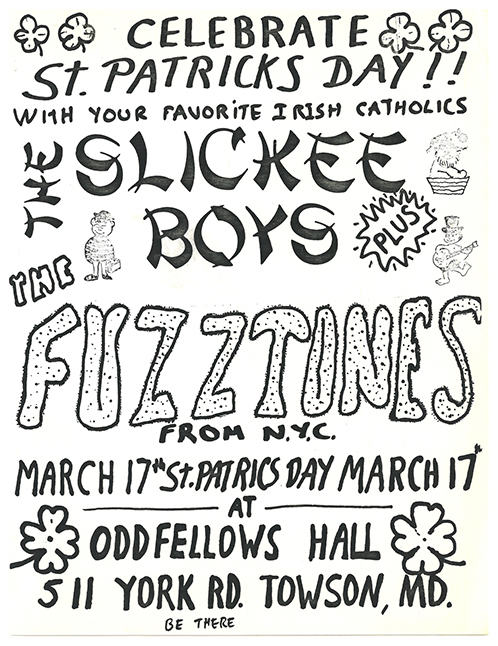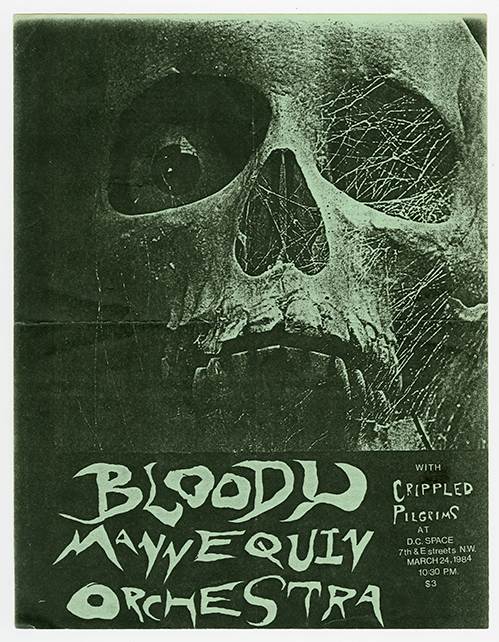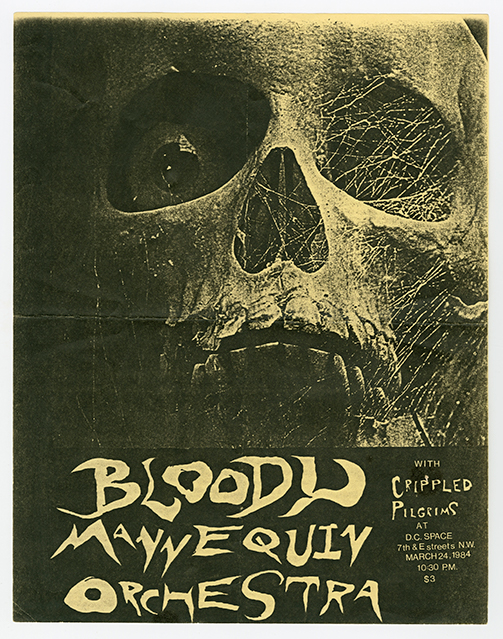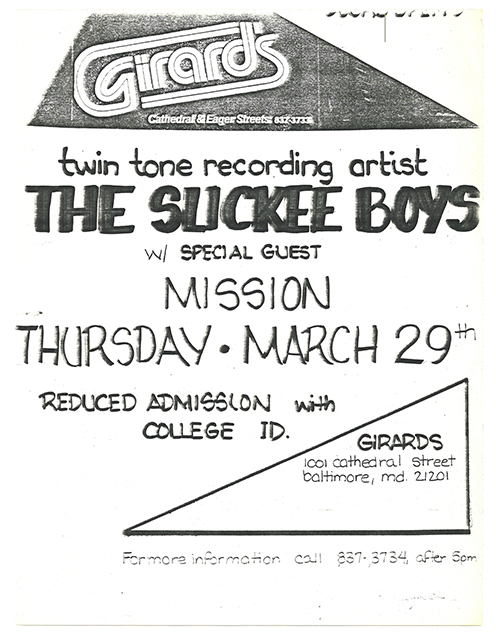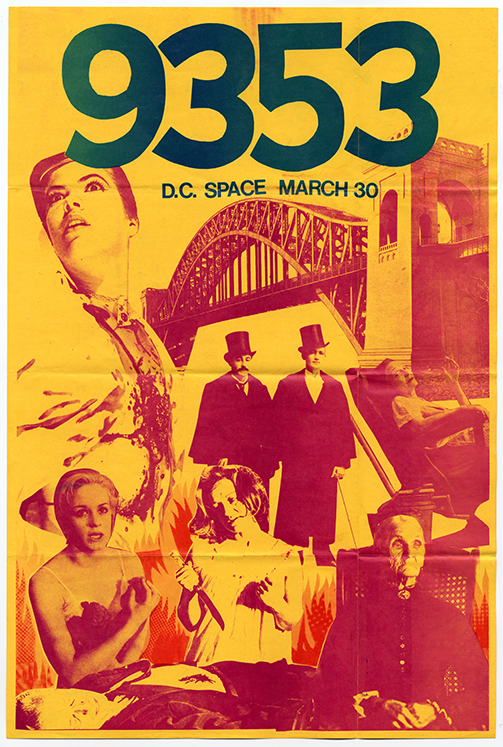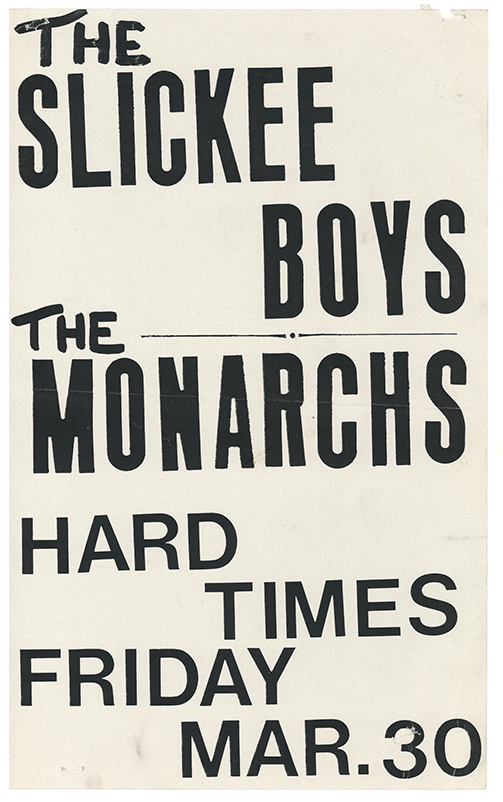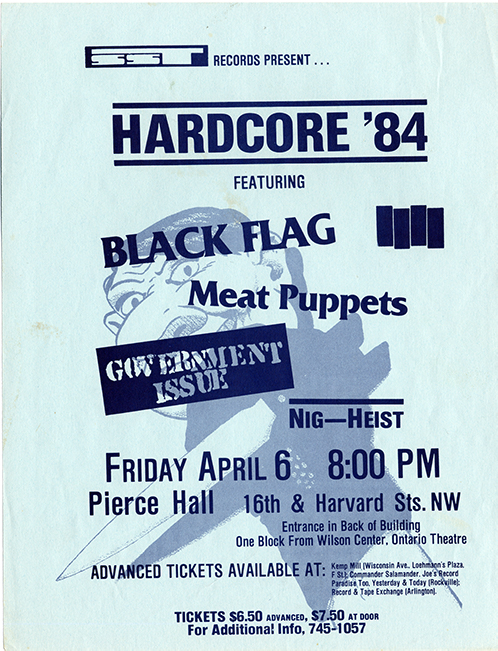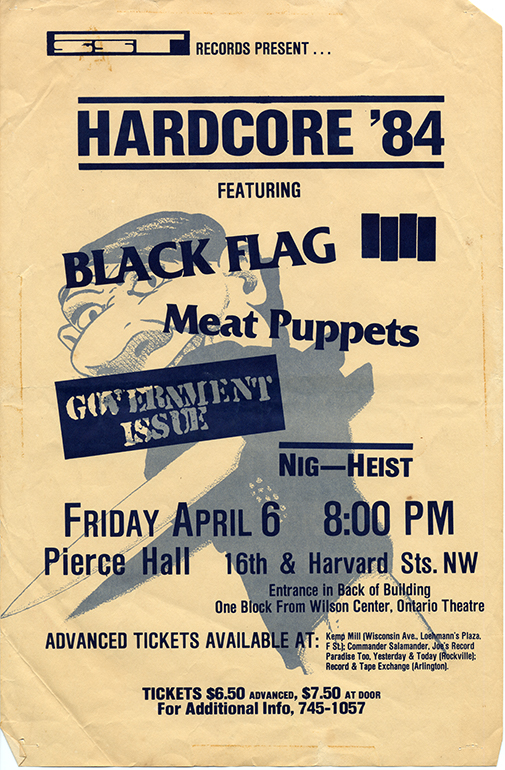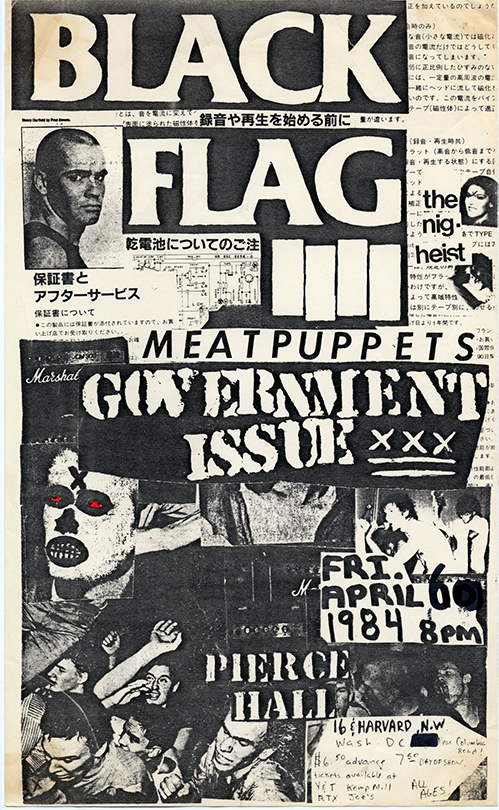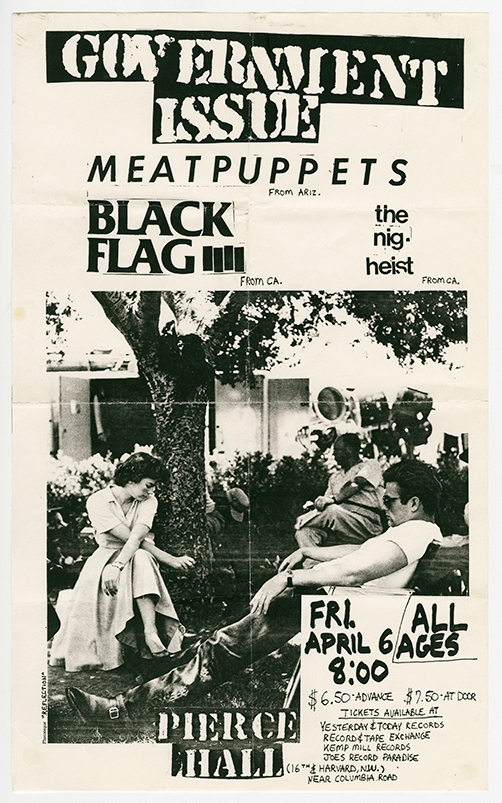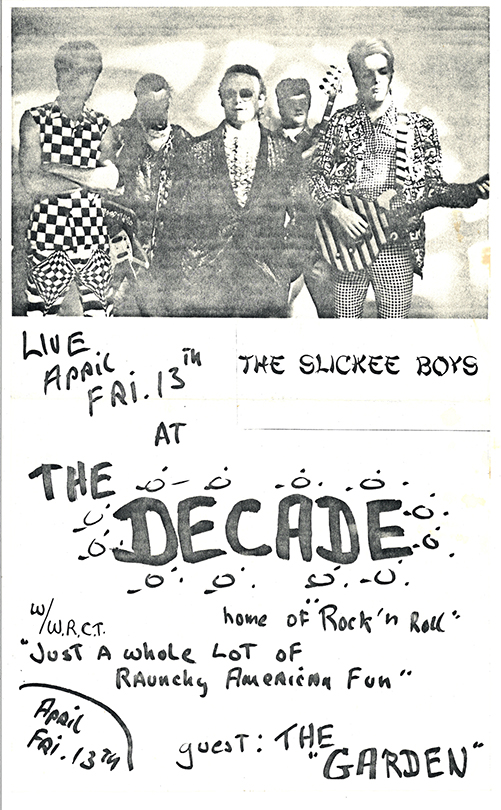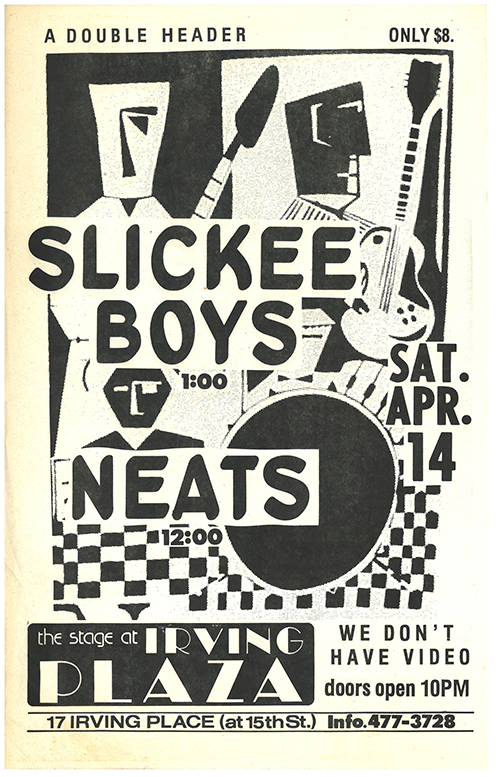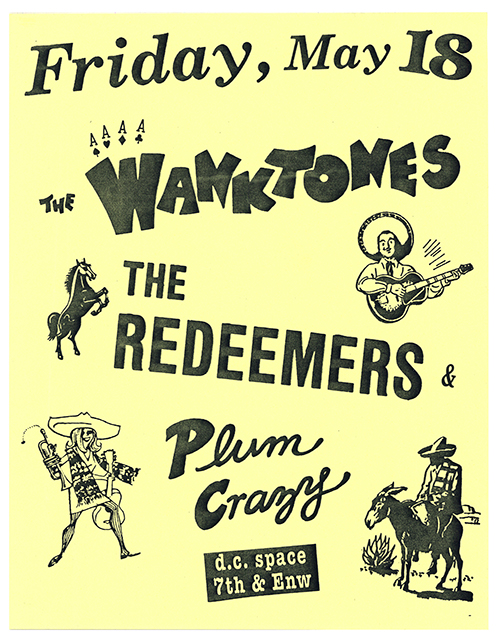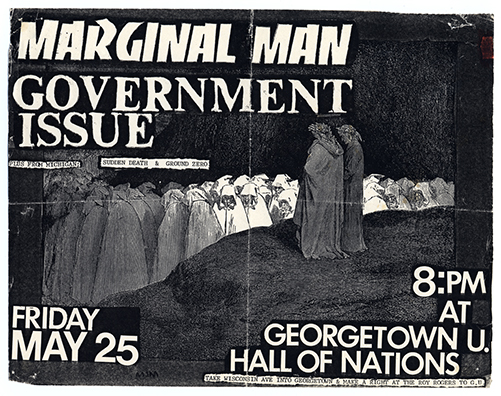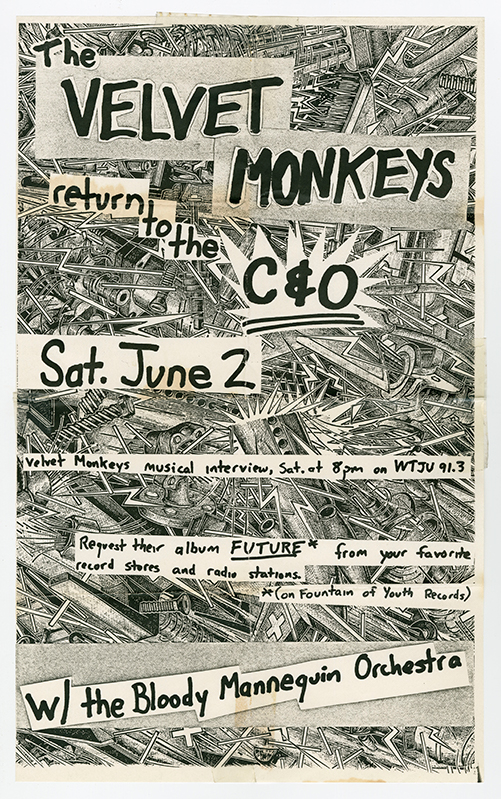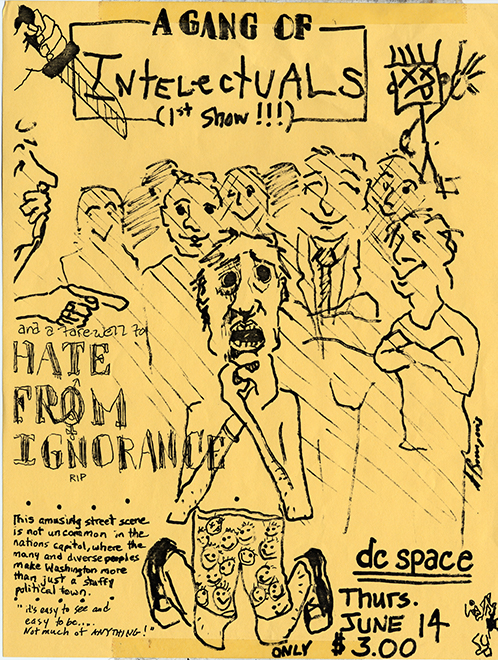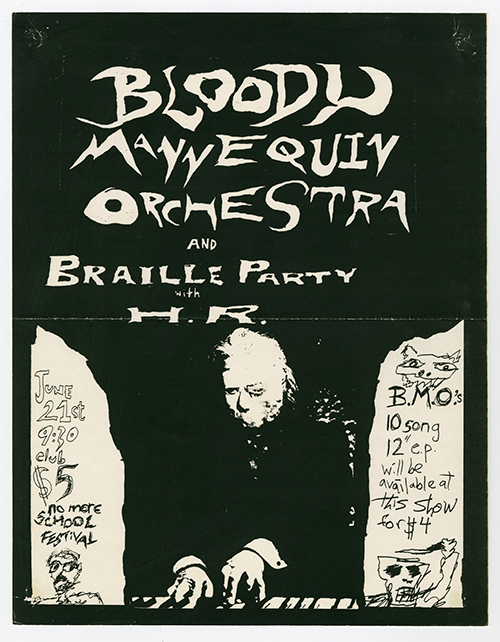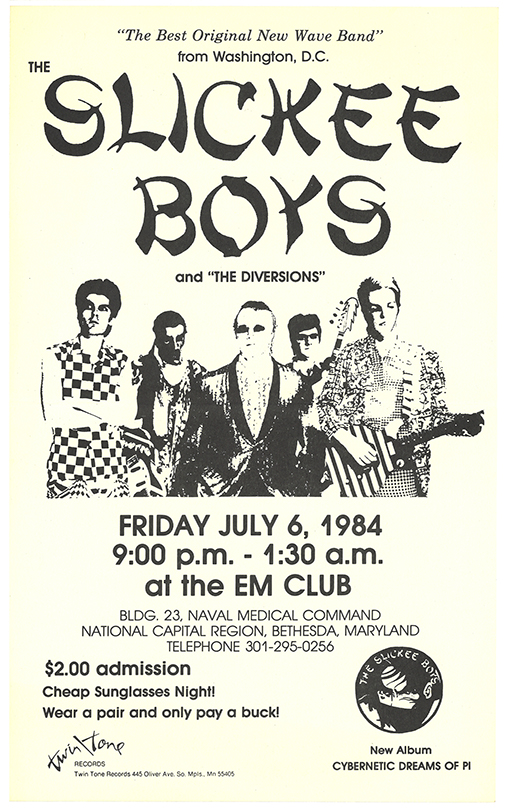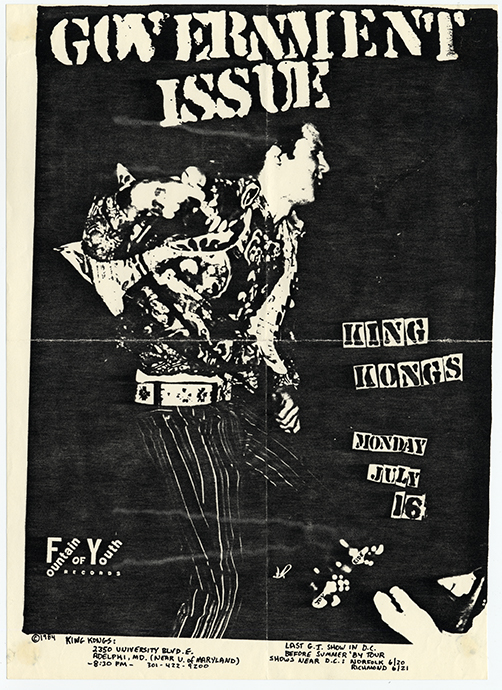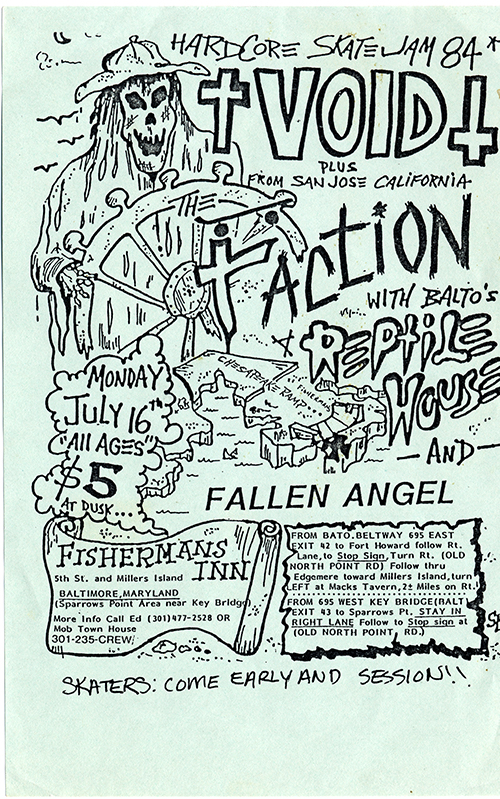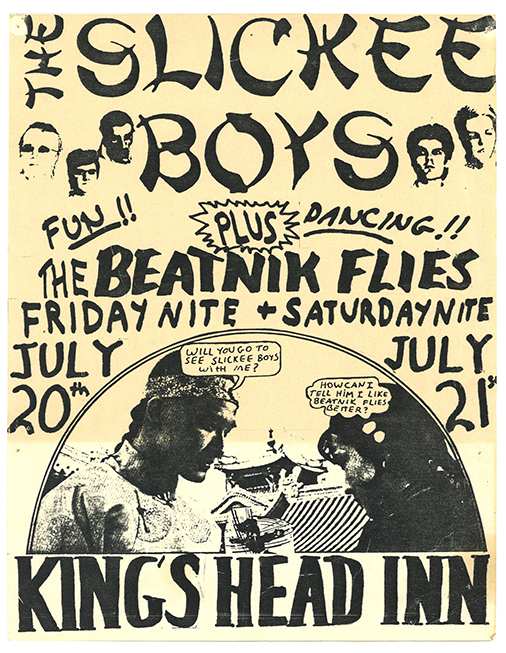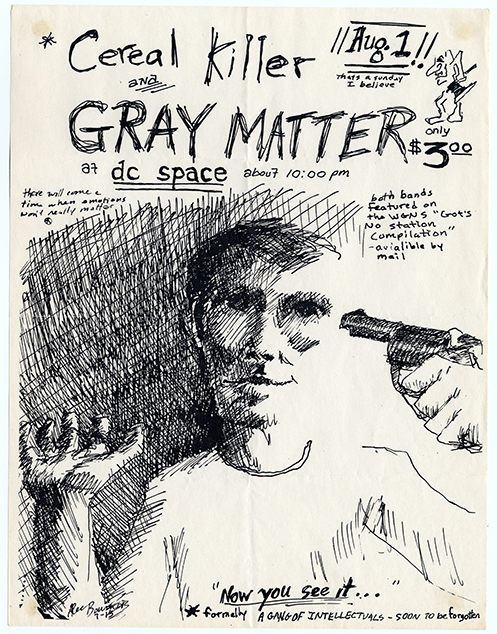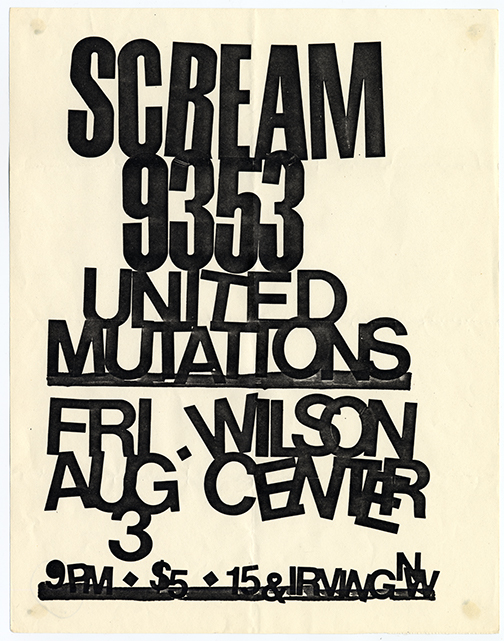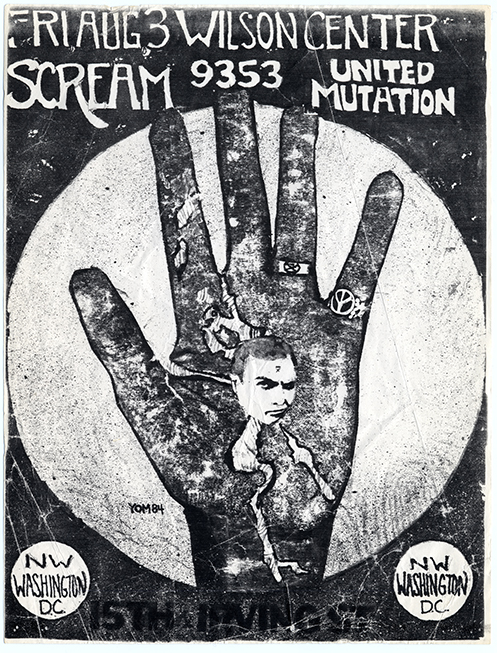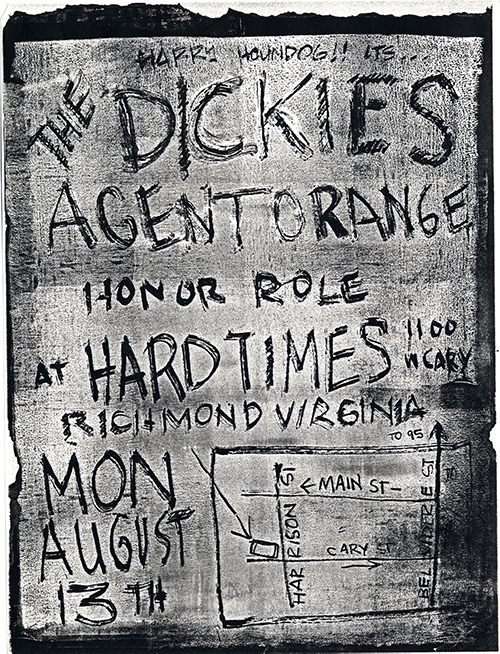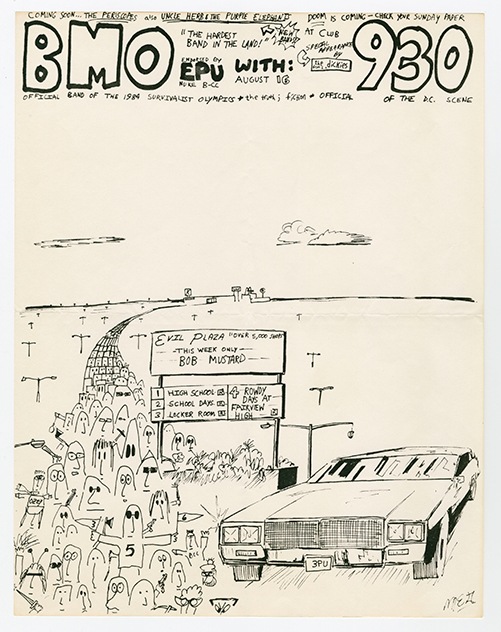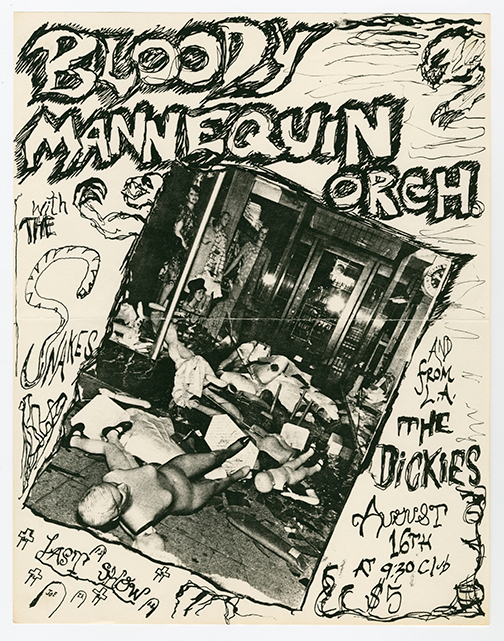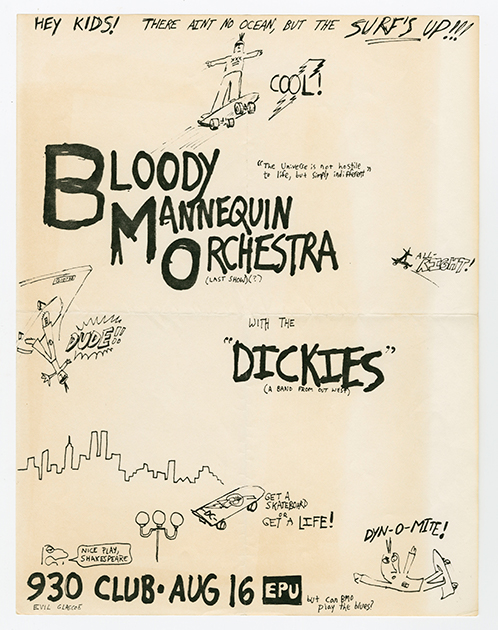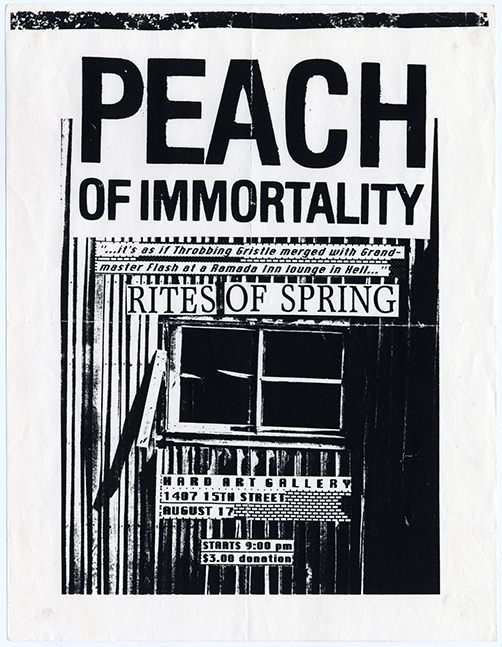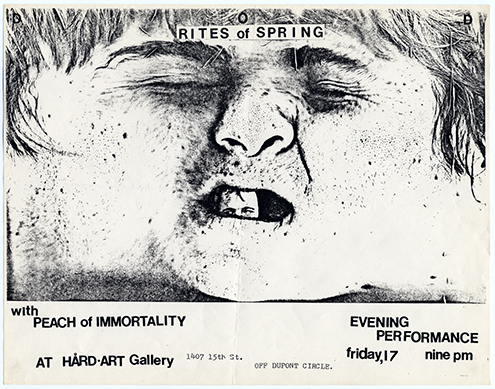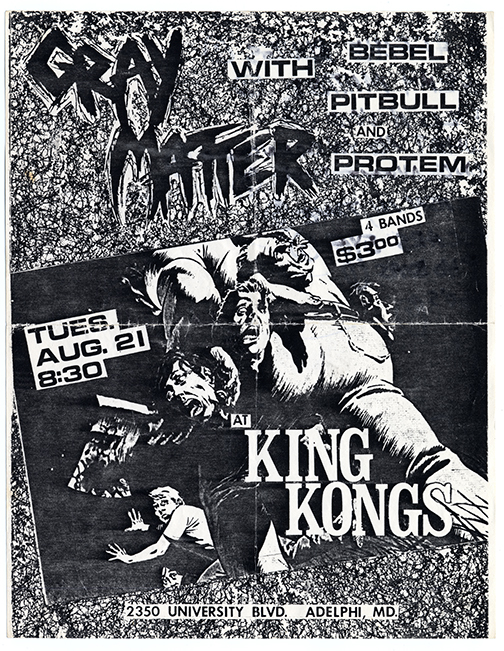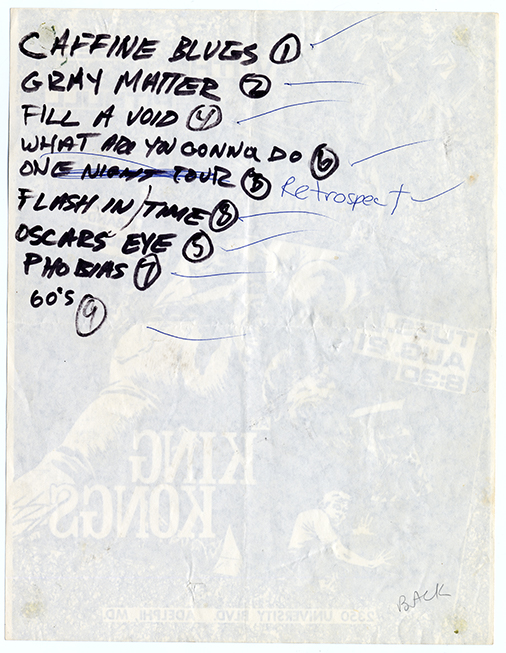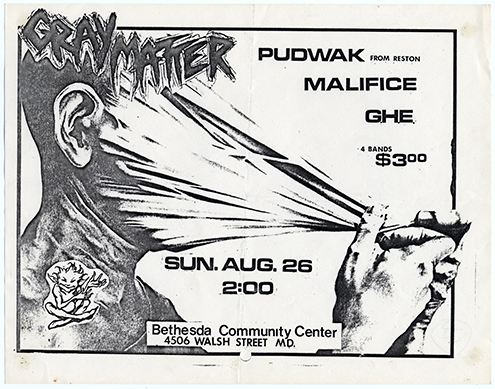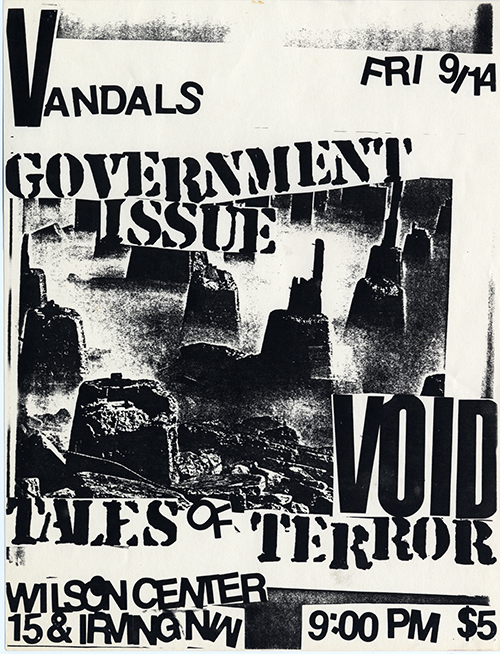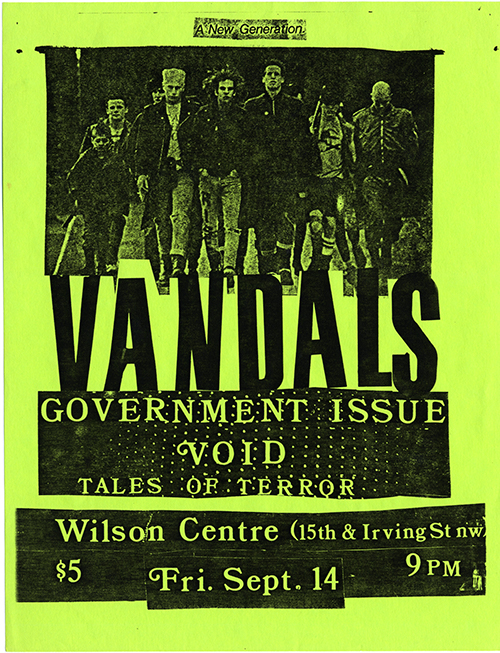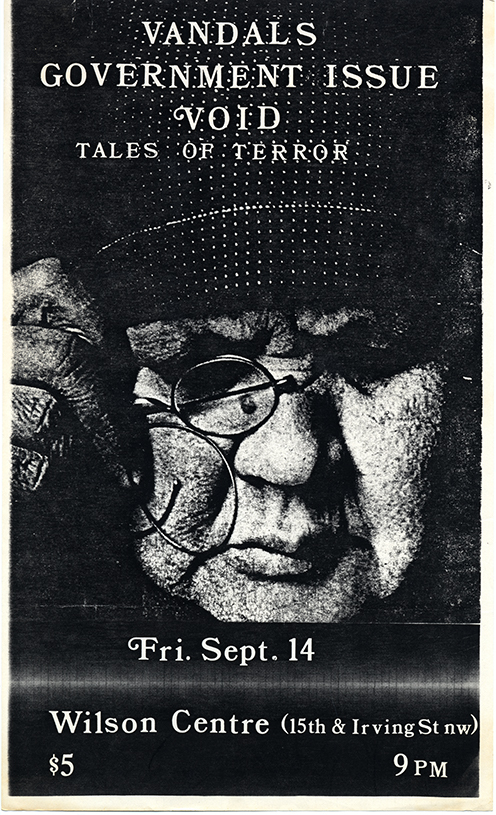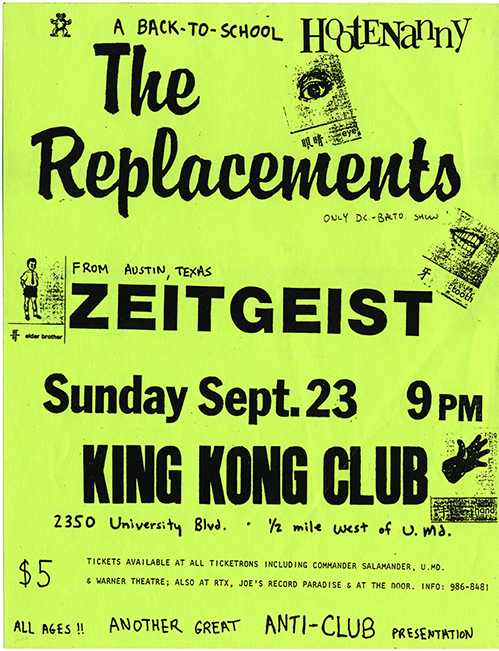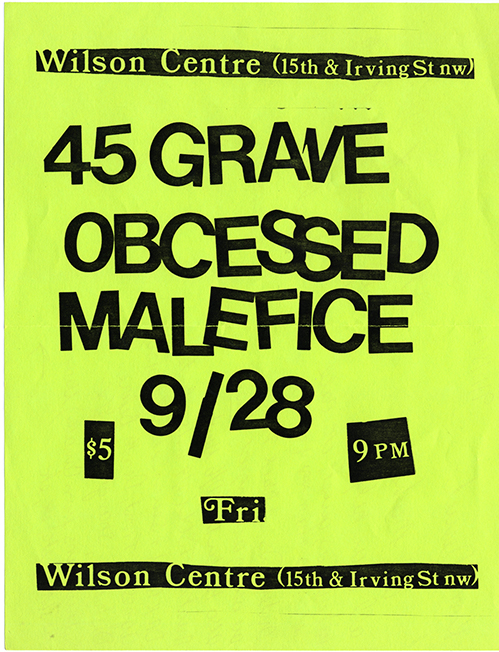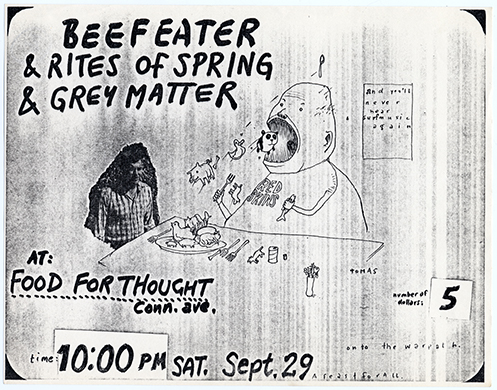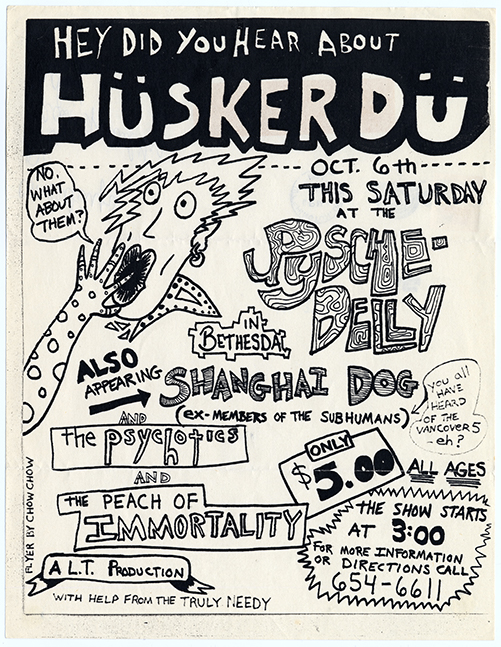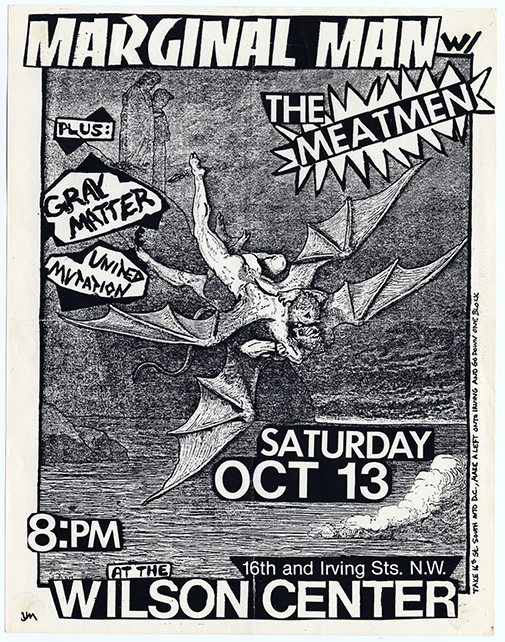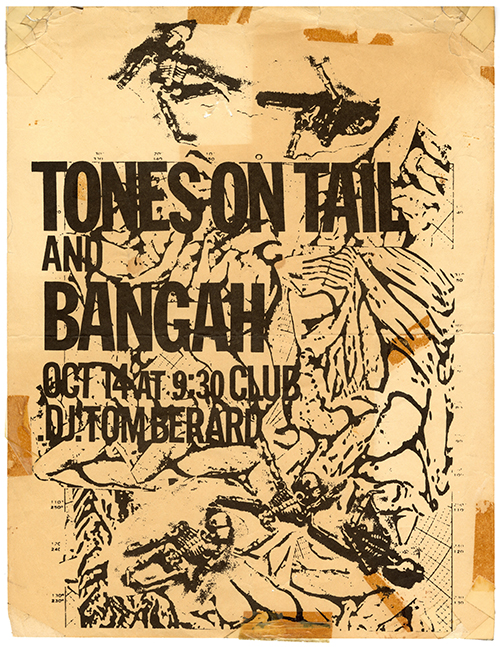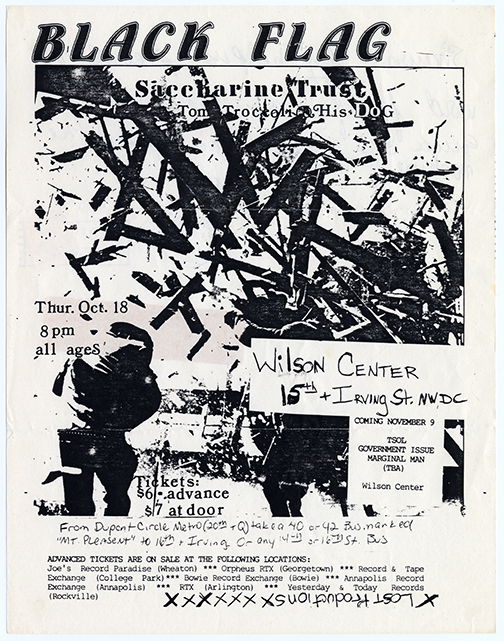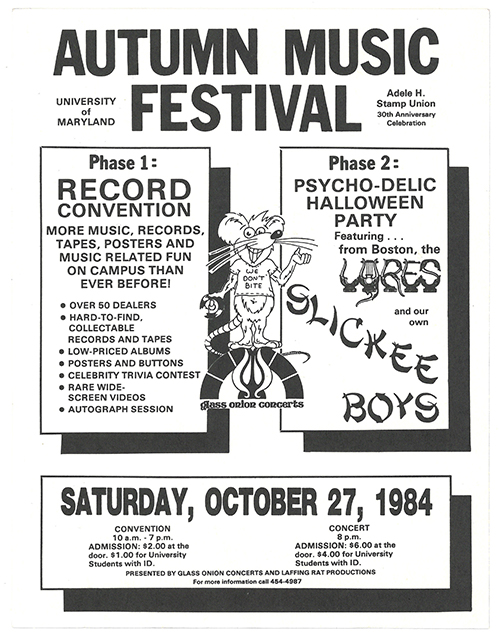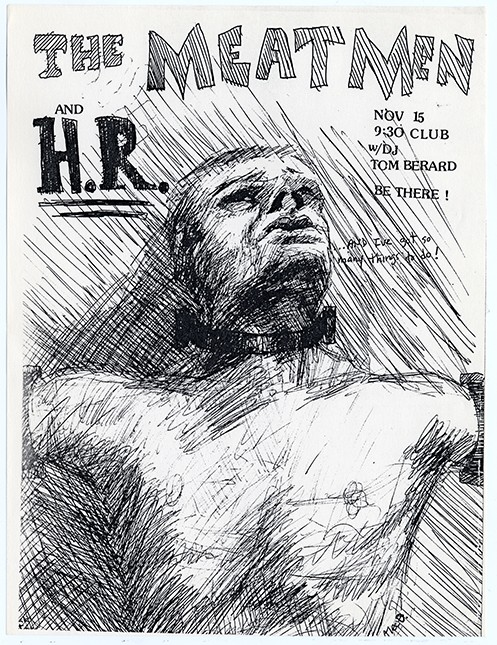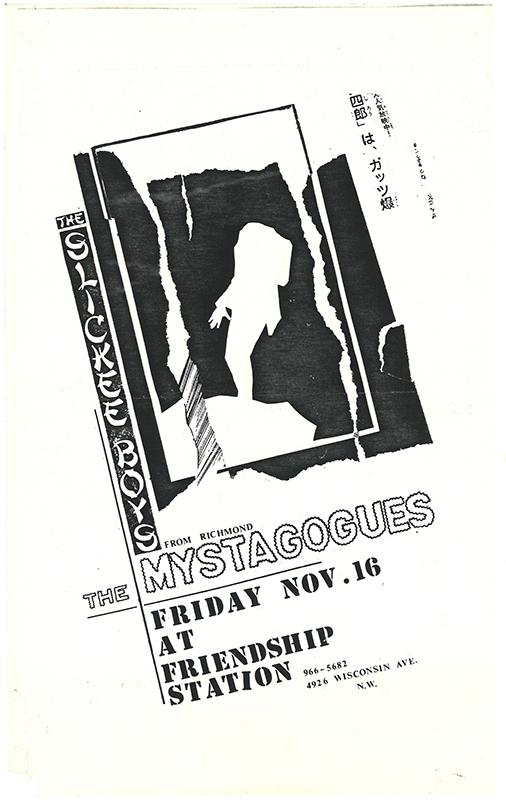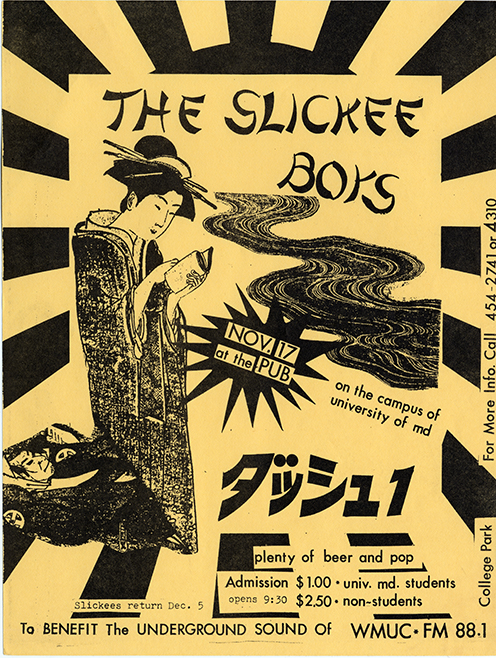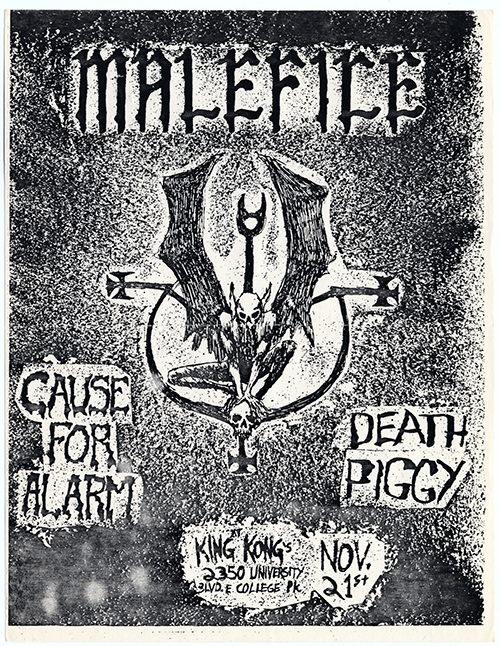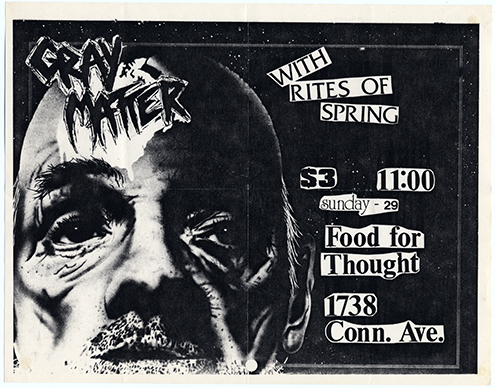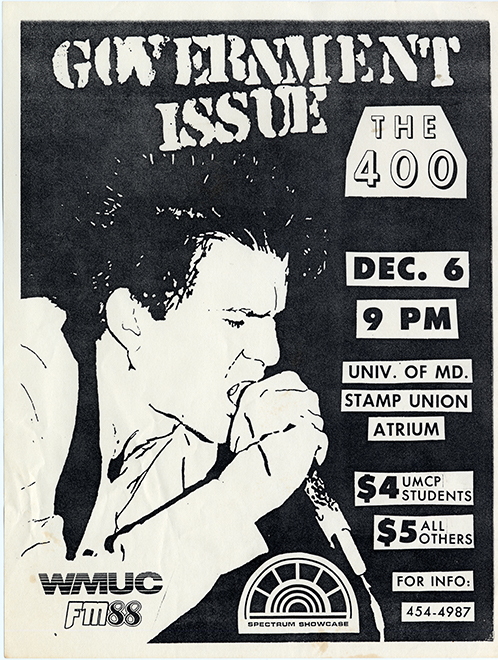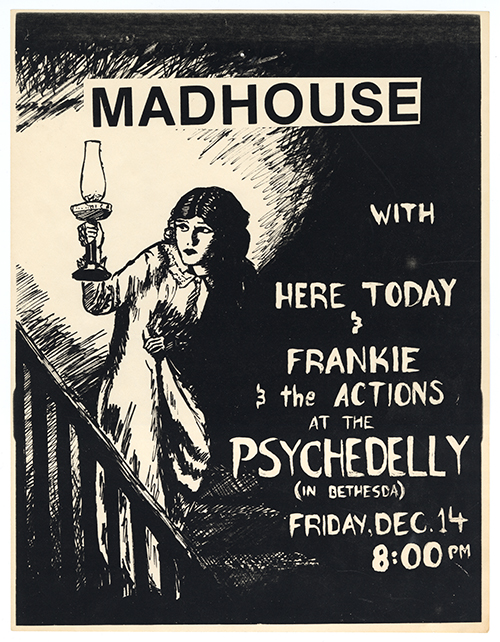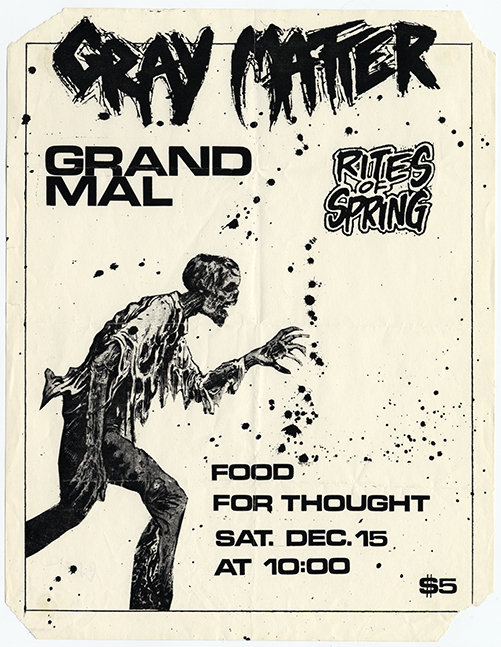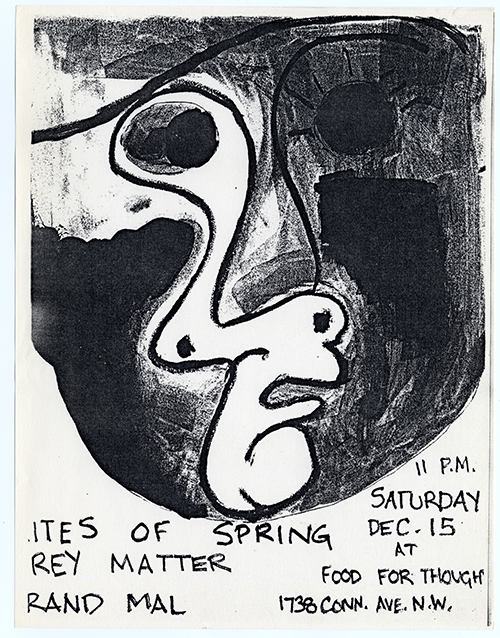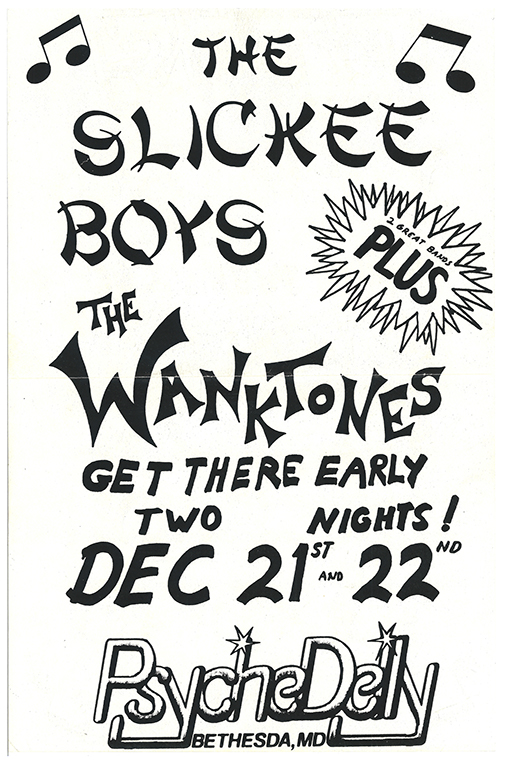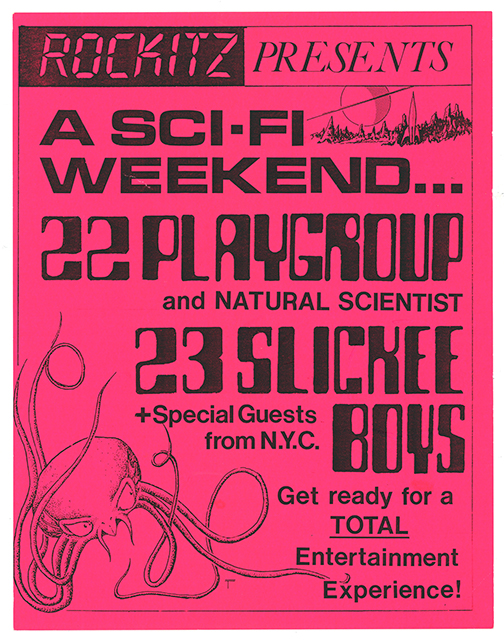 ZINES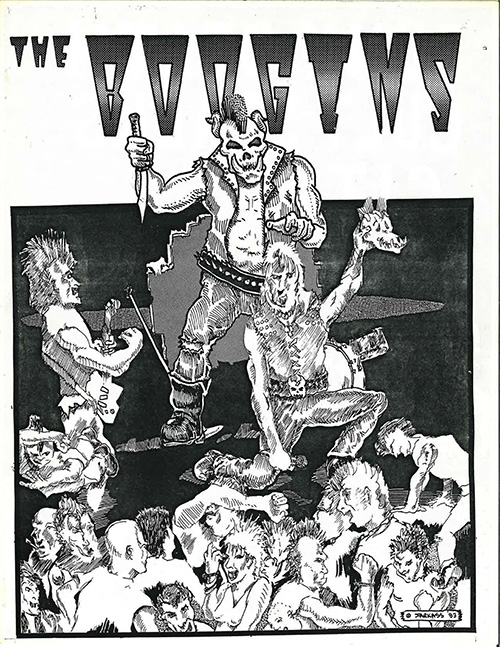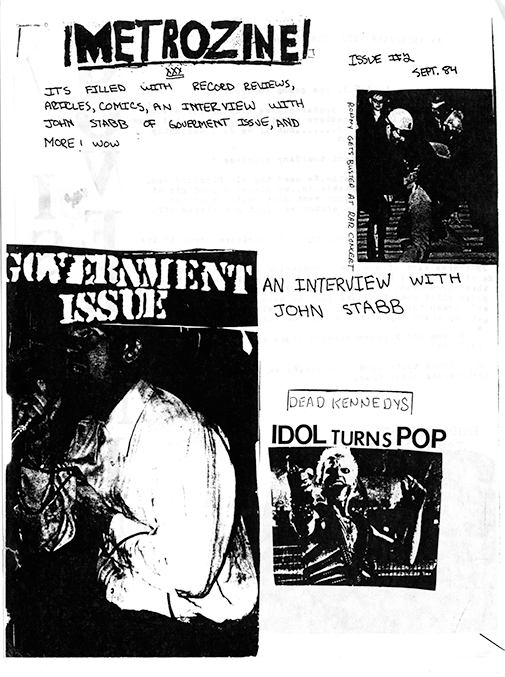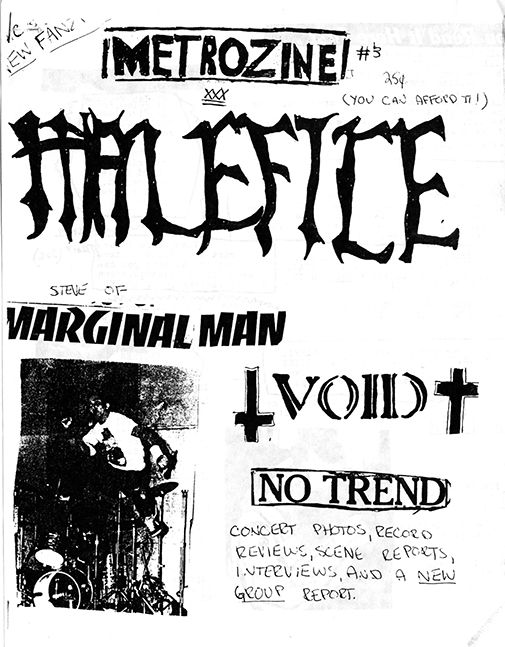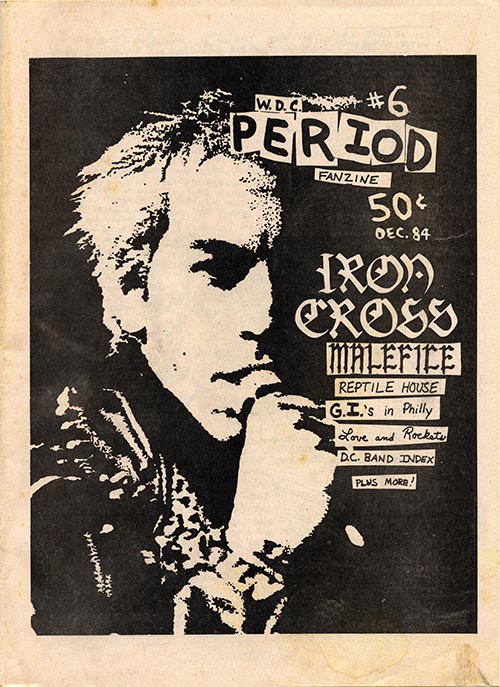 EPHEMERA