Katherine Anne Porter: Correspondence from the Archives, 1912-1977
SEARCH THE CORRESPONDENCE
---
ABOUT THE CORRESPONDENCE
Katherine Anne Porter's correspondence documents her life and her career as fiction writer, provides context and resources for the study of her work, and shares insightful perspectives on many cultural and historical events of the twentieth century. She was in New York City throughout the 1920s, in Mexico during the retrenchment after the Revolution ended in 1920, in Germany when the Nazis were beginning to gain power, in Paris with other expatriates in the 1930s, and in Washington, D.C. during World War II and during the administrations of John F. Kennedy and Lyndon Johnson. Her friends and acquaintances included fellow writers, publishers, artists, cultural figures, and politicians.
For these reasons, this digitized collection of Porter correspondence includes sources for literary study and accounts of political, social, and cultural history she experienced that are of interest to members of the general public as well as to scholars in a wide range of academic disciplines.
Because Porter preferred typing to handwriting when composing correspondence, the vast majority of included materials are typewritten letters, often with handwritten notes added in the margins. The digitized collection also includes letters that are wholly handwritten as well as picture postcards, telegrams, greeting cards, annotated newspaper and periodical clippings, sketches, and more.
Although much of the included materials are the originals Porter composed, she was also in the habit of retaining carbon copies of her letters. These copies are included in the digitized collection only when the originals were not preserved or when both were preserved and the carbon differed from the included original.
"All my past is 'usable,' in the sense that my material consists of memory, legend, personal experience, and acquired knowledge. They combine in a constant process of re-creation."

Katherine Anne Porter, Collected Essays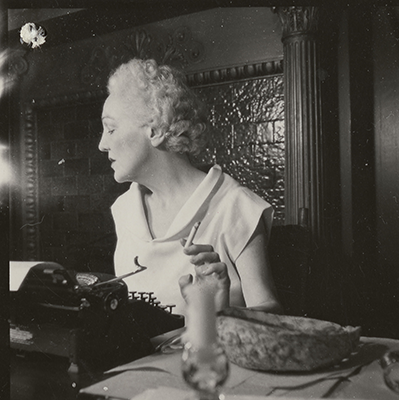 Katherine Anne Porter sitting at typewriter while holding a cigarette in her apartment at 106 East 66th Street, New York City, New York, circa July 1950-May 1951. Katherine Anne Porter Papers, Special Collections and University Archives, University of Maryland Libraries.