KATHERINE ANNE PORTER IN THE 1920s
Porter made three visits to Mexico in the 1920s, where she developed expertise on Mexican art and culture and became tangentially involved in Mexican politics. Her experiences there inspired and influenced her short stories published in Century, which earned her critical acclaim. While living in New York City in her thirties, she continued publishing short fiction, began a career of writing book reviews, and developed personal and professional relationships within the Greenwich Village literary scene.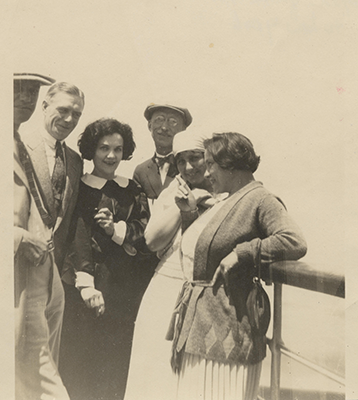 Katherine Anne Porter (center) with two women and three men on board ship traveling from Vera Cruz to New York, June 1922. Back inscription: "Voll, RUR, K.A. Porter/ Mr. Burns, Inik/ Miss Bedwick." Katherine Anne Porter Papers, Special Collections and University Archives, University of Maryland Libraries.
Professional
Porter begins publishing her work in national periodicals, both in the United States and in Mexico, regularly writing literary reviews, poetry, and other pieces. She begins publishing the short stories later recognized in her canon during this decade, beginning with "Maria Concepcion" in 1922. She ghostwrites My Chinese Marriage, published first serially and later as a monograph, and enters a contract to write a biography of Cotton Mather which is never completed.
Personal
Porter has relationships with several men, including Francisco Aguilera, Alvaro Hinojosa, Ernest Stock, and Matthew Josephson. She delivers a stillborn child in 1924, must undergo surgery to remove her ovaries in 1926, and suffers periods of ill health. She develops friendships with other writers involved in New York City literary circles, including Caroline Gordon, Allen Tate, Josephine Herbst, Malcolm Cowley, Genevieve Taggard, Kenneth Burke, Matthew Josephson, and Hart Crane.
Historical
In late 1920, Porter travels to Mexico following the Mexican Revolution and becomes politically involved, attending the inauguration of President Obregon and the third convention of Pan American Federation of Labor. Her visits of 1922 and 1923 were primarily devoted to Mexican art. Her Outline of Mexican Popular Arts and Crafts is published to coincide with an exhibition that opened in Los Angeles in November 1922. In 1927, she travels to Boston, MA, to protest the Sacco and Vanzetti executions.
Geographical
New York City serves as something of a home base for Porter during this decade, but she spends long periods of time living outside the city. She first lives in Mexico from 1920 to 1921 and returns in 1922 and 1923. She spends several months living in Fort Worth, TX, in 1921, in rural Connecticut in 1924 and 1926, in Salem, MA, during the winter of 1927-1928,in Erwinna, PA, in 1928, and in Bermuda in 1929.
SELECT AN IMAGE TO VIEW FULL LETTER