ELEANOR CLARK and ROBERT PENN WARREN
Robert Penn Warren (1905-1989) and his second wife Eleanor Clark (1913-1996) were two of Porter's dearest friends; their relationship deepened after the two married in 1952. Warren was the author of ten novels, sixteen volumes of poetry, a book of short stories, two selections of critical essays, a biography, a critical book on Dreiser, a study of Melville, and two studies of race relations in America. In addition, he was an editor and professor of English. Over the course of his long career, he won numerous major literary awards. He was a member of the "Fugitives" with Allen Tate as an undergraduate at Vanderbilt University. Later, at Louisiana State University, he founded The Southern Review with Cleanth Brooks. Warren and Brooks, who both ended their careers at Yale University, are considered founders or proponents of the New Criticism.
Porter and Warren met in Greenwich Village in Summer 1927, after Porter had returned from the Sacco-Vanzetti demonstrations in Boston and Warren was visiting Allen Tate and Caroline Gordon. Their friendship deepened when Porter moved to New Orleans in Fall 1937 and subsequently married Albert Erskine in April 1938, with Warren and his then-wife serving as witnesses. Porter and Erskine and the Warrens socialized frequently during Porter's two-year residence in Baton Rouge. Warren and Porter corresponded extensively about their work, where they were submitting certain pieces, as well as their large circle of common friends.
Eleanor Clark was an essayist, novelist, and short story writer best known for her travel writing. She won the National Book Award in 1965 for The Oysters of Locmariaquer. The two women became acquainted in the 1930s and developed a closer relationship when both were in Washington, DC, in 1944. Clark and Warren began a relationship at one of Porter's 1944 parties, and the couple formed an even stronger bond with Porter, after their marriage. Porter served as Matron of Honor at their wedding and delighted in her role as godmother of their daughter, Rosanna.
Browse correspondence from Katherine Anne Porter to Eleanor Clark and Robert Penn Warren.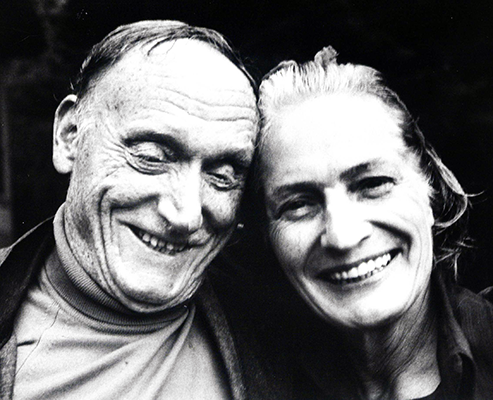 Robert Penn Warren and Eleanor Clark, circa 1963, Washington, DC.. Katherine Anne Porter Papers, Special Collections and University Archives, University of Maryland Libraries.
SELECT AN IMAGE TO VIEW FULL LETTER