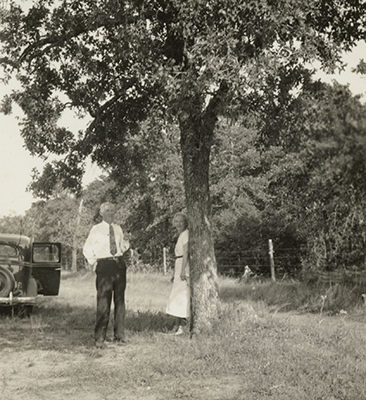 Katherine Anne Porter and Harrison Boone Porter under tree in Texas, circa late June-July 20, 1937. Katherine Anne Porter Papers, Special Collections and University Archives, University of Maryland Libraries.
KATHERINE ANNE PORTER IN THE UNITED STATES
Texas
Katherine Anne Porter resided approximately twenty-one years in Texas, where she was born in 1890. It is the setting of some of her most successful fiction including the Old Order stories, "Old Mortality," and "Noon Wine."
Porter was born in Indian Creek, a small settlement in Brown County, where her parents homesteaded with members of her mother's family, the Joneses. After the death of her mother in 1892, her father moved his four children to live with his mother in Kyle, located between Austin and San Antonio in Hays County. After the death of Catharine Ann Porter in 1901, Harrison Porter did not establish a fixed home for his children until the 1904-1905 academic year. That year Porter and her older sister Gay attended the Thomas School in San Antonio and their brother Peacock Military Academy.
Short residences in Victoria and Lufkin preceded Porter's marriage in 1906 to John Henry Koontz. Between 1908 and 1913, the couple lived in Houston and Corpus Christi. About the time of her 1915 divorce from Koontz, Porter moved to Dallas. Eventually she spent nearly a year in tuberculosis sanatoria there, as well as eight months in another hospital in Carlsbad. After leaving Texas for Colorado in June 1918, Porter only established residence in the state during two periods. From September to December 1921, she lived in Fort Worth after her first extended visit to Mexico. In January 1938, she moved to Houston for a four-mouth stay before her marriage to Albert Erskine. She did make month-long visits to her family members in April 1936 and July 1937.
Louisana
Surprisingly, Porter lived more than five years of her life in Louisiana. She spent the first two and a half years of her first marriage in Lafayette (June 1906-Fall 1908). For six months in late 1914 and early 1915, she lived with her sister Gay and her two children in Gibsland. She returned to Louisiana in September 1937 for a four-month residence in New Orleans. After her marriage to Albert Erskine in April 1938, she lived in Baton Rouge until they separated two years later.
New York
For more than fifteen years, Porter lived in the state of New York. For about a third of those years, she lived in New York city. New York is the location where Porter established her career as a professional fiction writer, with children's stories published in a national publication in early 1920, shortly after she moved there in October 1919. Until April 1930, her primary residence was the city although she spent intervals of varying lengths in Mexico, Texas, Connecticut, Pennsylvania, and Bermuda during that period. When Porter separated from Albert Erskine in June 1940, she moved to the Yaddo, the artists' community in Saratoga Springs, NY. Her residence at Yaddo was significant because she completed a large portion of Ship of Fools while living there. Yaddo was her primary residence until September 1942, when she moved into the only home she ever owned, South Hill, located in nearby Ballston Falls (now Malta). Because of the remoteness of South Hill in wartime, Porter spent four months (October 1943-January 1944) at an inn in Cold Spring, NY. In September 1949, she returned to New York city after more than three years in California. The city was her primary residence until July 1955, although spent long interludes in France, Michigan, and Belgium.
Connecticut
The nearly four years that Porter spent in the state of Connecticut were significant. During the last seven months of 1924, she lived in rural Connecticut where in December she suffered the still birth of a child, in Windham County. A year and a half later, she spent the Spring and Summer of 1926 in Merryall Valley with Ernest Stock and several other couples, capturing something of that experience in the short story "Rope." However, the period between August 1955 and August 1958, during which she lived in a rented home in Southbury, was important in that she signed a contract with a new publisher and made progress on Ship of Fools.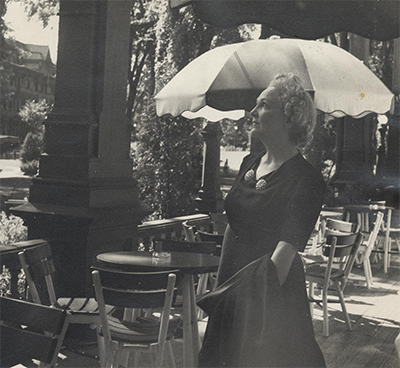 Photograph of KAP in Saratoga Springs, New York, June 3, 1940-April 1942. Katherine Anne Porter Papers, Special Collections and University Archives, University of Maryland Libraries.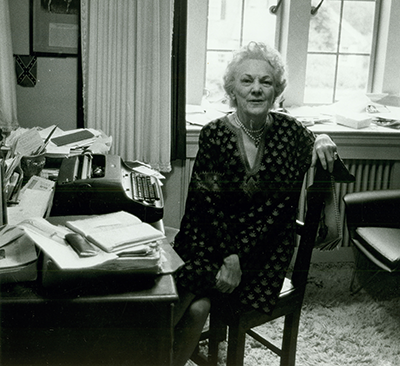 A photograph of Katherine Anne Porter at the desk in her Spring Valley home, Washington, D.C., circa November 1966. Katherine Anne Porter Papers, Special Collections and University Archives, University of Maryland Libraries.
Washington, D.C.
Porter spent nearly all of the last two decades of her life in the Washington, DC, metropolitan area. However, she first established residence there for eight months in 1944, during World War II. During this period she served as Regional Fellow at the Library of Congress, and, for most of the time, she lived in the Georgetown neighborhood of Washington, DC. Nearly fifteen years later, she returned to Georgetown in 1959, where she lived until shortly after the publication of Ship of Fools. She returned to the District in November 1963 after spending a year in Europe. She rented a grand home in the exclusive Spring Valley neighborhood for five years, moving to a townhouse in College Park, MD in June 1969. After recovery from a broken hip, she moved into a high rise in the same College Park development in May 1970, where she remained until March 1980, when she moved to the Silver Spring, MD, nursing home where she died on September 18, 1980.
California
California was home for Porter for more than four years. In January 1945, she moved there to work in the motion picture industry. She lived in and around Los Angeles (including Santa Monica and Hollywood) until June 1948, except for two months in Palo Alto, where she taught summer school at Stanford University in July and August 1947. She moved to Palo Alto in October 1948 and taught at Stanford for the 1948-1949 academic year, returning to New York city in Autumn 1949.
Additional Locations
Other locations where Porter established residence for shorter periods include Chicago, Illinois; Denver and Colorado Springs, Colorado; Boston, Salem, and Rockport, Massachusetts; Ann Arbor and Olivet, Michigan; Reno, Nevada; Erwinna and Doylestown, Pennsylvania; Clarksville, Tennessee; and Charlottesville and Lexington, Virginia.
SELECT AN IMAGE TO VIEW FULL LETTER