KATHERINE ANNE PORTER IN THE 1960s
Porter's prestige and fame reached its pinnacle in the 1960s, following the release of her only novel, Ship of Fools. The bestselling novel was so popular that it led to considerably media coverage of Porter, an Academy Award winning film adaptation, and the subsequent publication of The Collected Stories of Katherine Anne Porter, which won the Pulitzer Prize and the National Book Award for fiction. Porter faced health problems in her seventies but continued to travel across the country and to international locations including Mexico, Rome, and Paris.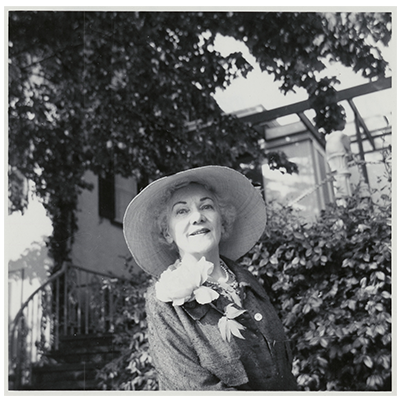 Katherine Anne Porter on her 70th birthday, in Barbara Wescott's garden, Hay Meadows, Rosemont, New Jersey, May 15, 1960. Caption on back reads: "Taken by Paul in Barabara Westcott's garden on my 70th birthday May 15, 1960." Katherine Anne Porter Papers, Special Collections and University Archives, University of Maryland Libraries.
Professional
Porter's only full-length novel, Ship of Fools, is published to widespread acclaim in 1962. The novel is named a finalist for the 1963 National Book Award for Fiction and is adapted into an Academy Award winning movie in 1965. The Collected Stories of Katherine Anne Porter is subsequently published in 1964. It wins the 1966 Pulitzer Prize for Fiction as well as that year's National Book Award for Fiction, making her the first woman to win the latter award. She also takes several lecture tours and continues writing for national periodicals.
Personal
Porter suffers serious health ailments periodically in the 1960s. While visiting Mexico in 1964, she becomes so ill that the last rites are read to her. She is befriended by E. Barrett Prettyman, Jr., who subsequently becomes her lawyer. She enjoys her celebrity status in Washington, D.C.. Her relationships with her sister Gay, her niece Ann, and Ann's family are particularly important to her during this period.
Historical
Porter attends the 1961 inauguration of John F. Kennedy and visits his body lying in state at the Capitol following his assassination in 1963. She is awarded the Emerson-Thoreau Medal by the American Academy of Arts and Sciences in 1962. In 1967, the American Academy of Arts and Letters inducts her and awards her the Gold Medal for Fiction. After being awarded an honorary degree by the University of Maryland in 1966, she announces that the university's library will serve as the repository for her papers and personal library. The Katherine Anne Porter Room opens there in 1968. The Katherine Anne Porter Foundation is founded in 1967 but is subsequently dissolved in 1973.
Geographical
Porter's primary residence in the 1960s is Washington, D.C.. She visits Mexico again in 1960 and 1964 and travels throughout the United States on speaking tours. She visits Italy in the summer of 1962 and takes an extended residence in Rome and Paris between October 1962 and November 1963. In May 1969, she moves from Washington, D.C., to the suburb of College Park, MD.
SELECT AN IMAGE TO VIEW FULL LETTER