KATHERINE ANNE PORTER ABROAD
LOCATIONS
Mexico
Katherine Anne Porter lived ten years of her life outside of the United States. A total of three of those years were spent in Mexico. Between 1920 and 1931, she made four trips to Mexico establishing long residences in Mexico City between November 1920 and September 1921 and between May 1930 and August 1931. Two shorter visits in 1922 and 1923 were made to complete specific projects. The importance of her first residence in 1920-1921 cannot be over emphasized, as the work that grew from her experiences led to her first piece of mature fiction, "Maria Concepcion," and established her in the New York literary scene. Other stories set in Mexico include "The Martyr," "Virgin Violeta," "Flowering Judas," and "That Tree." Her short novel, "Hacienda" is based on her July 1931 experience in the state of Hidalgo. Porter returned to Mexico twice on U.S. State Department sponsored trips in June 1960 and October-November 1965.
France
Porter resided in Europe for a period of approximately six and a half years. More than four of those were spent in France. Between February 1932 and October 1936, her primary residence was Paris both before and after her marriage to Eugene Pressly in March 1933. This period is significant because, during it, her most important fiction was completed or conceived. Porter returned to France twice after she and Pressly sailed to the U.S. in 1936. In 1952, she was based in Brittany and Paris before, during, and after her participation in the International Congress for Cultural Freedom in Paris in May 1952. She spent five months of 1963 in Paris during her European sojourn after the April 1962 publication of Ship of Fools.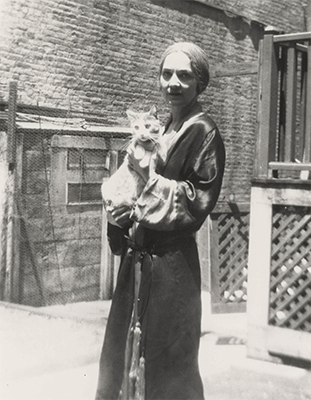 Photograph of KAP holding a cat, Charro, outside, April-December 1930, KAP's Ernesto Pugibet apartment, Mexico City. Katherine Anne Porter Papers, Special Collections and University Archives, University of Maryland Libraries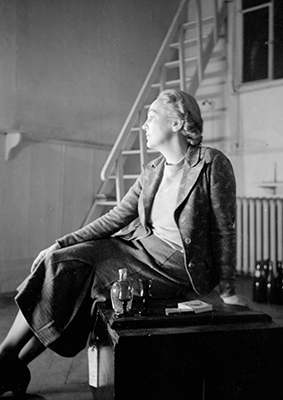 Katherine Anne Porter sitting on chest, October 7, 1936, Paris. Katherine Anne Porter Papers, Special Collections and University Archives, University of Maryland Libraries.
Europe
Other countries in Europe where Porter spent significant time include Germany, Switzerland, Belgium, and Italy. Porter first experienced Europe in Berlin, where she lived from September 1931 to January 1932. Before her marriage to Pressly, she spent six months of 1932 in Basel, Switzerland, where he was posted in his U.S. foreign service position. In April-May 1934, her friend Barbara Harrison (later Wescott) footed the bill for Porter's stay at a sanatorium in Davosplatz, Switzerland. Porter accepted a Fulbright posting to Liege, Belgium, in September 1954, but ill health forced her return to the U.S. four months later. After the publication of Ship of Fools, Porter celebrated in Rome, first with her niece Ann Hollaway Heintze in June 1962 before returning for seven months in December of that same year.
Bermuda
Another significant foreign residence for Porter was Bermuda. From March to July 1929, she lived there, recovering from ill health and attempting to work on various projects including her biography of Cotton Mather, short stories, and translations. She returned to the island briefly for a nostalgic visit in August 1972.
SELECT AN IMAGE TO VIEW FULL LETTER