ABOUT THE KATHERINE ANNE PORTER CORRESPONDENCE PROJECT
Katherine Anne Porter: Correspondence from the Archives, 1912-1977 is a product of the Katherine Anne Porter Correspondence Project, a collaboration between the University of Maryland Libraries Special Collections and University Archives and Digital System and Stewardship units, supported by a grant from the Katherine Anne Porter Literary Trust. In early 2013, a one-year pilot project was established to enrich the study of 20th-century literary history through publication of an edited digital collection of correspondence of one of the preeminent American short fiction writers. The goal of this project was to publish more than 4,000 pages of newly digitized material drawn from the Libraries' Katherine Anne Porter papers and other supporting collections, and to thereby transform the University of Maryland Libraries Special Collections and University Archives' extensive and well-described holdings related to Porter and her family circle into an online, public knowledge resource by creating high-resolution digital images of original materials, increasing integration with other Web sites, and conducting focused user experience design work to improve the usability of the digitized materials.
The genesis of the project dates to Spring 2012, when the students in Professor Tanya Clement's graduate class at the School of Information at the University of Texas, Austin, made use of digital surrogates of Porter's letters to her older sister Gay Porter Hollaway for a class project. These materials were drawn from the University of Maryland Libraries' Porter holdings. Wendy Hagenmaier, one of the graduate students, researched and wrote "Exploring the Future of Digital Scholarly Editions: A Case Study of the Letters of Katherine Anne Porter" as the Capstone project for her MSIS. This report, which outlined many of the issues involved in creating a digital scholarly edition, served as the starting point for this project.
Phase One
The first phase of the project digitized Porter's extensive correspondence with members of her family spanning more than 60 years. Her most frequent correspondents include her sister Gay Porter Hollaway, husbands Albert Erskine, Jr., and Eugene Pressly, nephew Paul Porter, Jr., and niece Ann Hollaway Heintze. This grouping spans the years of 1912 through 1977, which Porter sent from eight different countries.
Reading these letters provides a wide range of insights into Porter's relationships, attitudes, and experiences. They document her exposure to major cultural and historical events of the 20th century, such as her time spent in Mexico following the Mexican Revolution, in Germany before WWII began, and in Washington, D.C., during WWII and the Kennedy and Johnson administrations. The letters also document her personal opinions about the lives and works of fellow writers including Ernest Hemingway, Gertrude Stein, William Faulkner, Hart Crane, and close friend Josephine Herbst.
Phase Two
During the second phase, 1,500 more Porter letters, greeting cards, postcards, and telegrams were digitized. These documents comprise approximately 3,000 pages of correspondence sent to over forty correspondents, including confidants and personal acquaintances Glenway and Barbara Harrison Wescott, Monroe Wheeler, George Platt Lynes, Donald Elder, Mary Louis Doherty, and Isabel Bayley. This addition spans the years 1924 to 1977, written in nine different countries and an ocean. It includes correspondence to Cleanth and Tinkum Brooks, Eleanor Clark, Malcolm Cowley, Ford Maddox Ford, Caroline Gordon, William Goyen, William Humphrey, Flannery O'Connor, Ezra Pound, Theodore Roethke, Allen Tate, Robert Penn Warren, Eudora Welty, and Tennessee Williams, among others. These communications offer Porter's insights into the work of her literary contemporaries and reveal the extent of her involvement and influence within a community of Modern writers.
Phase Three
The third phase, currently underway, will digitize correspondence from Porter's papers relating to agents and publishing activities, creative works derived from her writings,and financial and legal matters. Correspondents include publishers, editors, literary agents, translators, and individuals representing various mass media, including newspapers, magazines, television, radio, and recording and motion picture studios. There is also correspondence concerning plays, screenplays, other artistic creations inspired by Porter's fiction as well as that documenting her legal and financial matters. This phase will also digitize her correspondence in related collections: the papers of Cyrilly Abels, Seymour Lawrence, and E. Barrett Prettyman Jr., and the Archives of the Atlantic Monthly. Significant correspondents in addition to Abels, Lawrence, and Prettyman include Donald Brace, Alfred Harcourt, Donald Elder, and Stanley Kramer.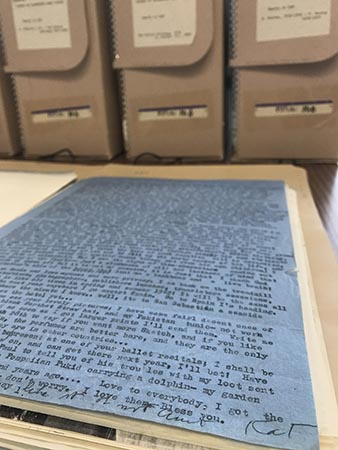 PROJECT MEMBERS
Beth Alvarez, Curator of Literary Manuscripts Emerita, University of Maryland Libraries
Liz DePriest, Katherine Anne Porter Correspondence Project Graduate Assistant, University of Maryland Libraries
Caitlin Rizzo, Graduate Assistant for Access and Outreach Services for Special Collections, University of Maryland Libraries
Joanne Archer, Head of Access and Outreach Services for Special Collections, University of Maryland Libraries
Amber Kohl, Curator of Literature and Rare Books, Special Collections and University Archives, University of Maryland Libraries
With Assistance From
Eric Cartier, Digital Librarian, University of Maryland Libraries
Robin Pike, Manager of Digital Conversion and Media Reformatting, University of Maryland Libraries
Bria Parker, Head, Discovery and Metadata Services
Josh Westgard, Systems Librarian
Ben Wallberg, Manager, Software Systems Development and Research
Peter Eichman, Senior Software Developer
Jeremy Gottwig, Senior Software Developer
Mohamed Abdul Rasheed, Software Developer